NOTE: Our in-person Guided Tours are now reopened for scheduling with limitations as noted below. We look forward to welcoming your group back to the gardens!
Phipps provides a range of tour options perfect for your next group event or outing. Organizations including PITT ARTS, American Farm Bureau, AAA, Carnegie Mellon University and parks and recreation teams have enjoyed seeing all there is to explore through interactive tours at Phipps.

For more information or to ask questions, please contact our Guest Services team at 412-622-6915 ext. 6307.
Phipps offers four different types of tours:
Self-Guided Tours
AVAILABLE NOW
Self-guided tours allow your group to explore the Conservatory at your own leisure and pace. There is no surcharge for this option.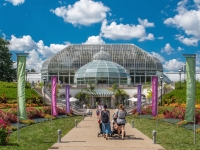 Conservatory Tours
AVAILABLE NOW
Conservatory tours are one hour in length and focus on our plant collections, history and current flower show. A $2 surcharge per person applies. Limited to 40 guests.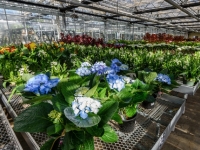 Production Greenhouse Tours
TEMPORARILY ON HOLD — STAY TUNED FOR UPDATES
Production Greenhouse tours are one hour in length and take you behind the scenes to learn how we grow and care for Conservatory plants from a knowledgeable staff member. If your group would like to experience the rest of the Conservatory, please allow extra time as these exclusive tours cover the Production Greenhouse only. A $15 surcharge per person applies, with a minimum surcharge of $150 per group. Limited to 20 guests.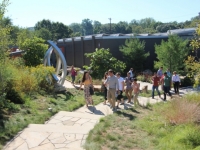 Sustainability Tours
TEMPORARILY ON HOLD — STAY TUNED FOR UPDATES
Sustainability tours are 60 – 90 minutes in length and focus on the sustainable aspects of the state-of-the-art green buildings on campus, including the Center for Sustainable Landscapes (CSL) and Exhibit Staging Center (ESC). The CSL was the first and only one to attain five of the highest building certifications: Living Building Challenge, LEED® Platinum, SITES™, WELL Platinum and BREEAM Outstanding In-Use. Recognized worldwide, these buildings generate all of their own energy and treat all storm and sanitary water onsite. See these real-world sustainability models first-hand to gain new insights on green buildings, renewable energy, biophilic design principles and more. A surcharge of $2 per person applies. Limited to 40 guests.
Group tours are subject to availability, and reservations are required at least 30 days in advance.
Other Tours
Student Tours and Field Trips
Phipps offers a wide range of field trip and tour experiences that meet Pennsylvania standards for school, homeschool, scout and other student groups. Visit our Field Trips page to learn more and contact Sarah Bertovich at 412/441-4442 ext. 3925 or sbertovich@phipps.conservatory.org to sign up.
Photos © Paul g. Wiegman