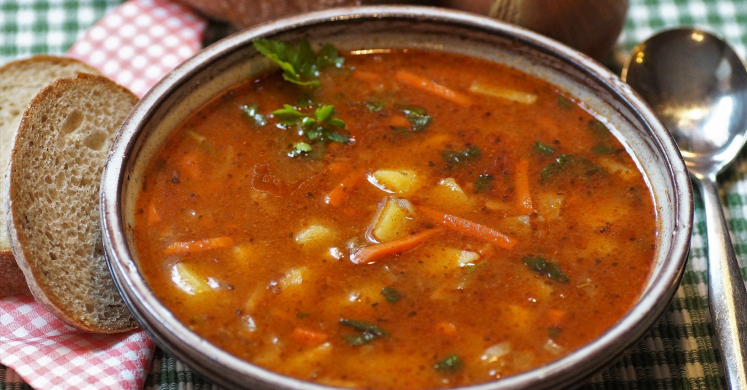 "Everything But the Kitchen Sink" Soup Recipe
Tess Monks, Botany Hall ktichen manager at Phipps Conservatory and Botanical Gardens shares her recipe for a quick and easy "Everything But the Kitchen Sink" soup that you can make with many ingredients already in your kitchen or pantry! This dish is highly customizeable, simple to create and delicious in flavor. Test out your kitchen skills and create your own variation of this recipe!
Step 1:
Start your base: In a large pot, dutch oven, etc. heat olive oil over medium high heat until shimmering, add garlic, lower heat and simmer until fragrant – about 30 seconds

Optional: add fresh minced garlic or garlic powder – I used extra virgin olive oil and fresh minced garlic

PRO TIP: instead of smashing open cloves of garlic with the blade of a knife, use a glass jar like a mason jar for smashing, safety first!


Step 2:
Add onion. Cook in oil with garlic until sweating, onions will continue to cook in soup
You can add any type of onion (I used white), here are a few examples:

white
red
yellow
sweet
green
leeks
shallots

PRO TIP: watch a quick online video on the proper way to cut an onion like this one to minimize waste!


Step 3:
Add 3 – 5 tablespoons of herbs and spices – I used about 1 tablespoon dried parsley, oregano, basil, ½ tablespoon crushed red pepper flakes, ¼ teaspoon cumin, 1 teaspoon celery salt, 1 teaspoon whole black pepper, garlic cloves

Some popular herbs and spices include: thyme, parsley, oregano, basil, ginger, celery salt, bouillon cube, pepper, rosemary, crushed red pepper flakes, bay leaves, black pepper corn, cumin, cayenne pepper, garlic powder, garlic salt, lemon zest, hot sauce (the possibilities are endless!)

PRO TIP: choose flavors that stand out against each other for more complex flavor



Step 4:
Add 6 – 10 cups of veggies – I used 2 parts spinach (cut into ribbons), 2 parts broccoli and 2 parts cauliflower (chopped), 1 part carrots (shredded)

Options for hearty vegetables: carrot, celery, potato, cabbage, cauliflower, broccoli, squash, peppers, rutabaga, turnip, mushrooms, parsnip, corn, peas, jalapeno, green beans
Options for leafy green vegetables: chard, kale, turnip greens, escarole, endive, collards, spinach

PRO TIP: take an inventory of your produce drawer, use anything that's about to go bad to avoid waste, and use a variety of cuts to add texture


Step 5:
Add your protein of choice – I used 1 can of pinto beans
Meat Options: shredded chicken, cubed ham, leftover turkey
Vegetarian Options: black beans, pinto beans, chickpeas, navy beans, lentils, quinoa, tofu
PRO TIP: if you're trying to introduce more plant based proteins into your diet, this is a great place to start, for example - beans are really filling and full of fiber and make for a hearty soup


Step 6:
Add 10 – 12 cups broth – I used 6 cups water and 6 cups stock
Some options for broth include: water, stock and tomato juice
PRO TIP: Keep a container in your freezer to throw vegetable scraps into when you're cooking; when the container is full, make vegetable stock to have on hand


Step 7:
Add carbs according to package – I used 1 box of bow tie pasta
Some options for carbs include: pasta, rice, lentils, quinoa, farro, barley, crusty bread, croutons and biscuits
PRO TIP: don't be afraid of carbs, they are not your enemy! We use carbs as energy, think about how much energy you'll be using after this meal


Step 8:
Add density! You can do this by:

Blending 1 – 2 cups of finished soup in blender, liquefy and adding it back to the soup. Blend more soup for thicker result – this is a great way to add density without adding fat
Adding sour cream or another cream
Adding liquid from a can of unrinsed beans to thicken soup
Step 9:
Add character! You can do this by adding:

a dash of vinegar
a dash of dry wine (red or white)
jalapenos (pickled or fresh)
soy sauce or fish sauce
lemon juice
siracha
cilantro
hot sauce