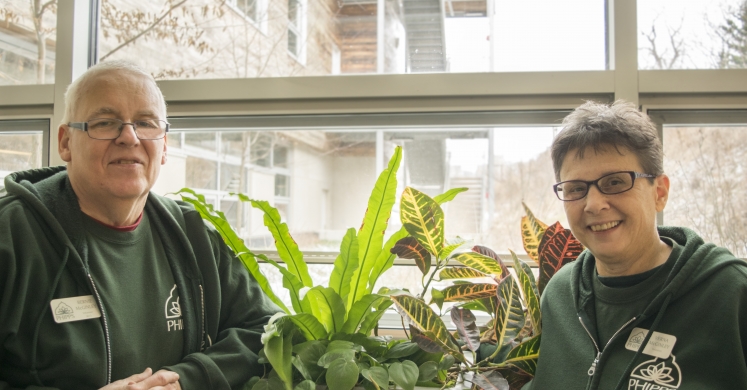 Volunteer Spotlight: Bernie and Verna McGinley
Phipps is well-known for our beautiful gardens, seasonal flower shows, pioneering sustainability initiatives, informative educational programs and community outreach. None of our work, however, would be possible without the knowledge and dedication of our volunteers. In this series of profiles, we meet some of the people who give their time to make Phipps possible.
"We wanted to volunteer at Phipps because we like the place! It is peaceful and plants are healing," said Bernie and Verna McGinley. The couple began volunteering in 2013 and have assisted in nearly every department at Phipps. Bernie mostly works with arranging indoor displays and is a docent in both the Conservatory and Center for Sustainable Landscapes. Verna is also a docent and spends the majority of her volunteering time teaching children through Discovery programs.
Bernie and Verna usually spend one day a week volunteering at Phipps. They both grew up in Pittsburgh and have always enjoyed visiting the Conservatory. It is a place where they brought their own children and now continue to bring their children's children. Verna was a teacher for multiple grades and then went on to work as the education director at the National Aviary. During this time, Verna was able to spark Bernie's interest in plants and animals.
At Phipps, Bernie and Verna give many interactive presentations to student groups. They love interacting with visitors and introducing ideas and knowledge to people who would like to learn more about the subjects. Bernie explains, "I thought I could make visitors learn even more and remember it, which would help people come back more often." One way they help people learn is by making their programs hands-on. They have a collection of 120 insects and often bring in snakes and tarantulas! "We want to make the kids comfortable with everything and whet their curiosities," they explained.
Bernie and Verna have lived in the same house in Mt. Lebanon throughout their marriage. They often have a full house when their dog, bird, other pets and five grandchildren are all there at once. In their backyard, they have a "magic" garden, where they plants seeds they find and wait to be surprised by what grows.