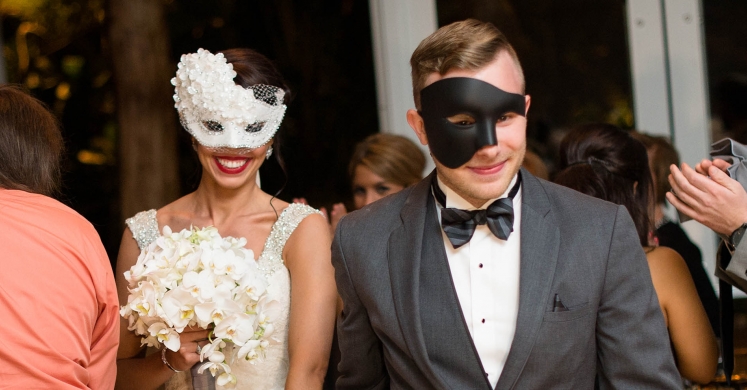 Weddings Under Glass: Ali and Nate
Weddings Under Glass is a monthly blog series where we highlight the stories of couples who chose to begin their happily ever after in the lush backdrop of Phipps, named one of the best outdoor garden wedding venues by Elle and Harper's Bazaar.
Ali and Nate met during their undergraduate studies at the University of Pittsburgh, but it took a while before they started dating. In October 2012, they reconnected as they were pursuing their graduate studies – Ali at Duquesne and Nate at Pitt – and they've been together ever since!
For their two-year anniversary, Nate planned a short trip to Niagara Falls. One evening during their trip, they enjoyed an amazing dinner and then went to see the beautifully illuminated falls. What Ali didn't know is that Nate had thoroughly planned this excursion and knew that a firework show would be at the falls at night.
As they stood at Bridal Veil Falls, which Ali says was "so fitting," the fireworks began. Nate got down on one knee, and with a phenomenal backdrop, asked Ali to marry him. "Somewhere in between the fireworks, I did hear all of the sweet words that he said!" Ali remembers.
When it came to wedding venues, Phipps stood out to the couple. "We thought that Phipps was a unique and beautiful venue," Ali says. She liked the idea of having a fun space that was also very spacious and customizable. "We chose to have our dance floor by the fish tank and for our DJ to be on the upper level, which we thought was a unique option for the reception."
Ali and Nate had their ceremony in Heinz Chapel on their alma mater's campus, followed by a cocktail hour and reception in Phipps' Tropical Forest and Special Events Hall.
The couple were married on Halloween, so they included fall and Halloween aspects into their old Hollywood glam and film noir décor. Their color scheme included black, gray and white, and created a stunning aesthetic with large candelabras, shimmery tablecloths and dozens of candles. Ali and Nate's favorite details included a replica of the spell book from Hocus Pocus as their guest book and masquerade masks for all of their guests to wear.
Most of all, though, the couple enjoyed the Tropical Forest's atmosphere. "Our favorite part of the reception was the magical feeling winding down through the Tropical Forest," Ali says.
After their wedding, Ali and Nate honeymooned all throughout Ireland – from Dublin, Cork, Kilarney, and many places in between. Now, the couple have settled down in Pittsburgh where Ali works as a psychologist and Nate as a lawyer. When they're not busy working, Ali and Nate enjoy keeping active with outdoor activities and, as avid craft beer fans, quenching their thirst in Pittsburgh's delicious restaurants and breweries.
Would you like to plan your special day at Phipps? Please contact our events team by email or by calling 412/622-6915, ext. 6404.
Vendors
Ceremony: Heinz Chapel
Photographer: Michael Will Photography
Makeup: Pittsburgh Makeup by Julie Marckisotto
Hair: Tease Salon
Flowers/Room Design: Hens & Chicks
Cake/S'mores Bar: Bella Christie