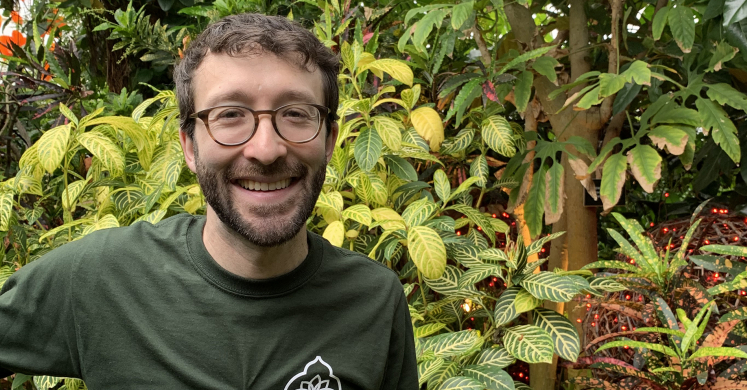 Volunteer Spotlight: Boaz Frankel
Phipps is well-known for our beautiful gardens, seasonal flower shows, pioneering sustainability initiatives, informative educational programs and community outreach. None of our work, however, would be possible without the knowledge and dedication of our volunteers. In this series of profiles, we meet some of the people who give their time to make Phipps possible.
As a writer and filmmaker, it comes as no surprise that volunteer Boaz Frankel would find inspiration against the lush backdrop of Phipps. The peace and quiet that the Conservatory provides is the perfect opportunity to nurture his creative drive. When he is not volunteering, he is working on a film about the different neighborhoods in Pittsburgh, a daunting task considering that the city boasts a whopping 90. But Boaz is more than up to the challenge. Along with his wife, writer and artist Brooke Barker, he is the proud co-author of Let's Be Weird Together, an illustrated book that Bustle magazine says, "Might just inspire you to get out there and fall in love."
Boaz and Brooke moved to Pittsburgh about a year ago, and after finding out about the Master Gardener program at Phipps, he enrolled in the course. The day he moved into his apartment was his first day of class. But Boaz was no stranger to plant life before this. As a child, his parents were invested gardeners and this is an activity he hasn't been able to give up. So far in his Pittsburgh apartment, he has grown vegetation such as lettuce, tomatoes, basil, mint and strawberries. Right now, his living space is home to about 50 house plants.
Now Boaz spends part of his time volunteering at Phipps, a responsibility which is awarded upon successful graduation of the Master Gardener program. On any given day, he can be found in the Stove and Fern Room, hard at work watering, pruning or delicately plucking expired leaves from the trees. "It's almost like a videogame," he says of this activity, which requires him to strategically maneuver a metal picking tool nearly double his height around flowers and plants to remove the leaves that should no longer be there.
But the more exciting work comes in the early mornings he says, when the Conservatory is quiet. For Boaz, this is when he can get in tune with the plants, calling the quality time he spends alone in the room meditative and grounding. This is one of the perks of volunteering at Phipps. He gets to work in what he sees as essentially a jungle.
"I would recommend volunteering here to anybody," Boaz says. In particular, he loves the variability and unpredictability that comes with his work. He gets to be privy to the installation of new shows, and was behind the scenes of the Orchid and Tropical Bonsai Show to watch the planetary sphere made out of foliage and orchids be lifted into the air in the Palm Court. He has even gotten the chance to try different fruits and grass stems like sugarcane, an experience he doesn't think he would get to have anywhere else.
Volunteering at Phipps has given Boaz the opportunity to work in an environment that takes him away from the stresses of everyday life. And as Boaz would say, even if it might be raining today in Pittsburgh, it's never raining in the Stove and Fern Room.