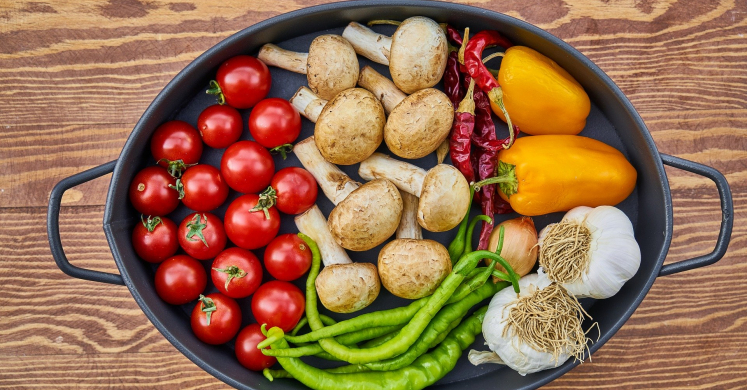 Plant-Forward Nutrition Basics Webinar
Are you interested in leading a plant-based lifestyle but aren't sure where to start? Watch this two-part webinar series to explore plant-based basics including common myths, vegan/vegetarian protein sources, omega-3s, key vitamins and minerals, nutrient adequacy and recipe substitutions.
Part 1: Definitions, Myths, Protein Sources, Omega-3s
Class Materials: Vegetarian Nutrition Part 1 PowerPoint, Vegetarian Myths, Vegetarian Proteins
Part 2: Key Vitamins and Minerals, Nutrient Adequacy, Disease Prevention, Recipe Substitutions
Class Materials: Vegetarian Nutrition Part 2 PowerPoint, Vegetarian Iron, Vegetarian B12, Vegetarian Calcium
FAQS:
I want to become vegan/vegetarian. What should I eat?
Eat more of the plant-based foods you already like: Have you eaten oatmeal with fruit? Stir-fry with veggies? Peanut butter and jelly sandwiches? These are all plant foods! Start by expanding these meals and increasing the fruits, vegetables and beans currently on your plate. Make other meals more plant-based by adding your favorites.
Replace or eliminate the animal foods you don't eat often: You won't miss these so it's easiest to let them go first. Substitute plant protein (beans, tofu, etc) for meat protein in recipes you already love. Exchange cow milk for a plant milk such as soy, almond, oat, hemp, or cashew. Many alternatives exist, and it's all about finding the ones you like. Make sure to always check the nutrition label, as some plant-based foods are highly processed!
Don't give up all of your favorite animal foods immediately: If you love bacon, suddenly removing it from your diet may fuel food cravings that are too big to handle.The most sustainable changes come when they are done over time. Make the easiest changes first and when those no longer feel new, move onto the more difficult ones. Trust that your taste buds and preferences will adjust.
Explore both familiar and unfamiliar ingredients: Co-ops, grocery stores and international markets carry a variety of plant-based foods like plant milks, unique produce, spices, and a variety of goods you may be unfamiliar with. There are many types of soymilks, grains, vegetables, fruits, nuts and seeds and even more ways to eat and prepare them! Trying new foods and different preparation methods is a fun way to channel your creativity and challenge yourself.
Stock your kitchen with healthy plant- based whole foods: Not sure where to start? I created a whole webinar about this that you can find here.
Involve the people around you: Involving supportive friends and family can make diet changes easier, more fun, and more likely to last. Just like there are benefits of exercising with a friend or a team, eating is no different.
Can a vegetarian diet get enough protein? How can I build muscles on a vegetarian diet?
Contrary to popular belief, it's not difficult to meet your protein needs on a vegetarian/vegan diet. Research shows that most vegetarians and vegans meet or exceed their daily protein requirements. Focusing on a variety of protein-rich foods throughout the day will ensure you get adequate amounts of all amino acids (the protein building blocks) in your diet. Good sources of protein include: legumes (lentils, beans, peas), soy-foods (tofu, tempeh, edamame), seitan, meat alternatives (veggie burgers, plant-based crumbles), milk (cow's milk and soy milk), nuts, seeds, and grains (farro, millet, quinoa). All of the essential amino acids can be eaten throughout the day and there is no need to "combine proteins" at the same meal.
Are soy products safe to eat?
The short answer is yes, soy is safe to eat. I actually wrote a whole article on this and you can find it here.
My teenage son/daughter wants to become vegetarian. What should I do?
According to the 2016 position paper of the Academy of Nutrition and Dietetics, appropriately planned vegetarian, including vegan, diets are healthful, nutritionally adequate, and may provide health benefits for the prevention and treatment of certain diseases. These diets are appropriate for all stages of the life cycle, including teenagers! That being said, there are important nutrients for teenagers to consider when following a vegetarian diet. You can find information on that here.
In your webinar, you mentioned that oxalates (present in spinach, swiss chard and beet greens) can decrease the absorption of calcium. What are ways to decrease the oxalate levels in these leafy greens?
Steaming is the best way to reduce the oxalate content in foods while still preserving the water soluble-vitamin content (like our B vitamin complex). By no means am I saying to avoid spinach. Spinach has a bunch of other nutrients to offer including folic acid, potassium, magnesium, as well as vitamin K, carotenes, vitamin C and lutein, which is important for eye health. Eating a varied diet rich in produce, nuts, seeds, pulses and dairy and/or plant-milk alternatives is a great way to ensure that you are getting adequate amounts of calcium.
How can you tell if your mushrooms have been treated with UV light for vitamin D enrichment?
Mushrooms are the only vegetable that contains Vitamin D, naturally. Cultivated mushrooms contain a plant sterol, which is the precursor of the form of Vitamin D that we can absorb. In fresh mushrooms, this plant sterol is converted into Vitamin D by ultraviolet light, either from sunlight or artificial lights. Wild varieties of mushrooms, like morels and chanterelles, are naturally higher in vitamin D since they are exposed to sunlight outside. Unfortunately, UV treatment to store bought mushrooms (think portobellos and creminis) in the United States is hard to find. Drying mushrooms in sunlight is a great way to increase the vitamin D content. Check out this website to learn about how you can dry mushrooms in a food safe way. All and all, getting at least 10 minutes of sunlight per day is the best way to maintain healthy vitamin D levels. This app helps you track your vitamin D intake based on sunlight exposure, skin tone, age, weight, and more.
What are your go-to websites when it comes to starting a plant-based diet?
Great question! Here are a handful of vegan and vegetarian websites that I suggest bookmarking:
Information on the Heath Benefits of Vegetarian Diets:
Position of the Academy of Nutrition and Dietetics: Vegetarian Diets
Academy of Nutrition and Dietetics Vegetarian Practice Group
Physicians Committee For Responsible Medicine
Vegetarian Restaurant Search:
HappyCow's Vegetarian Guide To Restaurants & Health Food Stores
Recipe Blogs:
The Plant Based RD
Jessica in the Kitchen
Cook with Manali
Rachel Ama
Minimalist Baker
NYT Cooking