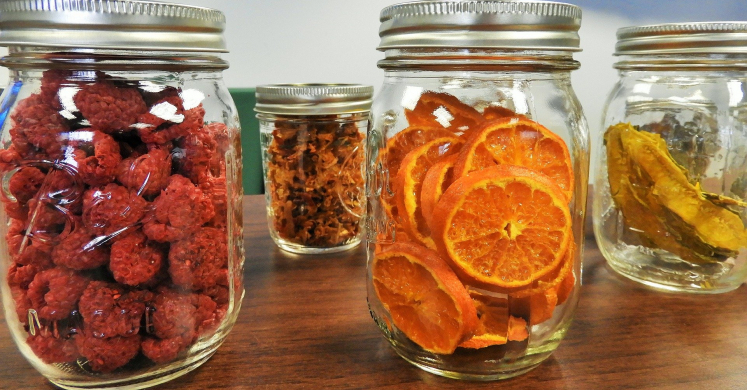 Building a Plant-Forward Pantry Webinar
A well-stocked (not overstocked) pantry and is at the foundation of a happy and healthy kitchen. If you have the space and the means, having a core set of kitchen staples on-hand makes life a whole lot easier. Not sure where to start? Check out the webinar below.
Class materials: Building a Plant-Forward Pantry PowerPoint, Building a Plant-Forward Pantry Shopping Guide
FAQS:
What are the benefits of buying dried beans and how do I prepare them?
When it comes to selecting food, I always think of the four C's: cost, convenience, control and climate. Dried beans are a more affordable option and cost less per ounce than canned beans. For example, a one pound bag of dry black beans costs, on average, $1.79 and will make 12-½ cup servings of cooked beans whereas a 15 oz. can of black beans costs $1.50 provides 3.5-½ cup servings. You are also able to control the sodium of dried beans, whereas canned beans use salt as a preservative (rising canned beans can reduce sodium up to 45%). From a sustainability (climate) stance, dried beans are more eco-friendly because they require less processing, packaging, and you can buy them in bulk quantities. However, canned beans are definitely more convenient and require no cooking time. This is why I like to have both options in my pantry.
As far as cooking goes, here is a great resource for different dry bean cooking methods. One tip to emphasize is that you want to salt your beans when they are tender to avoid hardening. As I mentioned in class, I love using my Instant Pot to make beans because it significantly reduces the cooking time. I'm able to make beans in 8 minutes! Looking for an Instant Pot bean recipe? Try out this one.
Do you have any recommendations of plant-based cookbooks or blogs?
NYT Cooking and the Minimalist Baker are two blogs that I frequently collect recipes from. I love NYT Cooking because you are able to filter by diet type, preparation methods, meal types, and more! Additionally, I love the representation of chefs—there are so many different and authentic cuisines to choose from. The Minimalist Baker has some absolutely delicious recipes, and the majority of her content is vegan. I find her cooking videos to be mesmerizing and an inspiration to get my hands dirty in the kitchen. My co-worker, Sarah, recommended the Love and Lemons cookbook. I just looked at their website and saved a bunch of recipes already—they have some delicious and easy meal suggestions! Additional plant-blogs I visit are:
The Plant Based RD
Jessica in the Kitchen
Cook with Manali
Rachel Ama
Hummusapien
How do I build a balanced trail mix?
Trail mix is a great snack to keep on-hand in your pantry! I like to focus on the 5 different tastes when making trail mix: sweet, salty, sour, bitter, and umami (savory/fatty). One of my favorite trail mixes is my pumpkin seed trail mix. I like to combine pumpkin seeds (a rich source of iron and omega-3s), dried cranberries, crystalized ginger, coconut flakes, and almonds. The pumpkin seeds contribute the umami flavor, the coconut flakes are sweet, the dried cranberries are sour and bitter, and the ginger adds a spicy kick! I sprinkle sea salt on top and it's the perfect, satiating snack (protein + carb=filling combination).