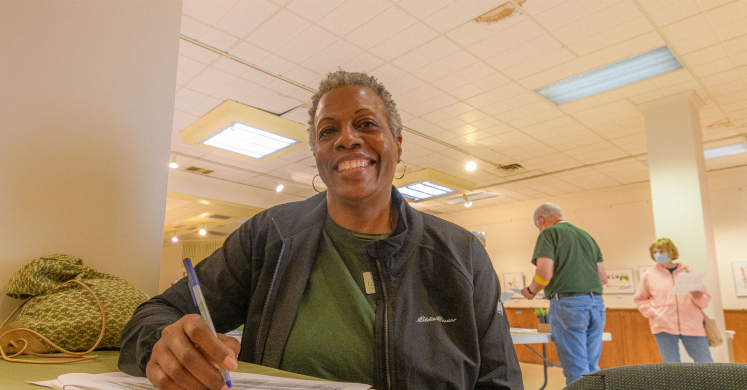 Volunteer Spotlight: Shawna Bridgett
Phipps is well-known for our beautiful gardens, seasonal flower shows, pioneering sustainability initiatives, informative educational programs and community outreach. None of our work, however, would be possible without the knowledge and dedication of our volunteers. In this series of profiles, we meet some of the people who give their time to make Phipps possible.
The city of Pittsburgh has been the home to Shawna Bridgett her whole life. She currently lives in the Hill District with her children, grandchildren and great-grandchildren not far, as they all reside in the city! Shawna went to Duquesne University to obtain both her bachelor's and master's degree. When she wasn't in school, Shawna spent a lot of time traveling the world visiting countries like New Zealand, South Africa, Singapore, Australia, Dubai and China and seeing gardens in all of them!
Shawna learned over the years of being around plants that she has a wonderful green thumb. This discovery has let her create and expand upon her garden throughout the duration of the pandemic. This has not only brought her a sense of tranquility but has also attracted the attention of her neighbors. Shawna said, "My garden draws so many people from my neighborhood and those who pass through. They stop and want to talk to me about how beautiful my garden is. It has given me the opportunity to meet so many different people."
With a love for gardening and meeting new people, Shawna became a Master Gardener at Phipps after her retirement. By the end of the same year, 2019, she began putting time into volunteering here, saying she, "wanted a peaceful place to volunteer". Her duties as a volunteer cover a wide array of responsibilities such as working in the greenhouses and helping with special events like BioBlitz. In her time at Phipps, she has found that her favorite part is getting to meet all of the different people along the way! Shawna can't wait to meet you all!
Photo © Paul g. Wiegman