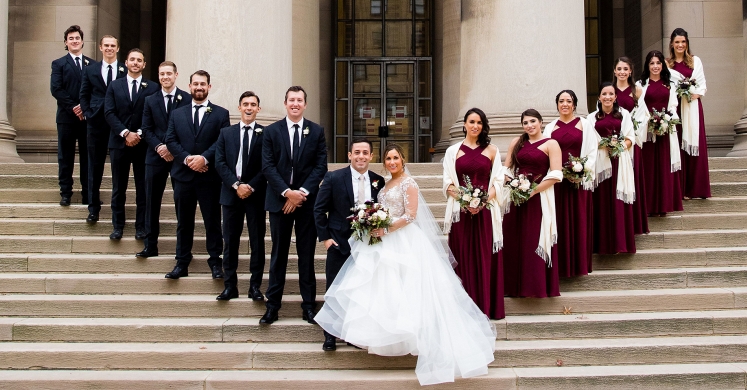 Weddings Under Glass: Alexandra and Nick
Weddings Under Glass is a monthly blog series where we highlight the stories of couples who chose to begin their happily ever after in the lush backdrop of Phipps, named one of the best outdoor garden wedding venues by Elle and Harper's Bazaar.
Dating in college can be tough. Amidst exams, internships, jobs, hobbies and trying to maintain a social life, students can hardly find enough time to dedicate to themselves, let alone another person. But for Nick and Alexandra (Lexi), this is where their love story begins.
The happy couple met their freshman year at Duquesne University after being introduced by a mutual friend. By this point, they had already been in some of the same classes and had caught each other's eye. Years later, during an early morning stroll at Wrightsville Beach, North Carolina, Nick proposed to Lexi. Although she was still half-asleep, she was awake enough to realize it wasn't a dream, and the answer was an easy yes.
Nick and Lexi planned their wedding for the fall. Complementary shades of gold, champagne and burgundy set the tone for their special day, a color scheme Lexi describes as "classic glam." After attending the ceremony at Duquesne Chapel, where their love story started, guests were invited to continue their celebration at Phipps. Cocktail hour was held in the Tropical Forest Conservatory and the reception was in the Special Events Hall, where they brought in four clear crystal chandeliers, one of the couple's favorite details about the day.
"Nick and I loved how different it is compared to other venues. The moment Nick and I walked through it, we knew we wanted to have our wedding here," Lexi says. "It's just so unique and beautiful!"
And although planning a wedding can be stressful, the staff at Phipps was able to make this process much easier on the couple. "The team we worked with are amazing and very helpful!" says Lexi, which was one of her favorite things about getting married at Phipps. Oh, and the delicious menu. Can't forget that!
Nick and Lexi are enjoying married life in Wilmington, North Carolina with their two dogs. In June, they will be going on their honeymoon to London, Paris and Barcelona.
Would you like to plan your special day at Phipps? Please contact our events team by email or by calling 412/315-0685.
Vendors
Photographer: Leeann Marie Photography
Florist: Blue Daisy Floral Designs
Band: The Bachelor Boys
Hair and Make Up: Destenfino Beauty Bar
Bakery: Bethel Bakery