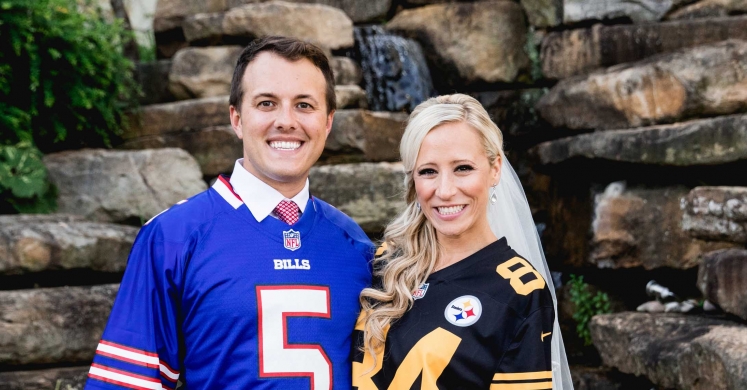 Weddings Under Glass: Jamie and Joe
Weddings Under Glass is a monthly blog series where we highlight the stories of couples who chose to begin their happily ever after in the lush backdrop of Phipps, named one of the best outdoor garden wedding venues by Elle and Harper's Bazaar.
Jamie and Joe met while living in New York City on NFL Opening Day in 2013. Jamie, who is a Pittsburgh native and avid Steelers fan, realized the game was not televised in New York, so she could not watch it from her apartment. "I panicked because I didn't want to miss kickoff because missing kickoff on opening day is bad luck – so I did what any Steelers fan would do: went to the first sports bar I saw on my street," Jamie says.
The bar was packed, and after asking around if she could take a stool from a table with no luck, Joe, Rochester native and diehard Buffalo Bills fan, offered her a seat at his table. She spent the day chatting with him about football and having a great time. "Both of our teams lost that day," Jamie says. "But we won in the long run!"
Joe and Jamie's proposal was like a chapter from a fairytale. In July 2016, Jamie planned a solo trip to visit her family in Pittsburgh from San Francisco, where she and Joe lived. They had planned a dinner on Mt. Washington, and while they were taking advantage of the beautiful sunset, Jamie felt a tap on her shoulder, "Excuse me miss, can I take a picture with you?" When Jamie turned around, she found Joe standing there in a full suit.
"To say I was shocked to see him standing in front of me 3,000 miles away from where I thought he was is a bit of an understatement!" Jamie says. "He somehow orchestrated flying across the country without me knowing and showed up here at sunset."
Joe got down on one knee, and Jamie excitedly said yes.
The couple chose to be married at Phipps for two reasons: Jamie's family traditions and Joe's interest in plants. "My mom and I go to Phipps every year for Winter Flower Show and Light Garden. We love walking around together seeing all of the beauty in the gardens," Jamie says. "The other half of the story is that Joe is a huge gardener. The man loves plants! So getting married at Phipps was the perfect fit between the two of us."
Jamie and Joe were married on the Tropical Forest Patio and held their reception in the Tropical Forest and Special Events Hall. They took a laid-back approach to their wedding to make it casual and fun. They featured accents of white and gold for their centerpieces and a variety of colors for their flowers. Jamie's favorite detail was her bouquet. "It was so gorgeous and everything I imagined and more. It was probably about 30 pounds!" Jamie says. She also loved their wildflower seed party favors.
The couple's favorite part about getting married at Phipps was the Tropical Forest Conservatory. "It was just an incredible, magical place to spend the night with everyone that we love." Jamie says. The sunset that day viewed from the Center of Sustainable Landscapes Green Roof was also very notable. "The sunset was one for the ages."
After their wedding, the couple honeymooned in Hawaii on The Big Island and Maui. "It was magical!" Jamie says. Jamie and Joe are currently still living in San Francisco "enjoying their forever after."
Would you like to plan your special day at Phipps? Please contact our events team by email or by calling 412/315-0685.
Vendors
Photographer: Chelsey Lynn Photography
Videographer: Legendary Celebrations Videography
Florist: Jim Ludwig's Blumengarten
Makeup: Quinn Bisbey
Hair: Pretty Hair Salon