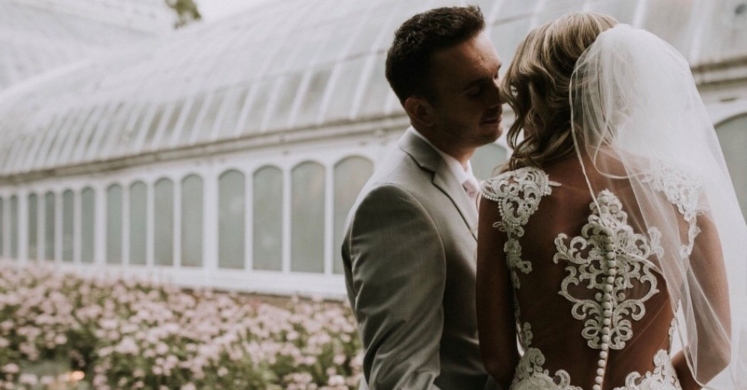 Weddings Under Glass: Jess and Bob
Weddings Under Glass is a monthly blog series where we highlight the stories of couples who chose to begin their happily ever after in the lush backdrop of Phipps, named one of the best outdoor garden wedding venues by Elle and Harper's Bazaar.
Jess and Bob first met in April of 2013 when Jess started a new job at Noble Energy. Little did they know at the time that sharing an office would one day lead to becoming husband and wife. It didn't take long for Bob to ask Jess about her relationship status, and, within a month, the two were dating. Eight months later, the couple went from sharing an office to sharing an apartment. Two apartments, one house and one proposal later, Jess and Bob were married!
Bob proposed to Jess at Phipps on April 14, 2017. Bob wanted to make sure to propose at Jess' favorite place in the city of Pittsburgh. He made plans for the two of them to have a date night to the Spring Flower Show, and as they strolled together through the immersive Tropical Forest Cuba exhibit, Bob soon led Jess outside, away from the crowds. Once they were alone, and much to Jess' surprise, Bob got down on one knee and asked her to marry him.
The couple chose Phipps as their wedding venue as it had been Jess' dream to get married at the Conservatory ever since she was little. She even recalls calling "dibs" on the venue among her friends when she was in middle school! While they explored a few other venues, Phipps was always the clear favorite - even for Bob who, as a Pitt alum, loved the picturesque view of the Cathedral of Learning from Phipps' Outdoor Garden. The fact that Phipps was also the site of their engagement made the location all the more special for the couple.
Bob and Jess got married in the Outdoor Garden on September 22, 2018 among family and friends. In keeping with the beauty of Phipps, the couple decided that they wanted their wedding to have romantic feel, choosing blush pink and gold as their color palette. They even used mini succulents in gold terracotta pots as place cards and as favors for their guests, which Jess says was one of her favorite details and a wonderful hit with everyone who attended their wedding.
The couple couldn't be happier with their choice in venue. From the stunning backdrop that Phipps provided for their ceremony and reception, to the delicious Phipps-catered food and supportive, detail-oriented events team at Phipps who guided the couple throughout their journey, Jess says that she'd have a special event at Phipps every weekend if she could.
For their honeymoon, Bob and Jess vacationed in Maldives, a beautiful tropical oasis off the coast of Sri Lanka, and also got to enjoy some sightseeing in the United Arab Emirates and the Middle East along the way.
In 2019, the happy couple plans to do a lot of traveling, with planned trips to California, Hawaii, the Cherry Blossom Festival in Washington, D.C., the Kentucky Derby, London and Barcelona, Las Vegas, and even a quick trip to Iceland. Jess and Bob are also looking forward to hopefully expanding their family in the future.
Would you like to plan your special day at Phipps? Please contact our events team by email or by calling 412/315-0685.
Vendors
Photographer - Dana Ratica of All Heart Photo & Video
Florist - Petal Pushers
DJ - DJ Crush, Tony Griffith
Cake - Bethel Bakery
Dress - Bridal Beginnings
Linens - Lendable Linens
Hair - Geno Levi Salon
Makeup - Bri Mattise of JL Makeup Studio
Violinist - Natalie Kasievich
Jewelry - Joyces Fine Jewelry
Calligrapher - Judith Browne Calligraphy
Men's Wardrobe - Men's Warehouse and BHLDN