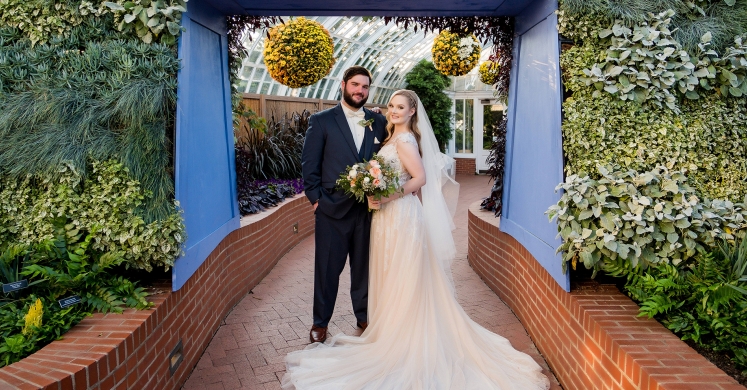 Weddings Under Glass: Kelsey and Max
Weddings Under Glass is a monthly blog series where we highlight the stories of couples who chose to begin their happily ever after in the lush backdrop of Phipps, named one of the best outdoor garden wedding venues by Elle and Harper's Bazaar.
Childhood sweethearts Kelsey and Max began their love story in middle school. Kelsey remembers their first unofficial date in eighth grade like it was yesterday. The two went to the movies with a group of friends and that night they had their first kiss.
Though they both had crushes on each other all throughout high school, Kelsey says the timing just wasn't right for them to date, so they remained close friends. That all changed when Kelsey asked Max to go to senior prom with her. That night changed everything and they have been together since!
After high school, the couple proved that their relationship could handle anything as they dated long distance while Max attended Middle Tennessee State University and Kelsey attended Duquesne University. After four and a half long years, Max moved back to Pittsburgh where they continued their love story.
Max and Kelsey have a beloved holiday tradition of attending a show. In 2017, they went to a live performance of How the Grinch Stole Christmas at Heinz Hall. Before the show, they were admiring a holiday tree display. Knowing Kelsey better than anyone, Max was certain that she would want a photo in front of the tree. They asked a bystander to take their photo and just as they were posing, he got down on one knee and popped the question. After the proposal, Max said, "The Grinch wasn't the one who's heart grew three sizes that night".
When it came to choosing a wedding venue, Kelsey knew she wanted to get married at Phipps. The Conservatory has always held a special place in her heart as her family visited often throughout her childhood. She remembers spending many hours with her dad as he took beautiful photos of the plants and flowers. Kelsey's dad sadly passed away in 2009, so choosing Phipps as her wedding venue felt like a special way to remember him. Plus, Kelsey wanted an outdoor wedding and Max wanted an indoor wedding, so Phipps perfectly combined their visions and gave both the bride and groom exactly what they wanted.
Kelsey and Max tied the knot in a beautiful, sunny ceremony on June 22, 2019. Their ceremony took place on the Tropical Forest Patio in front of a serene waterfall, then the party moved inside to the Special Events Hall to continue the celebration at the reception.
When it came to the overall look of the wedding, Kelsey looked to her favorite room at Phipps for inspiration — the Desert Room. She combined botanic elegance with floral succulents, using a color palette of light peach, sage and ivory. Her favorite detail of the wedding was the unity glass ceremony, where she and Max took turns adding colored glass pieces that represented important elements of their relationship that they want to maintain in their marriage. Those glass pieces were blown into a gorgeous glass sculpture that symbolized the two becoming one, which now has a special place in their home.
As for the reception, the couple had a hard time choosing their favorite detail. The two things that stood out the most were the beautiful white raspberry-filled cake covered in chocolate curls from Prantl's and their post card guest book. Rather than a traditional guest book, Kelsey created post cards using photos of Phipps that her dad had taken, which was a touching way to remember him at the wedding. After their guests wrote their well wishes on the postcards, they placed them inside a custom mailbox that the couple had made and plans to use when they finally buy their first house.
Kelsey said her favorite part about getting married at Phipps was getting to marry her best friend. She says that when they shared their personal promises to each other in their vows, it was so meaningful and you could feel the love in the air.
After the wedding, Kelsey and Max honeymooned on the beaches of Ocean City, Maryland. The couple spent their days relaxing with their toes in the sand and sipping on tropical drinks as they watched the sunset. Their perfect honeymoon ended with them watching fireworks on the Fourth of July.
Now, Max is a sales and marketing manager for Matthew's Wall Anchor and Kelsey teaches eighth grade at Washington High School and is currently helping her best friend plan her own wedding.
Vendors
Photography: Leeann Marie Photography
Videography: Post Script Productions
Hotel: Fairmont Pittsburgh
Dress: Bridal Beginning
Flowers: Karrie Hlista Designs