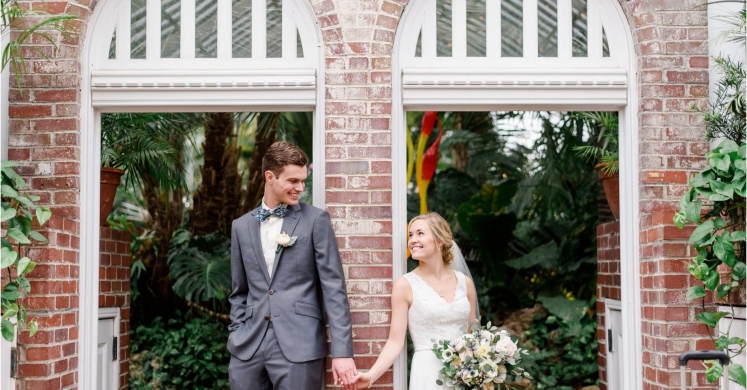 Weddings Under Glass: Salina and Quentin
Weddings Under Glass is a monthly blog series where we highlight the stories of couples who chose to begin their happily ever after in the lush backdrop of Phipps, named one of the best outdoor garden wedding venues by Elle and Harper's Bazaar.
Salina and Quentin were best friends throughout high school and became even closer when Quentin volunteered to tutor Salina in an advanced trigonometry class she was struggling with. They went to prom together in their senior year, and after that it was fate! Though the pair parted ways during college, spending the first two years of their undergrad at different schools, Quentin later transferred to the University of Pittsburgh and the couple got to finish their university experience together.
Quentin proposed to Salina during a trip to Niagara Falls in May of 2018. Looking back on it now, Salina says she should have known something was up since Quentin planned out every detail himself - all she had to do was go with him. The first day of the getaway, the couple spent the day outdoors hiking and taking in the scenery, and later had a romantic dinner overlooking the Falls. When Quentin suggested an evening walk, Salina initially tried to get out of it, tired after their busy day. Luckily he was able to convince her and when they got to a beautiful bridge where they were the only two people around, Quentin got down on one knee and popped the question.
The couple chose Phipps as their venue for two reasons. Firstly, in tribute to the fond memories Salina has of her mom and grandfather's own beautiful gardens, and secondly because of their time at Pitt together where Phipps became a special place for date night and relaxing study breaks. Salina says she has "always loved the magic of Phipps - Pittsburgh can be so dreary, but when you walk inside Phipps it is warm and beautiful and feels like summer!" Once Salina and Quentin toured the conservatory and met Event Sales Supervisor Caroline Walker, they knew that it was the perfect place to say "I do."
Salina and Quentin's wedding took place in February of 2019 in Phipps' Broderie Room. The couple decided to have an intimate wedding with only 18 of their immediate family members and closest friends. Salina says they were actually planning on eloping at first, but they both wanted their parents and families to be a part of their big day, so a small wedding was best. Quentin's grandmother even traveled all the way from her home in France to be with the couple on their wedding day, and it made the ceremony all the more special as they were surrounded by the people they love the most.
The style of the wedding was relaxed and personal, focusing on Salina and Quentin's special day together with their families. Salina and her sisters picked berries with their grandfather the summer before the wedding, just as they'd done growing up, and made jars of jelly together to serve as place cards for each seat at the reception The couple also relied on calligrapher Bailey Smith, the cousin of a friend, who painted a beautiful watercolor canvas of the Broderie Room and the Hyeholde Restaurant - where the reception was held - to serve as a guestbook - people could sign around the edges of the painting to make the day even more memorable. Finally, while they knew their guests wouldn't be very hungry after eating wedding cake, Salina and Quentin upheld a Pittsburgh tradition by include a cookie table where they put delicious cookies in individual jars for guests to take home with them and enjoy.
Salina says that her favorite part of getting married at Phipps was getting to spend their perfect, family-focused day in such a relaxing and supportive environment. The couple was especially impressed by Caroline, who they say was quick to respond to any questions they had, offered helpful tips on how to plan a flawless day, and was with them throughout the ceremony for anything they needed.
After the wedding, Salina and Quentin enjoyed Sunday morning brunch with their families at the Grand Concourse in Station Square, then left early Monday morning for their honeymoon in beautiful Sandals South Coast, Jamaica. The two got to spend an incredible week snorkeling, paddle boarding, swimming, relaxing and enjoying plenty of tropical drinks.
Now back in the 'Burgh, Salina and Quentin are getting back into their regular routine in their home on the North Side. They've been happily busy making good use of gifts that they received as wedding presents and going through their wedding photos taken by Alison Mish. The couple is also looking forward to planning a trip to France to celebrate with Quentin's extended family in the future, and can't wait for their next adventure.
Would you like to plan your special day at Phipps? Please contact our events team by email or by calling 412/315-0685.
Vendors
Photographer: Alison Mish Photography
Flowers: Blossoms by Jillian
Violinist: Lisa Leake
Reception Venue: Hyeholde Restaurant
Guest Canvas: Bailey Smith Calligraphy