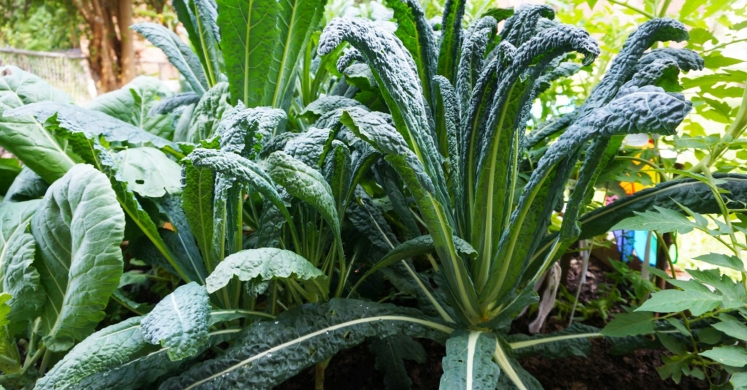 What We're Cooking With Now: Kale
Looking for adventure in the kitchen? Our monthly What We're Cooking with Now post features a fresh produce ingredient, explains how to find the market's finest, and includes a recipe to try at home.
Kale
Why: One of the most nutrient dense foods on the planet, Kale is rich in antioxidants, vitamins C and K, beta carotene, fiber, calcium, and many other nutrients that are lacking in most people's diets.
Shopping Tip: Kale, like most leafy greens, should be firm and deeply colored with stems that are moist and strong. Make sure that leaves are not yellowing or browning and are free of small holes. The leaves wilt as kale ages, so excessively wilted leaves are a sign it has been on the shelf for too long. Keep kale refrigerated and sealed in an airtight bag; it can be stored for up to a week, but the flavor increases in bitterness with longer storage. Wash kale before use, as washing it decreases its shelf life.
Preparation: To add kale to a salad, remove the leaves from the stem, rub the leaves between your hands to soften them, and then cut into small pieces. The stem is edible though fibrous. Kale is great sautéed as well: cut the stems and leaves together and sauté just like you would spinach. If the fibrous nature of the stems bothers you, kale is also great braised. Cut the leaves and stems into small pieces and sauté in a sauce pot briefly, then add vinegar and a savory broth to simmer for 20 minutes.
Recipe: Braised Kale and Onions
Ingredients
8 cups of chopped kale (about 2 pounds, or 1 large head)
1 medium red onion, julienne
5 cloves of garlic, minced
1 Tbsp. extra virgin olive oil
½ cup vegetable broth
½ cup apple cider vinegar
½ cup red wine vinegar
Salt and pepper to taste
Directions:
Wash and chop the kale, julienne the onion, and mince the garlic. Start with a deep sauce pot or wide saute pan, heat the olive oil, then add the onions and sauté until soft. Add the kale and sauté until the kale is soft (about 5 minutes). Add the garlic, stir, then add the vinegars and broth. Simmer for 10 – 15 minutes or until the liquid is mostly evaporated. Add salt and pepper to your liking, drain the remaining liquid, and serve hot. This makes a great side dish or even can be served as a vegan entrée, with beans or cooked chick peas.