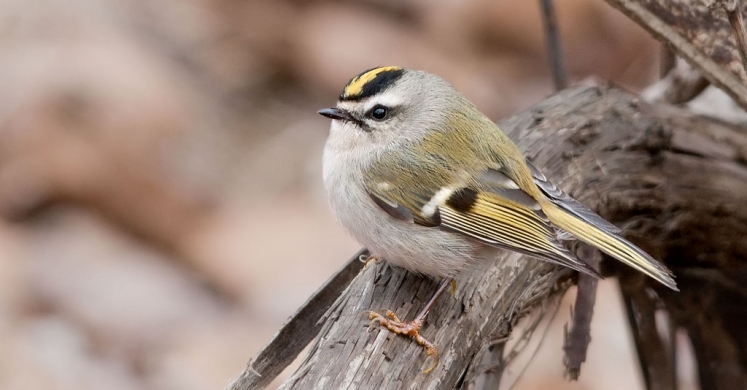 #bioPGH Blog: Golden-crowned Kinglet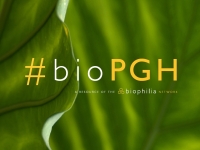 A resource of Biophilia: Pittsburgh, #bioPGH is a weekly blog and social media series that aims to encourage both children and adults to reconnect with nature and enjoy what each of our distinctive seasons has to offer.
If you've ever heard a high-pitched series of soft tsee tsee coming from a conifer grove, only to see a small feathered fluff hopping around the branches, there is a good possibility you've spotted a golden-crowned kinglet. Only about the weight of only two pennies, these little birds are remarkably resilient in their ability to stand strong against even the toughest of our winters here in Pennsylvania and further north in Canada. Let's learn a bit more about these tiny yet mighty feathered friends, shall we?
Golden-crowned kinglets are an olive-gray songbird, and the males have a golden streak on top of their heads that rises to a crest (rather, a golden crown) when they are excited. They are usually only four inches long, from beak to tail feather—imagine a puffy hummingbird with a short beak. And if you think the adults are diminutive, the chicks hatch the size of bumblebees!
Intriguingly, golden-crowned kinglets tend to raise two broods of chicks per season, an energetically costly endeavor for the female. At the beginning of the nesting season, the female lays 5-11 eggs. Once the young are about two weeks old and ready to fledge, she will start laying a second brood. Both parents will have to feed the young to keep up, but little is known about golden crowned kinglets breeding behavior—a possible research subject for any fledgling ornithologists out there!
This ability to raise two broods of chicks per year is a nod to an important characteristic of golden-crowned kinglets: they may be tiny and cute, but they are powerhouses. One of their more impressive feats is that they can survive winter weather down to forty degrees below zero, in spite of weighing only around half an ounce, yet they do not undergo torpor (reduced metabolism) to survive this. They are also skilled acrobats, often hanging upside down from twigs and branches while feeding on spiders, caterpillars, beetles, and other insects. Their agile antics are important during the winter months, though; golden crowned kinglets need to eat up to three times their body weight to keep up winter survival energy.
Here in Pennsylvania, golden-crowned kinglets can be found year-round, and Allegheny County has quite a few hotspots for them. In Schenley Park, you may have the best luck on either the Hollow Run Trail or the Lower Panther Hollow Trail. Cornell's crowd-source birding database eBird shows a number of sightings on stretches of the trails near the stream. If you're closer to Frick Park, there are several good birding spots by the environmental center, but there is also a notable birding hotspot off Riverview trail, near the sledding hill. North Park has a number of birding hot spots scattered across its acreage, but remember, if you're looking for golden-crowned kinglets, look near conifers.
Good luck birding! Remember that small can still be mighty, and don't forget to keep exploring the wonderful outdoors.
Connecting to the Outdoors Tip: The Audubon Society of Western PA regularly offers free guided birds walks—some even geared specifically at families with their younger ones. Check out their calendar of events to see what's happening.
Continuing the Conversation: Share your nature discoveries with our community by posting to Twitter and Instagram with hashtag #bioPGH, and R.S.V.P. to attend our next Biophilia: Pittsburgh meeting.
Resources
National Geographic—Golden-crowned Kinglet
Cornell Lab of Ornithology—Golden-crowned kinglet
Audubon Society—Golden-crowned kinglet
Photo credits: Cover - Kelly Cogan Azar CC-BY-ND-2.0; Header, Pixnio CC0