Spring Flower Show: Scents of Wonder
Opens Sat., March 10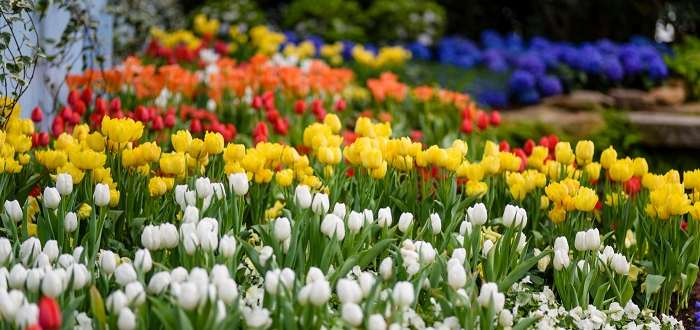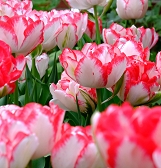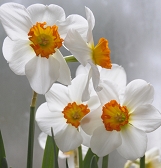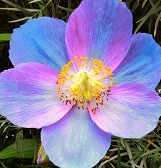 Spring is overflowing with color and fragrance — stop and smell the flowers!
The annual celebration of rebirth and regrowth returns with our new Spring Flower Show: Scents of Wonder, and this year, we invite you to get nose-to-petal with thousands of aromatic lilies, tulips, daffodils, hyacinths and more spring favorites as they fill the glasshouse with color and fragrance. The Conservatory will be a feast for the senses with room after room filled with nature's most inspiring blooms.
Upon your arrival in our Palm Court, you'll see that we've bottled the scent of springtime as an oversized perfume bottle and apothecary jars mingle with tulips, daffodils and hyacinths in a room bursting with blooms. A sensory spa experience awaits in the Serpentine Room, where an ornate bathtub hosts blue hydrangeas beneath bubbly lanterns and laundry lines hung with linens and fresh lavender. In the South Conservatory, a classic herb garden is brought to life with sharply manicured hedges, a gushing fountain and fragrant citrus trees. Even more fun and whimsy await in beds of lilacs, cineraria, petunias, snapdragons and additional seasonal favorites. Colorful sights and sweet-scented delights are waiting around every corner at Spring Flower Show: Scents of Wonder!
Spring Flower Show: Scents of Wonder, designed by Exhibit Coordinator Jordyn Melino, runs Sat., March 10 – Sun., April 8. Hours are 9:30 a.m. – 5 p.m. daily and until 10 p.m. on Fridays. Admission is $17.95 for adults, $16.95 for seniors and students, and $11.95 for children (2 – 18). Members and kids under 2 enter free.
Buy Tickets Online
For your convenience, you may now buy your Phipps tickets online in advance of your visit.
Photos © Paul g. Wiegman
More Events You'll Enjoy
Mondays, Wednesdays and Fridays, Plus Additional Days As Available

Join us for one of our weekly scheduled Discovery Programs to engage our youngest visitors with the wonders of the natural world. All programs are free with admission and require no advance registration.

Saturdays and Sundays; 1:30 p.m. except where noted

Grow your garden know-how by attending a free-with-admission class. From origami and oils to papermaking with plants, local experts bring it all to you surrounded by the beauty of our gardens.

Thurs., March 22; 6:30 – 9 p.m.

Phipps members: Join us for a free, private viewing of Spring Flower Show: Scents of Wonder as a special thank you for your dedicated support throughout the year.