WEDNESDAYS; 10:30 A.M. AND 1 P.M.
REGISTRATION REQUIRED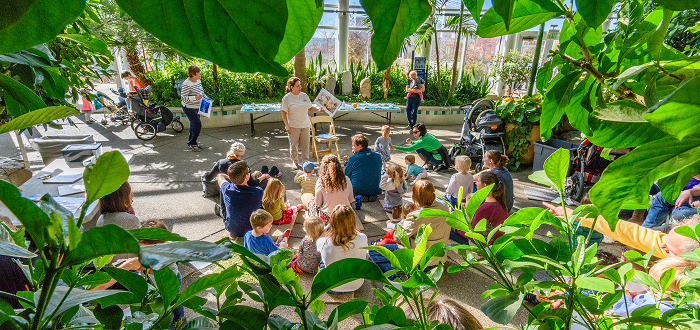 NOTE: Story Time will be taking a short break beginning Wed., Nov. 23. Sessions will resume on Jan. 18, 2023.
Come to Phipps for a fun Story Time among the flowers!
Kids will love visiting Phipps to listen to our storyteller weave tales about gardens, fruits, vegetables, animals and other fun topics. Attend weekly sessions with a special child in your life! Each session lasts 30 minutes.
Story Time takes place in the outdoors during the warm months and in the Tropical Forest Conservatory the rest of the year. Presently, sessions are located in the Tropical Forest Conservatory.
Advance Registration Required
Story Time is open to the first 40 ticketed participants (whether children or guardians) and must be booked in advance using our online ticketing system.
Story Time takes place promptly at 10:30 a.m. and 1 p.m. on Wednesdays. Ticket times of 10 a.m. and 12:30 p.m. are designed to allow for at least 30 minutes to move through the Conservatory to the location of Story Time on the day of the event; you may come earlier than the designed time on your ticket if you wish to explore the Conservatory further before Story Time begins.

Children under age 2 do not need a booked ticket in order to attend, but their guardians do; please note that Story Time programming is designed for slightly older children (generally ages 2 – 6).
We thank our members for reserving timed tickets on our website before coming to Story Time; if you find that you are unable to visit during your reserved time, we kindly ask that you cancel your reservation to make tickets available for others to enjoy the Conservatory by calling 412-622-6914 during our normal operating hours of 9:30 a.m. – 5 p.m. daily.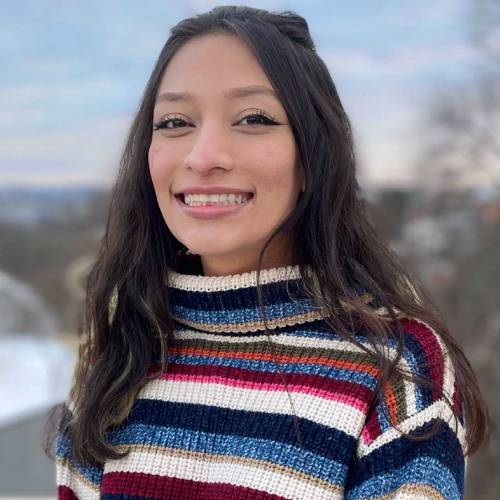 Story Time has a brand new host! Ramsha Khan from Phipps' Discovery Education team will now be reading a story to families every week. Get to know Ramsha by visiting our blog!
Select photos © Paul g. Wiegman
More Events You'll Enjoy
Thurs., Feb. 16; 7 – 8 p.m.

Phipps members will learn about the essentials of botanical art in this free demo or draw-along course.

Select Weekdays, 6 – 7 p.m.; See Description for Full Schedule

In this series, renowned chefs, culinary historians and authors from cultures around the world discuss how plants shaped their foodways.

Opens Sat., Jan. 14

Immerse yourself in the rich history of two of the most celebrated botanical art forms as you enjoy a kaleidoscope of shape and color.