Thurs. Feb. 1; 6 p.m. (Doors open at 5:30 p.m. for refreshments and networking)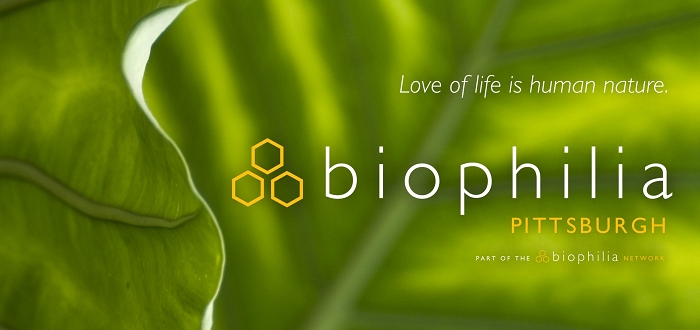 Join Pittsburgh's new network of creative minds working together to strengthen the bond between people and the natural world.
Biophilia: Pittsburgh February Meeting: Inspiring the Next Generation of Conservation Leaders
The Thurs., Feb. 1 Biophilia: Pittsburgh meeting will feature Darren Gruetze, Pittsburgh program manager for the Student Conservation Association, who will lead a discussion on "Inspiring the Next Generation of Conservation Leaders."
The Student Conservation Association (SCA) is the country's oldest and largest youth conservation organization — in 2017 alone, SCA enlisted more than 10,000 people in service projects in their communities and parks across the country. These projects resulted in more vibrant ecosystems, less pollution in cities and easier access to nature for humans, but those types of metrics are tangential to the organizational mission of creating the next generation of conservation leaders. In this talk, Darren will explore how SCA has invested in measuring the "soft" impacts of their members: self-perception, self-worth and whether they believe they can make a positive impact in the world.
Darren Gruetze has worked in the outdoor industry for the last 12 years in a variety of capacities with different organizations. He began his career as a member on an SCA crew and continues to work with the organization because of their commitment to prioritizing people and relationships rather than project outcomes. He believes that through focusing on humans thriving instead of project metrics it is possible to run programs that have a greater and longer lasting impact on both the land and those performing the work.
Meeting Schedule
5:30 – 6 p.m. Networking and refreshments
6 – 6:30 p.m. Presentation
6:30 – 7:30 p.m. Discussion
Meetings are free to attend; however, advance registration is required. To R.S.V.P., please send us an email or sign up on our Meetup page.

About Biophilia: Pittsburgh
Biophilia: Pittsburgh is the pilot chapter for a Biophilia Network dedicated to strengthening the bond between people and the natural world through education, discussion and action. The group will meet monthly at the Center for Sustainable Landscapes classroom at Phipps Conservatory and Botanical Gardens where, over delicious small-plates and light refreshments, a discipline or behavior will be identified — often by an expert guest speaker — and discussed among the participants in the interest of sharing ideas and identifying opportunities.
Directions and Parking
Meetings take place in the Center for Sustainable Landscapes (CSL), specifically in the classroom on the first floor. Please note that Phipps' main Conservatory entrance will be closed, as these events are held after normal business hours. To access the CSL, follow Frew Street (located between the Oakland/Schenley Park Bridge and the Christopher Columbus statue), which will take you to the lower campus. Guest parking spaces are available on your left as you approach the CSL.

Our Goals
• To welcome and inspire others with the concept and principles of biophilia
• To foster collaboration and learning between professionals from a wide variety of disciplines
• To communicate biophilic principles in action-oriented ways to a wider audience for exponential and regional impact

What Is Biophilia?
The term "biophilia," which literally means "love of life," was coined by social psychologist Erich Fromm and popularized by biologist E.O. Wilson, who defined it as "the innately emotional affiliation of human beings to other living organisms." The implications of biophilia extend across a vast array of disciplines including design and engineering, nutrition, psychology, public health, education, biology and the humanities. Biophilia is expressed all over the world every day through complex collaborations such as the design and construction of buildings and landscapes, and intimate, personal encounters, including nature hikes and home gardening.
Photos © Paul g. Wiegman
More Events You'll Enjoy
Saturdays; 11 a.m. – 3 p.m. Except as Noted

Phipps' revolutionary new SEED Classroom and observational beehive are now open for you to discover. Drop in during our Saturday open hours and a graduate of our Learning for a Greener Future high school internship will show you around. No advance reservation is required.

Select Dates in February

Phipps joins with 11 leading Pittsburgh organizations to say "thank you" to our members by offering free admission on select dates this February. Check out the calendar and plan your visit to one of our amazing neighbor institutions!