Thurs., Nov. 1; 6 p.m.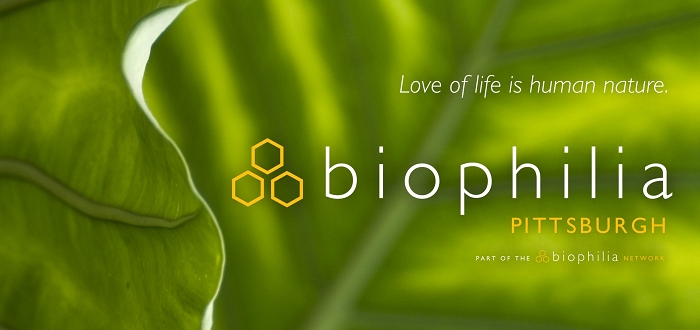 Join Pittsburgh's new network of creative minds working together to strengthen the bond between people and the natural world.
Biophilia: Pittsburgh November Meeting: Green Roofs — The Earth Above Us
Join us on Thurs., Nov. 1 as Dr. Julianna Razryadov discusses the benefits and potential of green roofs. Green roofs are novel ecosystems that are becoming increasingly popular in urban landscapes. With so much built on the ground level, it is important to use empty spaces for infiltration and green space where those two things are not common. We have an intrinsic responsibility to the plants and animals we've displaced for our own habitat, and green roofs can play an instrumental role in helping us to reconcile these relationships. In this talk we will discuss the benefits of green roofs as well as the possibilities that lie within them — using native plants, creating habitat and mitigating uniquely urban issues like storm water and urban heat islands.
Meet the Speaker
Dr. Julianna Razryadov started as the curator of horticulture here at Phipps in late August. She came to us from Penn State University where she completed her Ph.D. work in green roof ecosystems working with native and diverse flora that suit the extreme conditions of roof systems while promoting resource reuse through water capture. Julianna has already gotten herself involved in many projects around the Conservatory, especially those suited to her passions. As the former co-owner of a carnivorous plant nursery, she's been particularly excited to remake the carnivorous plant bog in the Discovery Garden. She is also an avid traveler who prefers to spend the majority of her free time walking in natural areas where she can seek out rare plants!
Meeting Schedule
5:30 – 6 p.m. Networking and refreshments
6 – 6:30 p.m. Presentation
6:30 – 7 p.m. Discussion
Meetings are free to attend; however, advance registration is required. To R.S.V.P., please send us an email or sign up on our Meetup page.
About Biophilia: Pittsburgh
Biophilia: Pittsburgh is the pilot chapter for a Biophilia Network dedicated to strengthening the bond between people and the natural world through education, discussion and action. The group will meet monthly at the Center for Sustainable Landscapes classroom at Phipps Conservatory and Botanical Gardens where, over delicious small-plates and light refreshments, a discipline or behavior will be identified — often by an expert guest speaker — and discussed among the participants in the interest of sharing ideas and identifying opportunities.
Directions and Parking
The meeting will take place at Café Phipps, and entry will be available through the main Conservatory entrance at our Welcome Center. Guest parking spaces will be available at the parking island on Schenley Drive.
Our Goals
• To welcome and inspire others with the concept and principles of biophilia
• To foster collaboration and learning between professionals from a wide variety of disciplines
• To communicate biophilic principles in action-oriented ways to a wider audience for exponential and regional impact
What Is Biophilia?
The term "biophilia," which literally means "love of life," was coined by social psychologist Erich Fromm and popularized by biologist E.O. Wilson, who defined it as "the innately emotional affiliation of human beings to other living organisms." The implications of biophilia extend across a vast array of disciplines including design and engineering, nutrition, psychology, public health, education, biology and the humanities. Biophilia is expressed all over the world every day through complex collaborations such as the design and construction of buildings and landscapes, and intimate, personal encounters, including nature hikes and home gardening.
Photos © Paul g. Wiegman
More Events You'll Enjoy
Thurs., Nov 8; 6 – 8 p.m.

Members who joined or renewed through the Make the Switch at Phipps! Green Power Drive are invited to join us for beer, wine, light snacks and refreshments, chat with Phipps and Green Mountain Energy representatives and register to win great prizes at this exclusive event.

Open Now

All aboard! Join us on a treasured locomotive journey through the years at Phipps, with fun, interactive features at every stop.

Friday, Nov 2; 7 – 11 p.m. (Ages 21+)

Make our paradise your own as you indulge in sweet and savory morsels, taste unique cocktails, and dance to the beats of a live DJ in our Tropical Forest Conservatory. Entry is free with Conservatory admission.