Thurs. Oct. 5; 6 p.m. (Doors open at 5:30 p.m. for refreshments and networking)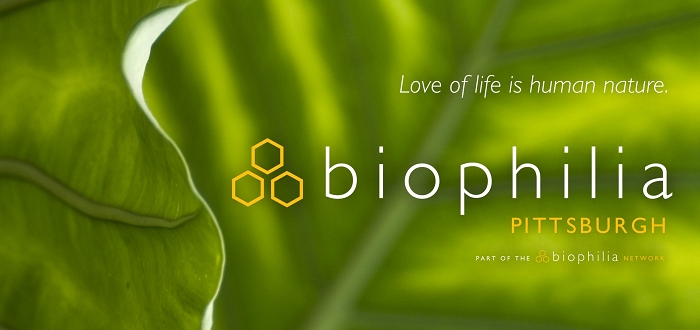 Join Pittsburgh's new network of creative minds working together to strengthen the bond between people and the natural world.
Biophilia: Pittsburgh October Meeting: Gaia — Reflections on Turning 50
The Thurs., Oct. 5 Biophilia: Pittsburgh meeting will feature Dr. John Stolz, professor of microbiology and director of the Center for Environmental Research and Education program at Duquesne University, who will lead the discussion, "Gaia — Reflections on Turning 50."
The Gaia hypothesis, authored by James Lovelock 50 years ago, proposed that the Earth's biota (all living things) interact with the atmosphere, the planet's waters and the crust, to create a life support system that maintains the long-term habitability of the planet. Our atmosphere, oceans, and crust have a unique chemical composition, when compared to the other planets of our solar system, due to the presence of life. Microbes, organisms too small to see without the assistance of a microscope, have played a vital role. The collective microbes of the Earth inhabit a wide range of environments including deep into the Earth's crust, has an estimated population of approximately 1030 cells and more than a trillion species with unknown classifications and "microbial dark matter." Recent discoveries have provided new insights into how microbes communicate. Gaia theory has evolved into the field of earth system science and expanded our understanding how Gaia could actually work.
John Stolz is a professor in the Department of Biological Sciences and director of the Center for Environmental Research and Education at Duquesne University. He received his B.S. from Fordham University in 1977 and a Ph.D. from Boston University in 1984. He was an NRC Post doctoral fellow at the NASA Jet Propulsion Laboratory and the Department of Geology and Planetary Sciences, California Institute of Technology, and an NSF Postdoctoral Fellowship in Plant Biology in the Biochemistry Department at the University of Massachusetts, Amherst.
Meeting Schedule
5:30 – 6 p.m. Networking and refreshments
6 – 6:30 p.m. Presentation
6:30 – 7:30 p.m. Discussion
Meetings are free to attend; however, advance registration is required. To R.S.V.P., please send us an email or sign up on our Meetup page.

About Biophilia: Pittsburgh
Biophilia: Pittsburgh is the pilot chapter for a Biophilia Network dedicated to strengthening the bond between people and the natural world through education, discussion and action. The group will meet monthly at the Center for Sustainable Landscapes classroom at Phipps Conservatory and Botanical Gardens where, over delicious small-plates and light refreshments, a discipline or behavior will be identified — often by an expert guest speaker — and discussed among the participants in the interest of sharing ideas and identifying opportunities.
Directions and Parking
Meetings take place in the Center for Sustainable Landscapes (CSL), specifically in the classroom on the first floor. Please note that Phipps' main Conservatory entrance will be closed, as these events are held after normal business hours. To access the CSL, follow Frew Street (located between the Oakland/Schenley Park Bridge and the Christopher Columbus statue), which will take you to the lower campus. Guest parking spaces are available on your left as you approach the CSL.

Our Goals
• To welcome and inspire others with the concept and principles of biophilia
• To foster collaboration and learning between professionals from a wide variety of disciplines
• To communicate biophilic principles in action-oriented ways to a wider audience for exponential and regional impact

What Is Biophilia?
The term "biophilia," which literally means "love of life," was coined by social psychologist Erich Fromm and popularized by biologist E.O. Wilson, who defined it as "the innately emotional affiliation of human beings to other living organisms." The implications of biophilia extend across a vast array of disciplines including design and engineering, nutrition, psychology, public health, education, biology and the humanities. Biophilia is expressed all over the world every day through complex collaborations such as the design and construction of buildings and landscapes, and intimate, personal encounters, including nature hikes and home gardening.
Photos © Paul g. Wiegman
More Events You'll Enjoy
Saturdays and Sundays, Nov. 25 – Dec. 23 plus Mon., Nov. 27 and Dec. 18 – 22; 11 a.m. – 2 p.m.

This time of year, the man in the big red suit sets up shop in Pittsburgh's green oasis. Bring little ones, or the entire family, to pose for a festive photo with Santa, free with Phipps admission.

Open Until 11 p.m. Except Where Noted

Stay for the evening and experience the beauty in a whole new light as the sun goes down and the mesmerizing SUPER. NATURAL. glass art begins to glow.

Friday, Nov. 3; 7 – 11 p.m. (Ages 21+)

Make our paradise your own as you indulge in sweet and savory morsels, taste unique cocktails, and dance to the beats of a live DJ in our Tropical Forest Conservatory. Entry is free with Conservatory admission.