Thurs., April 26; 6:30 p.m.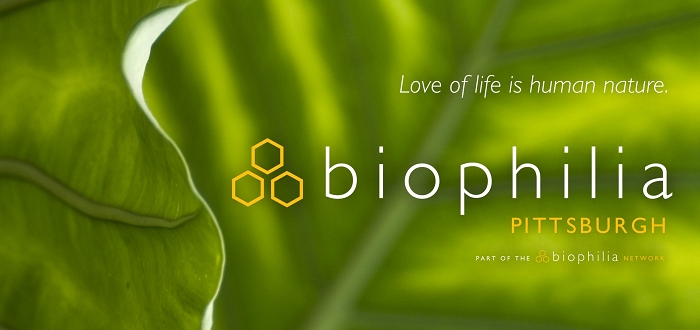 Join Pittsburgh's new network of creative minds working together to strengthen the bond between people and the natural world.
NOTE: This Biophilia Meeting will take place in the Welcome Center. Parking spaces will be available in the parking island on Schenley Drive immediately in front of Phipps.
Biophilia: Pittsburgh April Meeting: Cub'Art Exhibition and Discussion
Join us for the opening of the Cub'Art exhibition in the Welcome Center Gallery and hear Cuban artists discuss how their art is connected to and enhanced by nature. Three international Cuban artists – Yamiliany Morales Ferras, Jesús Gastell, and Duhamel Xolot – have traveled to Pittsburgh to talk about their work in the exhibition. The Cub'Art exhibition is in partnership with Christine Fréchard Gallery, and will be on display Fri., April 27 – Sun., July 22 in the Welcome Center Gallery.
Meet the Artists
Yamiliany Morales Ferras, was born on February 2, 1974, in San Antonio de los Baños, in the province of Havana. When she finished her Baccalaureate studies, she decided to study visual arts. She was admitted to the prestigious National Academy of Fine Arts and later joined the Higher Institute of Art of Havana (ISA) to pursue her art career. During her five years of study, she specialized in the techniques of engraving. Now living in Spain, she is influenced by the current environment and she incorporates social themes into her work.
Jesús Gastell is a mid-career artist who lives and works in Cuba. Gastell earned a Bachelor of Fine Arts from Escuela Nacional de Artes (ENA) and graduated from the prestigious Instituto Superior de Artes (ISA) in Havana with a degree in drawing and painting. Instead of only establishing himself as a master of representation, Gastell uses his extraordinary abilities to reveal the hidden connections between "the real" and our cultural perception of it. His artwork operates as a continuous exercise of questioning models, assuming the nature of intellectual pleasure as an illuminating experience.
Duhamel Xolot Núñez was born in Havana City in 1971. Having grown up in a family of artists, he started to draw and paint at a young age. Encouraged at school, he soon began his formal art education, from weekly courses for juniors to a fine arts high school academia. After completing college, he followed the steps of his father in the graphic design field, which was one of his early passions and is still a permanent influence in his work. His urban scenes or cityscapes of Havana is a subject that Duhamel has cultivated for many years. He has exhibited his paintings in Canada, where he went back to school to obtain a degree in graphic design from Concordia University. In 2015, he co-founded Studio O'208 as an alternative art space in the days of the 12th Havana Biennial. The Studio proved to be a vibrant and successful art venue shared by artists.
Meeting Schedule
6 – 6:30 p.m. Networking and refreshments
6:30 – 7 p.m. Presentation
7 – 8 p.m. Discussion
Biophilia: Pittsburgh May Meeting: Raising Conservation Awareness Through Volunteering
Join us on Thurs, May 3 for a discussion on how we can each help make a difference in conservation efforts by volunteering—regardless of our background, abilities, or season in life—with speaker Gail Newton. During the week, Gail works in an office focused on software engineering, but on her evenings and weekends, she transforms into an educator, an animal caretaker and an ambassador for the feathered world. She aims to inspire others into action while sharing some of the highlights of her volunteer career—especially those memorable moments she could tell that the education and conservation message was making a positive impact on children, families, audiences or classes. Come hear about Gail's adventures in volunteering, and learn about how we all can make a difference!
Meet the Speaker
Gail Newton has been a volunteer with the National Aviary since 2005 and contributes her free time in support of its mission to inspire respect for nature through an appreciation of birds. Over the last 13 years, she has had countless opportunities to inspire thousands of people of all ages by introducing them to over 150 amazing avian and mammal species while sharing a relevant conservation message one day each weekend. Gail's passion to raise conservation awareness has blossomed with her own insight of the environmental challenges that the wild counterparts of many of the Aviary's feathered counterparts face in the wild. Sadly, a number of these species are threatened, endangered, and even extinct due to various forms of human impact to the environment. Gail is part of the National Aviary's education team that raises awareness of these challenges via "nose to beak" encounters onsite as well as outreach programming – generally accompanied by feathered ambassadors like the critically endangered African Penguin.
Over the years, Gail has been active with helping to shape the National Aviary's Volunteer Program, currently serving as co-president on its Volunteer Council. She's honored to have her name on the Volunteer of the Year plaque at the National Aviary and to be identified as a subject for feature articles in two local publications regarding her volunteer work, most recently the 2017 Pittsburgh Magazine's annual Give supplement. You may have even seen her as one of the National Aviary representatives accompanying African Penguins in the 2016 Pittsburgh Penguins Stanley Cup championship parade!
Meeting Schedule
5:30 – 6 p.m. Networking and refreshments
6 – 6:30 p.m. Presentation
6:30 – 7:30 p.m. Discussion
Meetings are free to attend; however, advance registration is required. To R.S.V.P., please send us an email or sign up on our Meetup page.
About Biophilia: Pittsburgh
Biophilia: Pittsburgh is the pilot chapter for a Biophilia Network dedicated to strengthening the bond between people and the natural world through education, discussion and action. The group will meet monthly at the Center for Sustainable Landscapes classroom at Phipps Conservatory and Botanical Gardens where, over delicious small-plates and light refreshments, a discipline or behavior will be identified — often by an expert guest speaker — and discussed among the participants in the interest of sharing ideas and identifying opportunities.
Directions and Parking
Meetings take place in the Center for Sustainable Landscapes (CSL), specifically in the classroom on the first floor. Please note that Phipps' main Conservatory entrance will be closed, as these events are held after normal business hours. To access the CSL, follow Frew Street (located between the Oakland/Schenley Park Bridge and the Christopher Columbus statue), which will take you to the lower campus. Guest parking spaces are available on your left as you approach the CSL.
Our Goals
• To welcome and inspire others with the concept and principles of biophilia
• To foster collaboration and learning between professionals from a wide variety of disciplines
• To communicate biophilic principles in action-oriented ways to a wider audience for exponential and regional impact
What Is Biophilia?
The term "biophilia," which literally means "love of life," was coined by social psychologist Erich Fromm and popularized by biologist E.O. Wilson, who defined it as "the innately emotional affiliation of human beings to other living organisms." The implications of biophilia extend across a vast array of disciplines including design and engineering, nutrition, psychology, public health, education, biology and the humanities. Biophilia is expressed all over the world every day through complex collaborations such as the design and construction of buildings and landscapes, and intimate, personal encounters, including nature hikes and home gardening.
Photos © Paul g. Wiegman
More Events You'll Enjoy
Mondays – Fridays, 11:30 a.m. – Close; Saturdays – Sundays All Day

Switch your home electricity to 100% green power while visiting our Tropical Forest Conservatory and you can receive a free Phipps membership!

Sat., June 16; 9:45 – 10:30 a.m.

Join Phipps expert Jordyn Melino as she discusses Tropical Forest Cuba — including how it was designed and important featured species — at this special presentation exclusively for members.

Friday, May 4; 7 – 11 p.m. (Ages 21+)

Make our paradise your own as you indulge in sweet and savory morsels, taste unique cocktails, and dance to the beats of a live DJ in our Tropical Forest Conservatory. Entry is free with Conservatory admission.