Thurs., June 7; 6 p.m.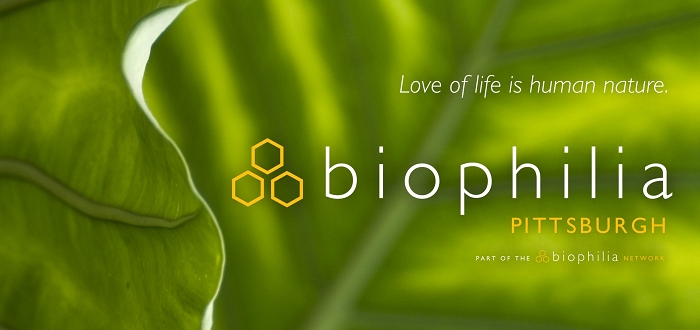 Join Pittsburgh's new network of creative minds working together to strengthen the bond between people and the natural world.
Biophilia: Pittsburgh June Meeting: Fighting Against Fossil Fuels for Justice
Join us on Thurs, June 7 for a discussion on the fight for environmental and economic justice on the frontlines of fossil fuel extraction. Experience a snapshot of what life is like in communities surrounded by fossil fuel extraction with few economic opportunities. Veronica Coptis, executive director of the Center for Coalfield Justice, will discuss community struggles, victories and ongoing battle for economic and environmental justice in Greene and Washington Counties and how you can stand in solidarity with communities that are directly impacted.
Meet the Speaker
Veronica Coptis joined the Center for Coalfield Justice (CCJ) staff in March 2013 as a community organizer. She now serves as the executive director. Veronica grew up in western Greene County near the Bailey Mine Complex and currently lives in the eastern part of the county. Before joining the CCJ staff, Veronica served on the Board of Directors for CCJ and organized with Mountain Watershed Association. She received a bachelor's degree in biology from West Virginia University and is chapter chair for the Pennsylvania Chapter of Sierra Club. She enjoys hiking and geocaching at Ryerson State Park and other areas around Greene County with her husband and daughter. Read more about Veronica in a New Yorker Magazine profile.
Meeting Schedule
5:30 – 6 p.m. Networking and refreshments
6 – 6:30 p.m. Presentation
6:30 – 7:30 p.m. Discussion
Meetings are free to attend; however, advance registration is required. To R.S.V.P., please send us an email or sign up on our Meetup page.
About Biophilia: Pittsburgh
Biophilia: Pittsburgh is the pilot chapter for a Biophilia Network dedicated to strengthening the bond between people and the natural world through education, discussion and action. The group will meet monthly at the Center for Sustainable Landscapes classroom at Phipps Conservatory and Botanical Gardens where, over delicious small-plates and light refreshments, a discipline or behavior will be identified — often by an expert guest speaker — and discussed among the participants in the interest of sharing ideas and identifying opportunities.
Directions and Parking
Meetings take place in the Center for Sustainable Landscapes (CSL), specifically in the classroom on the first floor. Please note that Phipps' main Conservatory entrance will be closed, as these events are held after normal business hours. To access the CSL, follow Frew Street (located between the Oakland/Schenley Park Bridge and the Christopher Columbus statue), which will take you to the lower campus. Guest parking spaces are available on your left as you approach the CSL.
Our Goals
• To welcome and inspire others with the concept and principles of biophilia
• To foster collaboration and learning between professionals from a wide variety of disciplines
• To communicate biophilic principles in action-oriented ways to a wider audience for exponential and regional impact
What Is Biophilia?
The term "biophilia," which literally means "love of life," was coined by social psychologist Erich Fromm and popularized by biologist E.O. Wilson, who defined it as "the innately emotional affiliation of human beings to other living organisms." The implications of biophilia extend across a vast array of disciplines including design and engineering, nutrition, psychology, public health, education, biology and the humanities. Biophilia is expressed all over the world every day through complex collaborations such as the design and construction of buildings and landscapes, and intimate, personal encounters, including nature hikes and home gardening.
Photos © Paul g. Wiegman
More Events You'll Enjoy
Mondays, Wednesdays and Fridays, Plus Additional Days As Available

Join us for one of our weekly scheduled Discovery Programs to engage our youngest visitors with the wonders of the natural world. All programs are free with admission and require no advance registration.

Saturdays; 11 a.m. – 3 p.m. Except as Noted

The revolutionary Nature Lab at Phipps is now open for you to discover. Drop in during our Saturday open hours and a graduate of our Learning for a Greener Future high school internship will show you around. No advance reservation is required.