Thurs., June 1; 6 p.m. (Doors open at 5:30 p.m. for refreshments and networking)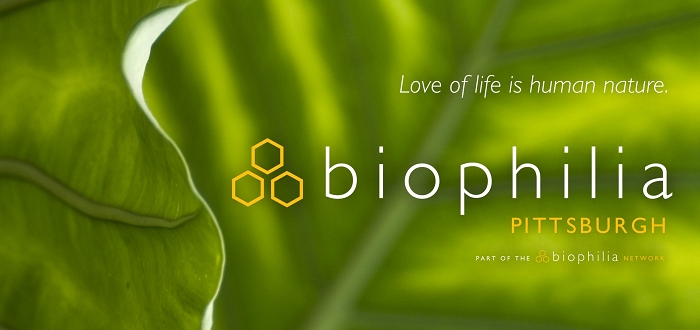 Join Pittsburgh's new network of creative minds working together to strengthen the bond between people and the natural world.
Biophilia: Pittsburgh June Meeting: Growing a Greener Steel City
The Thurs., June 1 Biophilia: Pittsburgh meeting will feature prominent naturalist Raqueeb Bey of Grow Pittsburgh, who will lead a discussion on "Growing a Greener Steel City." Raqueeb will discuss the strides she has taken to make Pittsburgh a greener place to live and inspire others to do the same.
Raqueeb is an urban agriculturist, community activist and mother of six phenomenal children. She is the Garden Resource Coordinator for Grow Pittsburgh's Garden Resource Center, a tool lending library in Pittsburgh's East End. In 2011, Raqueeb founded Mama Africa's Green Scouts, a youth program that teaches community gardening, green sustainability, African-centered culture and community leadership skills. She also founded the Black Urban Gardeners and Farmers of Pittsburgh Co-Op (BUGS FPC) in June of 2015, where she is the senior manager and enjoys working with diverse organizations and people to create sustainable food sovereignty solutions for our communities. In addition, she has been a volunteer in many capacities for Landslide Community Farm since 2012.
Meeting Schedule
5:30 – 6 p.m. Networking and refreshments
6 – 6:30 p.m. Presentation
6:30 – 7:30 p.m. Discussion
Meetings are free to attend; however, advance registration is required. To R.S.V.P., please send us an email or sign up on our Meetup page.

About Biophilia: Pittsburgh
Biophilia: Pittsburgh is the pilot chapter for a Biophilia Network dedicated to strengthening the bond between people and the natural world through education, discussion and action. The group will meet monthly at the Center for Sustainable Landscapes classroom at Phipps Conservatory and Botanical Gardens where, over delicious small-plates and light refreshments, a discipline or behavior will be identified — often by an expert guest speaker — and discussed among the participants in the interest of sharing ideas and identifying opportunities.
Directions and Parking
Meetings take place in the Center for Sustainable Landscapes (CSL), specifically in the classroom on the first floor. Please note that Phipps' main Conservatory entrance will be closed, as these events are held after normal business hours. To access the CSL, follow Frew Street (located between the Oakland/Schenley Park Bridge and the Christopher Columbus statue), which will take you to the lower campus. Guest parking spaces are available on your left as you approach the CSL.

Our Goals
• To welcome and inspire others with the concept and principles of biophilia
• To foster collaboration and learning between professionals from a wide variety of disciplines
• To communicate biophilic principles in action-oriented ways to a wider audience for exponential and regional impact

What Is Biophilia?
The term "biophilia," which literally means "love of life," was coined by social psychologist Erich Fromm and popularized by biologist E.O. Wilson, who defined it as "the innately emotional affiliation of human beings to other living organisms." The implications of biophilia extend across a vast array of disciplines including design and engineering, nutrition, psychology, public health, education, biology and the humanities. Biophilia is expressed all over the world every day through complex collaborations such as the design and construction of buildings and landscapes, and intimate, personal encounters, including nature hikes and home gardening.
Photos © Paul g. Wiegman
More Events You'll Enjoy
Sun., June 11; 9 a.m. – 4:30 p.m.

Join us for our second annual free, fun and family-oriented BioBlitz! A BioBlitz brings together local scientists and naturalists, families, students, teachers and community members to conduct a biological survey of all of the living species in a given area.

Sun., July 9; 9 a.m.

Join us at Phipps for a free, family-style yoga class presented by the YMCA of Greater Pittsburgh and Let's Move Pittsburgh.

Open Now

Ten years after Chihuly at Phipps, master glass artist Jason Gamrath brings a new twist to the art form, creating remarkably accurate botanical pieces on a massive scale, standing from six to 14 feet tall.