Thurs., Sept. 6; 6 p.m.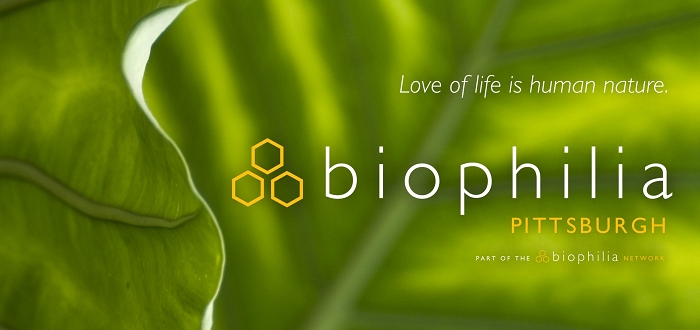 Join Pittsburgh's new network of creative minds working together to strengthen the bond between people and the natural world.
Biophilia: Pittsburgh September Meeting: Petunias, Produce and Power
UPDATE — NEW LOCATION: Our September Biophilia: Pittsburgh event will be held at Café Phipps and feature a selection of light fare and drink for purchase, including beer, wine, coffee and Phipps Splashes.
Join us on Thurs., Sept. 6 as speaker Muffy Mendoza of Pittsburgh Brown Mamas discusses her experience developing a community garden, and how the lack of support and community for growers in low-income communities directly relates to poverty and racism. In 2014, Muffy earned a grant from Grounded Strategies (formerly G-Tech) to build a collaborative green space at the corner of Perrysville Avenue and Perryview Avenue in the Observatory Hill section of the North Side. What started as a project that would bring young and old, black and white together to fight blight ended with a bulldozer when racism reared its ugly head.
Meet the Speaker
Muffy is the homeschooling mom of three boys and wife of one awesome husband. She runs a support group for black moms, Pittsburgh Brown Mamas, that reaches over 3,000 moms of color each week. She is the author of The Brown Mama Mindset: A Blueprint for Black Moms on Life, Love and Home. In her heart, Muffy is a good mother, born leader, lover of ice cream and boring documentaries, and avid gardener who believes that if you don't stand for something, you'll fall for anything.
Meeting Schedule
5:30 – 6 p.m. Networking and refreshments
6 – 6:30 p.m. Presentation
6:30 – 7 p.m. Discussion
Meetings are free to attend; however, advance registration is required. To R.S.V.P., please send us an email or sign up on our Meetup page.
About Biophilia: Pittsburgh
Biophilia: Pittsburgh is the pilot chapter for a Biophilia Network dedicated to strengthening the bond between people and the natural world through education, discussion and action. The group will meet monthly at the Center for Sustainable Landscapes classroom at Phipps Conservatory and Botanical Gardens where, over delicious small-plates and light refreshments, a discipline or behavior will be identified — often by an expert guest speaker — and discussed among the participants in the interest of sharing ideas and identifying opportunities.
Directions and Parking
The meeting will take place at Café Phipps, and entry will be available through the main Conservatory entrance at our Welcome Center. Guest parking spaces will be available at the parking island on Schenley Drive.
Our Goals
• To welcome and inspire others with the concept and principles of biophilia
• To foster collaboration and learning between professionals from a wide variety of disciplines
• To communicate biophilic principles in action-oriented ways to a wider audience for exponential and regional impact
What Is Biophilia?
The term "biophilia," which literally means "love of life," was coined by social psychologist Erich Fromm and popularized by biologist E.O. Wilson, who defined it as "the innately emotional affiliation of human beings to other living organisms." The implications of biophilia extend across a vast array of disciplines including design and engineering, nutrition, psychology, public health, education, biology and the humanities. Biophilia is expressed all over the world every day through complex collaborations such as the design and construction of buildings and landscapes, and intimate, personal encounters, including nature hikes and home gardening.
Photos © Paul g. Wiegman
More Events You'll Enjoy
Saturdays and Sundays; 1:30 p.m. except where noted

Grow your garden know-how by attending a free-with-admission class. From succulents to science, local experts bring it all to you surrounded by the beauty of our gardens.

Fri., Oct. 26; 4 – 8 p.m.

Bring costumed kids for a boo-tanical bash as we offer a host of fun family activities and healthy snacks, all free with Phipps admission!

Now Open

Experience the natural beauty and culture of Cuba, one of the most biodiverse Caribbean island nations on Earth, in our immersive new Tropical Forest exhibit.