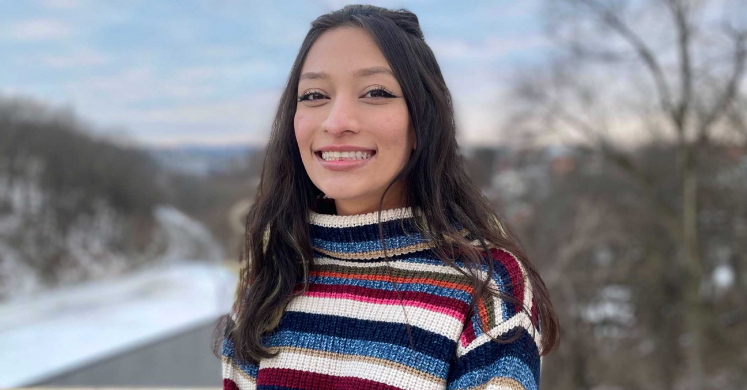 Meet Your Storyteller: Ramsha Khan
We are so excited to share that Story Time is returning to Phipps with a brand-new host! Each week, a different story is featured with a corresponding activity. We sat down with our new storyteller, Ramsha, to get more information on how she started at Phipps and what led her to host story time.

Give us a little overview of your time at Phipps so far-you've been working with us since you were in high school, is that right?
Yes! I have had the amazing experience of connecting with Phipps since I was in high school. I started the summer before my 12th grade year as a high school intern. This internship was actually what introduced me to my love for children's education! Shortly after the completion of my internship, I became a Nature Lab docent for Phipps. I spent my last year of high school working in this position giving tours of our Nature Lab to the guests of Phipps. Leading up to my high school graduation, I was introduced to the Discovery Education department which I have been a part of since June of 2019.
Tell us about your personal journey with storytelling. Who read to you when you were young? When did you develop a love for stories?
I've loved books for as long as I can remember. My elementary class had daily story times where I would be completely enveloped into each and every session. I remember checking out as many books as I could carry home from the library and then spending my whole night reading them. To this day, I spend a big chunk of my free time at the libraries around me. My favorite place to sit and read is the second floor of Carnegie Library where you can see the dinosaurs next door!
Why is telling stories important to giving young people an appreciation of nature?
The tremendous power stories have on our young people is magical. Younger people are introduced to new ideas at every turn of the page and with this, their imaginations is boosted as well. By telling stories, we can share just how lovely nature is and inspire people to feel this way from a young age. When we learn to love and appreciate nature, we can take the steps to be kind and take care of nature. Also, stories can give us a multitude of ideas on how to do so which is another big win!
What can parents expect from our new Story Time sessions at Phipps?
We will continue to have a theme every Wednesday with a book and craft to go along. There will be lots of singing and movement activities as well as sharing time continuing to be included! The spark of being able to share my own personal love for stories by reading to the friends of Phipps is something I will do my best to express throughout each session! We are always excited to find new stories to tell and crafts to share every week so I hope you can join us!
Can you give us a few book recommendations?
For our younger ones, The Velveteen Rabbit by Margery Williams was my number one book growing up. It made me want to go home and hug all of my stuffed animals–such a sweet story. Another good one is the classic Corduroy by Don Freeman. I'd say it teaches a lovely lesson about friendship! I could keep on recommending all the wonderful children's books that exist, but one more book that lives in my memories was The Kissing Hand by Audrey Penn. I remember feeling much more comfortable going to kindergarten after reading this so I do recommend this book for those who will be starting school soon! Happy reading!
Story Time will be back at Phipps weekly starting on March 2. Join Ramsha to hear amazing stories, learn about nature, and have a lot of fun! Learn how you can register for Story Time by clicking the button below: