WEDNESDAYS; 10:30 A.M. AND 1 P.M.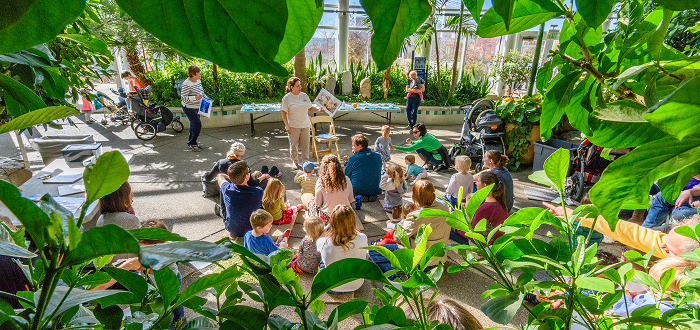 Join us for stories, sing-alongs and fun activities you can do from home each Wednesday!
Join us each Wednesday at 10:30 a.m. or 1 p.m. for a 30-minute Story Time and receive a link to a fun activity that you can complete at home. Each week, we will share a new story and activity!
Wed., Aug. 4 Schedule
Greeting and Welcome
Learning to read component: the sight word "the." Please print this word on a sheet of paper for our exercise. We will be reading an excerpt from Integrated Theme Units: Insects by Merrily P. Hansen, Marcia K. Miller and Mary Beth Spann
Reading of Mae the Mayfly written by Denise Brennan-Nelson and illustrated by Florence Weiser
Old MacDonald
Miss Kathy is back! She will teach us Spanish action verbs.
Traffic Safety Game
Goodbye song
Follow-up email with themed craft
Interested in attending? Please R.S.V.P. by clicking the link in the buttons below to receive an email with a Zoom link to participate in this week's Story Time.
Integrated Theme Units: Insects by Merrily P. Hansen, Marcia K. Miller and Mary Beth Spann was published by Scholastic Inc.
Select Photos © Paul g. Wiegman
More Events You'll Enjoy
See description for dates and times

Now some of our most popular courses are available to attend from the comfort of your own home. Peruse our offerings for an exciting variety of fun and enriching programs on vegetable gardening, orchid care and more to let your inspiration grow. Enrolled students will receive a...

Now Open

Experience the natural beauty and culture of Cuba, one of the most biodiverse Caribbean island nations on Earth, in our immersive new Tropical Forest exhibit.

June – August; SEE FULL SCHEDULE FOR DETAILS

Explore our virtual camps for children from pre-school to high school and let us immerse your young explorers in the incredible world of Phipps. Camps highlight ecology, conservation, healthy living, art concepts and more!