Wednesdays; 10:30 a.m. and 1 p.m.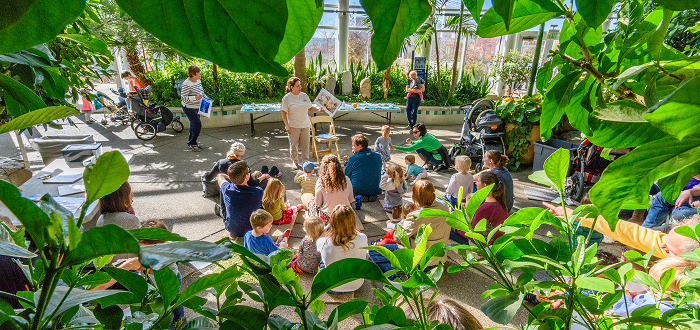 Join us for stories, sing-alongs and fun activities you can do from home each Wednesday!
Join us each Wednesday at 10:30 a.m. or 1 p.m. for a 30-minute Story Time and receive a link to a fun activity that you can complete at home. Each week, we will share a new story and activity!
Wed., March 3 Schedule
Greeting and Welcome
Learning to read component: the letter "C" and the word "cold"
Reading of If It's Snowy and You Know It, Clap Your Paws! By Kim Norman and illustrated by Liza Woodruff
Old MacDonald
Animal Walk
Goodbye song
Follow-up email with themed activity
Interested in attending? Please R.S.V.P. by clicking the link in the buttons below to receive an email with a Zoom link to participate in this week's Story Time.
Select Photos © Paul g. Wiegman
More Events You'll Enjoy
Through Sun., Feb. 28

Wash away the winter blues with gorgeous displays of all-star specimens from two of Phipps' finest collections.

Opens Sat., March 13

Look up! Spring is in the air at a spectacular Spring Flower Show that brings our signature seasonal blooms to new heights.

Daily, noon – 5 p.m. with occasional evening hours

Switch your home electricity to 100% green power while visiting our Tropical Forest Conservatory and you can receive a free Phipps membership!