Phipps is dedicated to bringing nationally recognized speakers to our world-class facility to help enrich our region and further our mission. These special events will keep you at the forefront of your field of interest and connected to like-minded individuals. You'll be amazed at what you can learn in a day at the gardens.
For more details about our programs, or to receive personalized class recommendations from our helpful staff, please feel free to contact us at edu@phipps.conservatory.org.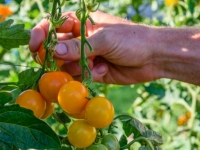 2019 One Health One Planet™ Symposium
OPENING RECEPTION WED., MARCH 13; 5:30 – 8:30 P.M.
SYMPOSIUM THURS., MARCH 14; 8 A.M. – 5 P.M.
The 2019 installment of Phipps' popular symposium series brings internationally recognized thought leaders to Pittsburgh to discuss the human, animal and ecological impacts of food and diet, including the effects of large-scale agriculture, plant-based diets and diet trends,...