American Orchid Society Awards Phipps Conservatory with a Certificate of Cultural Excellence
For Immediate Release: Fri., Jan. 21
Contact: Joe Reed | Director of Marketing and Communications
412-622-6915, ext. 3801 | jreed@phipps.conservatory.org
American Orchid Society Awards Phipps Conservatory with a Certificate of Cultural Excellence
Phipps' Talented Horticulture Staff Awarded with Highest Honor for Exquisite Orchid Growth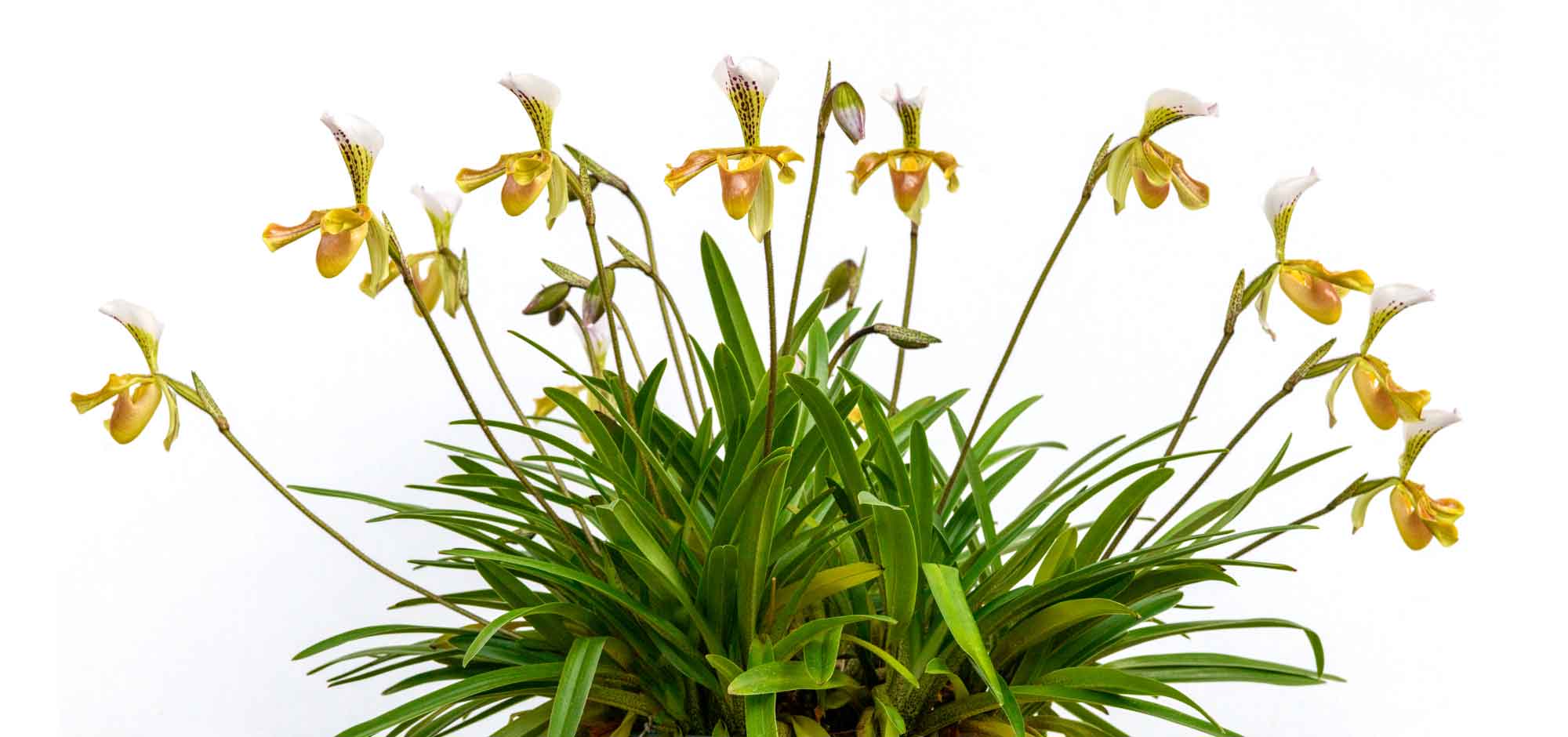 Photo © Paul g. Wiegman

Pittsburgh, PA – Phipps Conservatory and Botanical Gardens is honored to announce that our talented horticulture staff was awarded with a Certificate in Cultural Excellence (CCE) by the American Orchid Society (AOS). The CCE is the highest honor a grower can receive for their excellent orchid care. The AOS awards are a recognized measure of quality all over the globe and are coveted by experts and commercial growers alike.
With a staggering 18 blooms, the orchid Paphiopedilum gratrixianum 'Phipps Best' CCE thrived in the care of Phipps' staff. Vibrant hues, glossy textures and a robust growth were noted in the orchid, of which AOS judge David Miller noted, "In my 10 years of judging I would call this the finest grown orchid I have had the opportunity to judge." Having traveled to Ann Arbor, Michigan for assessment, the plant is now back in Pittsburgh, where it is featured in our Palm Court as part of this year's Orchid and Tropical Bonsai Show: An Ocean of Color.
Paphiopedilum orchids, also called "slipper orchids" for their unique ballet-slipper shape, have been a major focus of Phipps' collection for some time. The Conservatory's renowned Barbara Tisherman Slipper Orchid Collection, curated in collaboration with Orchid Society of Western Pennsylvania, is one of the most definitive of its kind. The collection is accredited by the Plant Collections Network, offered by the American Public Gardens Association and the USDA Agricultural Research Service.
Orchid and Tropical Bonsai Show: An Ocean of Color and Garden Railroad: Bridges and Tunnels run through March 6, and Festive Nights of Winter Lights runs Fridays and Saturdays from 5 – 10 p.m. through Jan. 29. Phipps hours are 9:30 a.m. – 5 p.m. Sundays – Thursdays, and 9:30 a.m. – 10 p.m. on Fridays and Saturdays. Member and nonmember tickets must be reserved in advance and masks are required for all guests ages 2 and up. For more information and to reserve tickets, visit phipps.conservatory.org/Tickets.
###

About American Orchid Society: From its founding in 1921, the American Orchid Society has been the go-to resource for orchid growers of all stripes. Many members are hobbyists who enjoy growing orchids and want to learn more about them. Others enjoy the thrill of exhibiting their orchids in shows hosted by local orchid societies. And still others aspire to become an orchid judge. Many are interested in the latest hybridizing trends, others in protecting orchids in the wild and still others in research that advances orchidology. Learn more at aos.org.
About Phipps: Founded in 1893, Phipps Conservatory and Botanical Gardens in Pittsburgh, PA is a globally recognized green leader with a mission to inspire and educate all with the beauty and importance of plants; to advance sustainability and promote human and environmental well-being through action and research; and to celebrate its historic glasshouse. Encompassing 15 acres including a historic 14-room glasshouse, 23 distinct indoor and outdoor gardens and industry-leading sustainable architecture and operations, Phipps attracts more than half a million visitors annually from around the world. Learn more at phipps.conservatory.org.
Watch TEDx: What We Can Learn From an Old Glasshouse: A look at the evolving way we connect people to nature at Phipps, demonstrate how human and environmental health are inextricably connected, and show that to age gracefully, we must continually reinvent ourselves to evolve with the rest of the world.