Phipps Conservatory Announces Summer Flower Show, Flowers Meet Fashion Inspired By Billy Porter
For Immediate Release: Wed., March 29
Contact: Joe Reed | Senior Director of Communications
412-622-6915, ext. 3801 | jreed@phipps.conservatory.org
Phipps Conservatory Announces Summer Flower Show, Flowers Meet Fashion Inspired By Billy Porter
Experience a Glimpse into the Iconic Career of Billy Porter in Extravagant New Show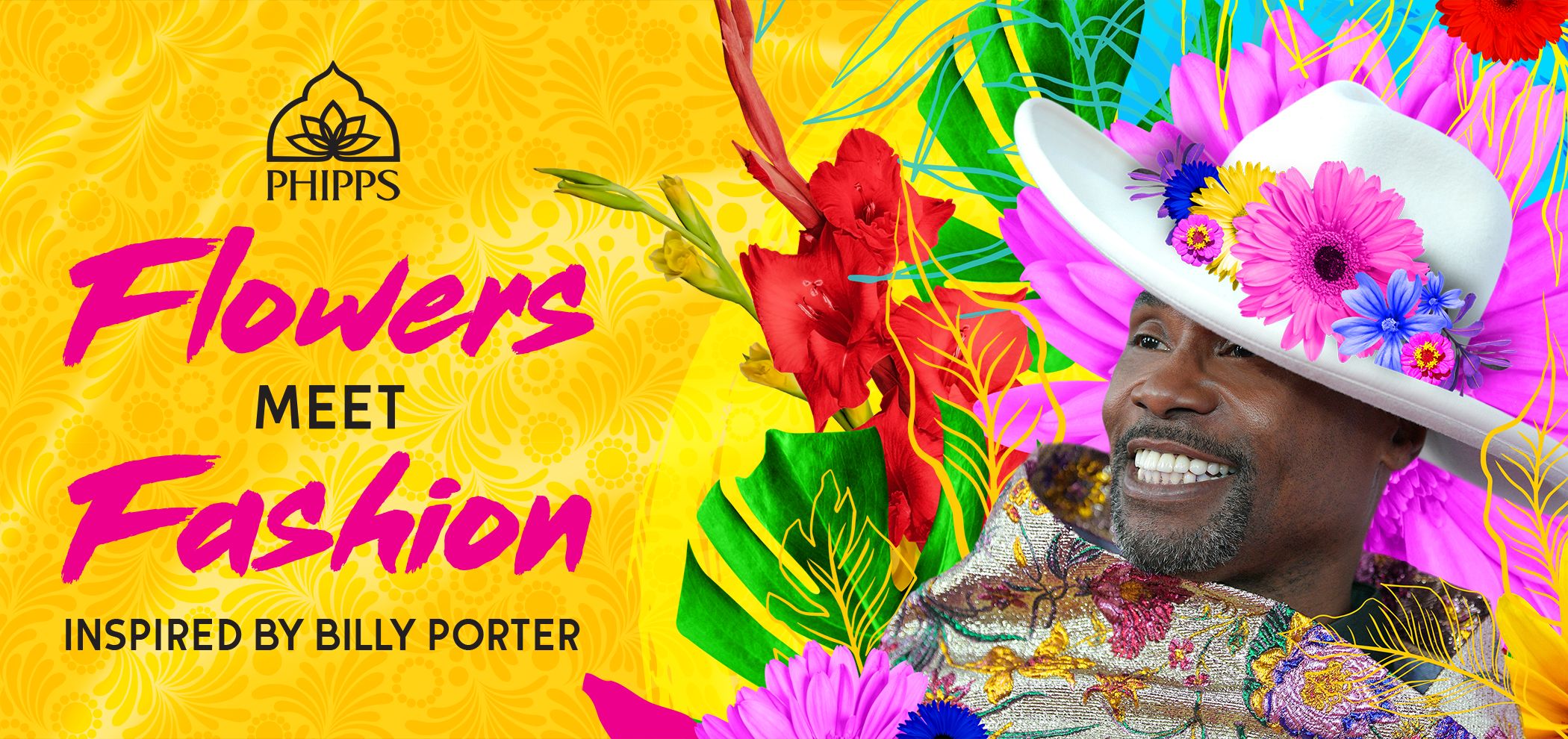 Pittsburgh, PA – Starting Sat., May 6, Phipps Conservatory and Botanical Gardens is presenting Flowers Meet Fashion: Inspired by Billy Porter. This spectacular new show will feature brilliant horticultural displays and breathtaking fashion designs inspired by Billy Porter's local roots and iconic array of accomplishments as an award-winning actor, singer, director, composer and playwright. With the help of six professional fashion designers and costumers and students from Billy's local alma maters, Carnegie Mellon University and Pittsburgh CAPA High School, Phipps has created an unforgettable experience for all.
Exhibit Features
Enter the show as an intricate, Pittsburgh-inspired gown takes center stage in front of a pink neon sign in our Welcome Center
Stroll among elegant blue and green costumes inspired by Porter's Unprotected: A Memoir beneath gleaming globe chandeliers in our Serpentine Room
View a captivating gold costume that hovers in the Victoria Room as blue water lilies circulate in the pond below
Strut your stuff into the Broderie Room featuring a vibrant Kinky Boots-inspired display
Lights, camera, action! The South Conservatory transports you to a red carpet holding three award-worthy dresses constructed with dried plant material
Marvel at the live fish swimming within the aquaponics costume in the Serpentine Room
Don't forget to strike a pose in front of the pink and green vertical wall on your way out!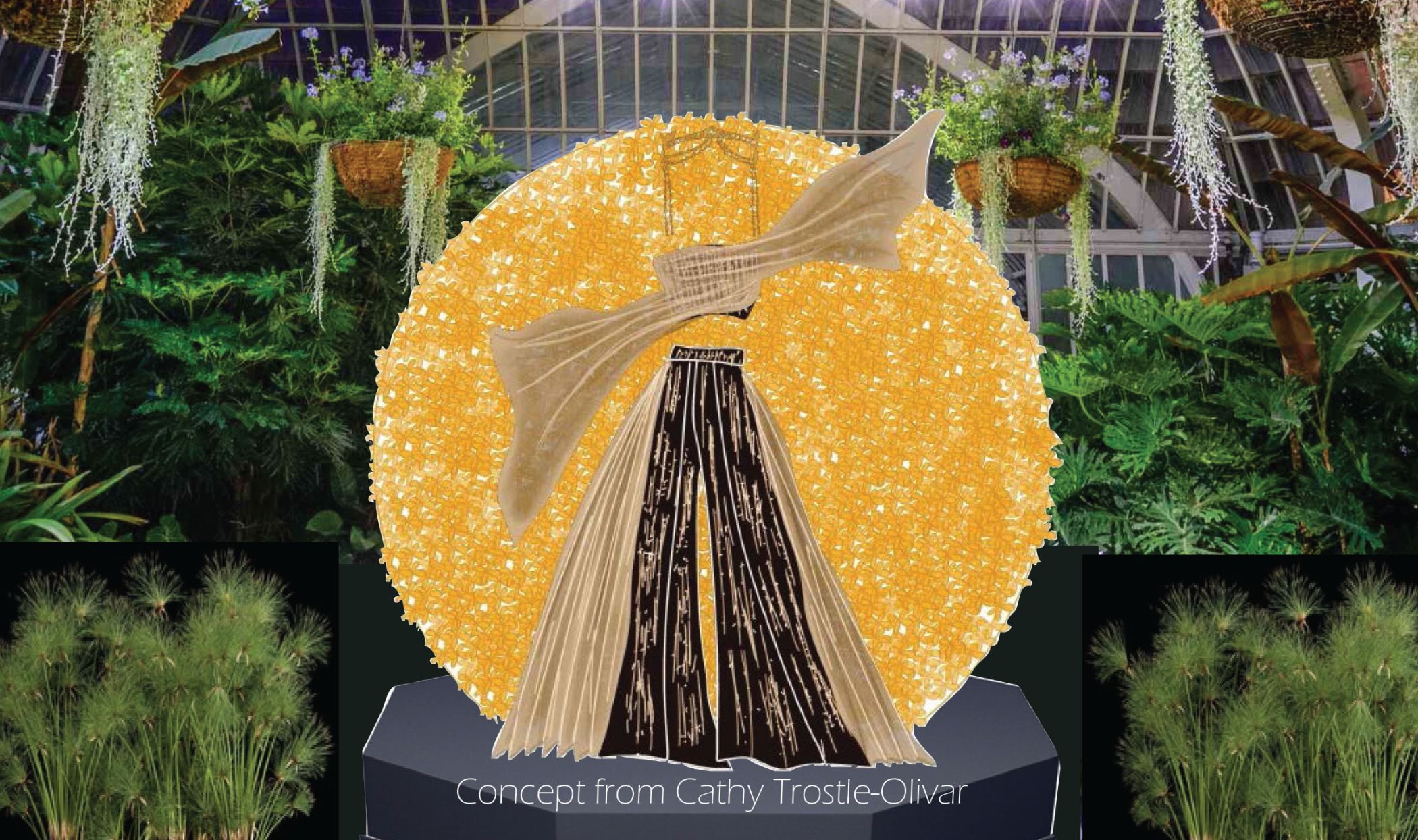 Flowers Meet Fashion combines glamorous fashion designs with beautiful floral displays in a way that is sure to dazzle you in each and every room. Don't miss this inspiring, one-of-a-kind show that only Phipps can provide!

Flowers Meet Fashion: Inspired by Billy Porter was designed by Associate Director of Exhibits Jordyn Melino. The show runs from May 6 – June 25. Phipps is open from 9:30 a.m. – 5 p.m. daily and until 10 p.m. Fridays. Timed tickets must be reserved in advance and will be available for presale in March. For more information and to reserve tickets, visit phipps.conservatory.org.
###
About Phipps: Founded in 1893, Phipps Conservatory and Botanical Gardens in Pittsburgh, PA is a globally recognized green leader with a mission to inspire and educate all with the beauty and importance of plants; to advance sustainability and promote human and environmental well-being through action and research; and to celebrate its historic glasshouse. Encompassing 15 acres including a historic 14-room glasshouse, 23 distinct indoor and outdoor gardens and industry-leading sustainable architecture and operations, Phipps attracts more than half a million visitors annually from around the world. Learn more at phipps.conservatory.org.
Watch TEDx: What We Can Learn From an Old Glasshouse: A look at the evolving way we connect people to nature at Phipps, demonstrate how human and environmental health are inextricably connected, and show that to age gracefully, we must continually reinvent ourselves to evolve with the rest of the world.