Buy Tickets Online
Phipps is now open for your visit. All tickets must be purchased in advance, and new safety protocols are required. Learn how you can join us!
Open Daily
9:30 a.m. – 8 p.m.
Please note: Some areas of the public garden occasionally close during normal business hours for private events. We are also closed on Thanksgiving Day. For the Christmas holiday, Phipps closes at 5 p.m. on Dec. 24 and reopens at 9:30 a.m. on Dec. 26.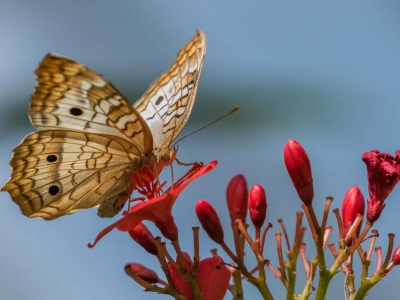 Butterfly Forest Update
Phipps' beloved butterflies are taking the summer off while we make important renovations to their home in the Stove Room so they have a safe place to flutter for years to come! You can help our efforts by sponsoring a glass pane, which protects and sustains every room in our magnificent original 13-room glasshouse. We look forward to bringing the butterflies back to the Conservatory in 2021 — and in the meantime, stay tuned as our Summer of Pollinators begins in June, a series of activities, classes and more to celebrate butterflies and all the other native pollinators we support at Phipps.