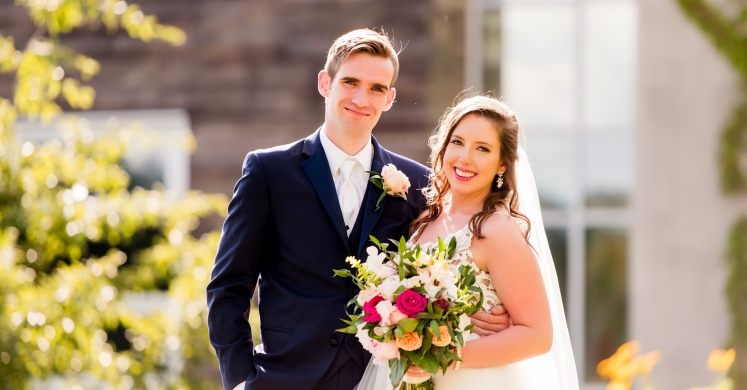 Weddings Under Glass: Ashley and Rory
Weddings Under Glass is a monthly blog series where we highlight the stories of couples who chose to begin their happily ever after in the lush backdrop of Phipps, named one of the best outdoor garden wedding venues by Elle and Harper's Bazaar.
Ashley and Rory met in college on a blind date when a mutual friend set the couple up to attend a Halloween party together. Ashley attended the party dressed as a mermaid, while Rory was a sailor. They've been a perfect match ever since!
Rory proposed to Ashley over their anniversary after she had been away for a weekend. When she returned home, she found a note on the door letting her know that Rory had planned an anniversary surprise. He set up an exciting scavenger hunt that led her throughout their house, with each clue holding a special memory, like her favorite flowers, movie ticket stubs from their first date, and takeout from the first restaurant they went to together. Eventually the clues led Ashley to Rory who was down on one knee to propose - the best treasure of her life!
The couple wed in a beautiful, beach-themed ceremony in June 2018 on Phipps Conservatory's Tropical Forest patio. Ashley and Rory chose Phipps as their wedding venue because it represented the best of both worlds between their love of travel, especially the beach, and their desire to have a hometown wedding in Pittsburgh. They were thrilled to be able to show off the city they love and bring their guests to a venue rooted in Pittsburgh history, while also having the wonderful feel of a destination wedding through the lush atmosphere of the Tropical Forest at Phipps.
In keeping with the pair's passion for the beach, the entire wedding was deeply inspired by the ocean. The couple used watercolor details on their invitations, programs and placecards to make their guests feel as though they'd been transported to a tropical island. Cocktail hour included colorful pineapple centerpieces, beachy music and fun signature drinks inspired by their mermaid and sailor costumes at the Halloween party where they first met.
Getting married at Phipps was a wonderful experience for Ashley and Rory. Not only were the Special Events Hall and Tropical Forest venues the perfect spaces to bring their vision to life, the conservatory had everything they were looking for in a venue from beautiful views to excellent food and helpful staff. Describing Phipps, Ashley said, "Everywhere you turn is a picture perfect backdrop, and I truly felt like I was in a fairytale."
After the wedding, Ashley and Rory honeymooned in picturesque Riviera Maya, Mexico and are now back in Pittsburgh living just outside the city with their dog Stella where Rory works in corporate finance and Ashley is an event coordinator. As they enjoy married life, Phipps' tropical escape is just a few miles away to recall all of their fond wedding memories together.
Would you like to plan your special day at Phipps? Please contact our events team by email or by calling 412/315-0685.
Vendors
Photographer: Leeann Marie Photography
Stationary: Oh Joyful Day
Flowers: Blossoms by Jillian
Cakes & Sweets: Bella Christie
Dress: Bridal Beginnings
Videography: Vision Films Pittsburgh
DJ: First Class Entertainment - Kevin Burkholder
Rentals: Elegant Events by Andrea