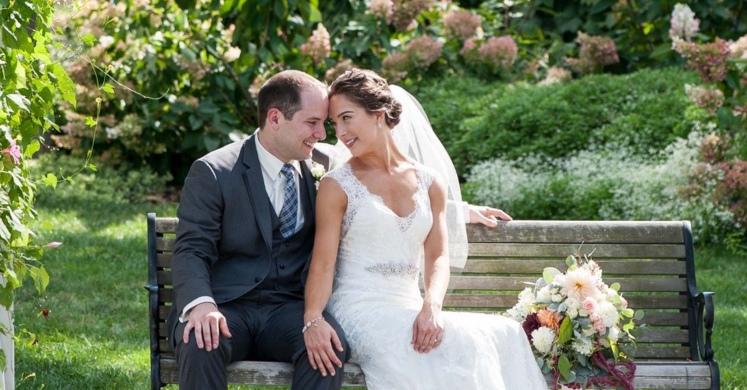 Weddings Under Glass: Courtney and Alex
Weddings Under Glass is a monthly blog series where we highlight the stories of couples who chose to begin their happily ever after in the lush backdrop of Phipps, named one of the best outdoor garden wedding venues by Elle and Harper's Bazaar.
Courtney and Alex both attended Indiana University, but it took three years before their paths crossed. One day during their junior year, Alex stopped by the sorority house where Courtney lived. "At first sight he knew he had found the one," Courtney says. She was in a relationship at the time, but Alex patiently waited for an opportunity to win her over. That opportunity eventually came along, and after years of dating, Alex decided to propose!
Courtney had previously mentioned to Alex that she would like her family to be in town for her engagement, so he arranged for her family to come to Pittsburgh for the 2015 half marathon. Courtney was running in the race, and they were there to "cheer her on" – but really they were there to share in the happy moment of Alex and Courtney's engagement. Right before dinner with the family, Alex dropped down on one knee and asked Courtney to spend the rest of her life with him. "Alex planned the surprise of a lifetime!" Courtney says.
Courtney and Alex envisioned an intimate, natural, outdoor wedding, but weren't exactly sure where to look. The couple had visited Phipps for dates and events, and thought it would be perfect, but they wanted to be absolutely certain it was the right venue for them.
"In all truthfulness, we researched other botanical gardens, bed and breakfast courtyard locations, and even a couple barn locations outside of the city," says Courtney. "But Phipps delivered undeniable ease and comfort. From the first meeting with our coordinator and the catering organizer, and after briefly visiting, the choice was a no brainer."
Courtney and Alex held both their ceremony and reception in the outdoor garden. Sunflowers, roses, ferns and dahlias – Courtney's favorite – were found in the floral arrangements, and Icelandic blue was the couple's chosen wedding color, which was a beautifully organic complement to the natural greenery in the Outdoor Garden.
Special, personal touches were at the heart of Courtney and Alex's wedding – including family photos, a planting ceremony, and Courtney's uncle participating as the officiant. "These touches created a feeling of intimacy that was absolutely priceless," says Courtney.
The September weather was beautiful for the couple's wedding. "We lucked out big time with the weather on our wedding day! Not too hot, not too cold. We comfortably enjoyed every moment in the Outdoor Garden," Courtney says.
Phipps' Outdoor Garden was a beautiful place for photos and partying, and was one of the couple's favorite parts of their special day. "The ceremony during sunset created the perfect backdrop for photos," Courtney says, "and the brand new tent with added string lights and a chandelier was an amazing location for dining and dancing after the ceremony."
Two days after their wedding, Courtney and Alex travelled to Punta Cana in the Dominican Republic for their honeymoon. Punta Cana holds special sentiment to the couple, who took their first vacation there together. They enjoyed the spa, private dinners and relaxation after spending a year planning their wedding.
Almost a year later, Courtney and Alex are settling into marriage and creating a home for themselves. "We continue to enjoy every moment of our life together," says Courtney.
Would you like to plan your special day at Phipps? Please contact our events team by email or by calling 412/622-6915, ext. 6404.
Vendors
Photography: Dave DiCello
Videography: Remmington Place Productions
Florist: The Blue Daisy Floral Design
Cake: Bethel Bakery
Band: Terrance Vaughn Trio
Lighting: Gray Phoenix
Bridal Accessories: Glitter and Grit