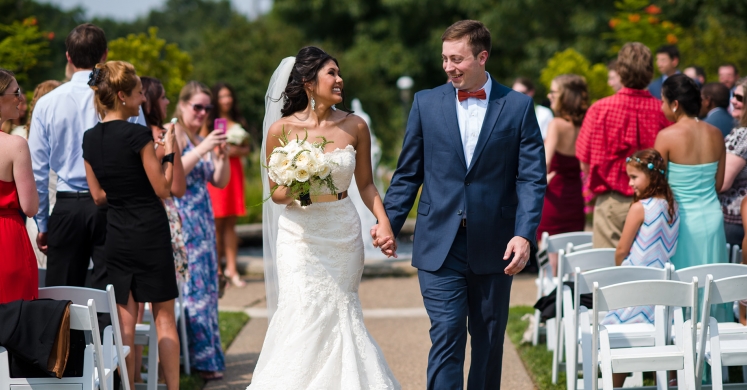 Weddings Under Glass: MieMie and Randy
Weddings Under Glass is a monthly blog series where we highlight the stories of couples who chose to begin their happily ever after in the lush backdrop of Phipps, named one of the best outdoor garden wedding venues by Elle and Harper's Bazaar.
MieMie and Randy first met each other in their sophomore year at the University of Pittsburgh. They had several classes together and mutual friends but didn't start dating until their very last semester senior year. Once they started dating, though, their relationship continued to grow into something truly special.
On their six-year dating anniversary, Randy and MieMie decided to go out to dinner on Mt. Washington to celebrate – even though they were both very tired from a long day at work. They dined, drank, and at the end of the night, Randy asked MieMie to take a picture together in front of the beautiful Pittsburgh skyline. This was February in Pittsburgh, so of course the weather was cold and rainy, and MieMie really did not want to go outside. Randy insisted on taking the photo, so right after they took it, MieMie started running back to the car. Before she could get too far, Randy stopped her, told her to wait just one more second, and got down on one knee. MieMie was so surprised and she happily said yes.
The couple knew they wanted to be married in an outdoor location, so they went on the hunt for their dream ceremony venue and decided on Phipps' Outdoor Garden. "Phipps is a classic Pittsburgh landmark. We knew the Outdoor Garden was the perfect fit!" MieMie says.
MieMie and Randy chose a classic and vintage theme for their wedding, incorporating lace dresses for the bride and bridesmaids and a beautiful array of ivory, navy and orange-red poppy. They also wove lace details throughout their reception with mercury glass accents and a gold cake.
"Our favorite part about being married at Phipps was the natural beauty of the Outdoor Garden," MieMie remembers. "I loved the fountain and having the Cathedral of Learning in the backdrop of our ceremony pictures. We both went to Pitt so that was a nice surprise!"
After their stunning August wedding, MieMie and Randy went on a relaxing honeymoon in Hawaii, where they visited Oahu and the Big Island. The couple still call Pittsburgh their home, and they currently reside in the South Hills with their cute, tiny Yorkie named Winnie.
Would you like to plan your special day at Phipps? Please contact our events team by email or by calling 412/315-0685.
Vendors
Photographer: Michael Will Photography
Violinist: Steven Vance Strolling Violins
Band: Lava Game