Fall Flower Show: 125 Years of Wonder Takes Guests on a Spectacular, Nostalgic Journey Through Time
For Immediate Release: Fri., Oct. 12
Contact: Julie LaBar | Director of Marketing and Communications
412/622-6915, ext. 3801 ǀ jlabar@phipps.conservatory.org
Phipps Conservatory's Fall Flower Show: 125 Years of Wonder Takes Guests on a Spectacular, Nostalgic Journey Through Time
Experience Phipps' iconic moments anew amidst thousands of stunning chrysanthemums, commemorating 125 years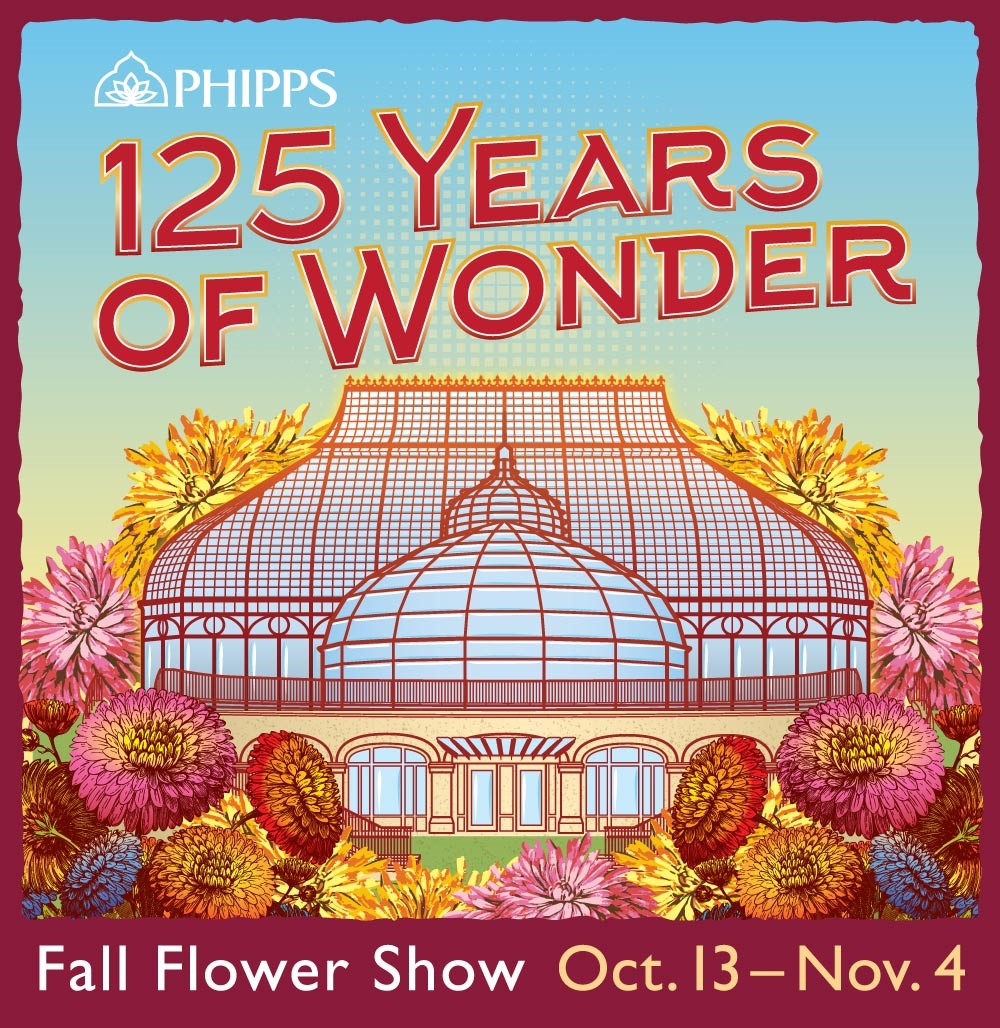 Pittsburgh, PA — Phipps Conservatory and Botanical Gardens' Fall Flower Show: 125 Years of Wonder opens Sat., Oct. 13 with an all-new reimagining of some of the most memorable moments in the Conservatory's 125-year history. Chrysanthemums will bloom by the thousands to colorfully accentuate nostalgic displays inspired by different periods of Phipps history, from the 1890s to the 1960s and beyond, in this fun, inspiring show.

Experience the newly-restored Palm Court upon entering the Conservatory, Phipps' largest glasshouse room now complete with over 5,000 new panes of glass and the historic, crowning ogee. Plus, admire the breathtaking centerpiece display that pays tribute to the Conservatory's founding with classic gold and white chrysanthemums and a special portrait of Henry Phipps.

Enjoy a humorous and whimsical nod to Phipps' most popular and beloved nursery-rhyme displays of the 1960s with special guest Humpty Dumpty in topiary form set in the East Room.

Creep through a tribute to filmmaker George A. Romero as the glasshouse's winding Serpentine Room is transformed into a Night of the Living Dead experience filled with spooky plants, bats, tombstones, a zombie photo op and photos of George with the legendary corpse flower at Phipps named in his honor.

Explore a Sunken Garden bedecked in gem-toned blooms of dazzling topaz, amethyst and amber in homage to Pittsburgh's glasshouse jewel.

Plus, guests can sign the supersized old-fashioned postcard and share a favorite memory during their visit, joining the celebration to commemorate Phipps' 125th birthday, and travel through time in a gallery of nostalgic Phipps photos.

Throughout the show, enjoy vibrant colors from Phipps' thousands of signature chrysanthemums, including 800 vibrant disbud mums whose large, spectacular blooms take extensive training to achieve, plus a breathtaking variety of beautiful spray mums, cascades and much more.

During their visit, guests will delight in Garden Railroad: Memories in Motion, traveling through the years at Phipps with interactive features at every stop. In celebration of Phipps' 125th anniversary, the new miniature Garden Railroad shows the dramatic transformation of the Conservatory from its beginnings to modern-day standing as a global leader in horticultural display and sustainability — all through the magic of meticulously detailed garden-scale models! Watch as miniature locomotives chug through landscapes full of tiny living plants, showing scenes of Phipps and its Schenley Park surroundings from 1893 to 2018. Plus, guests of all ages will delight at interactive, push-button stations that bring this memorable immersive display to life.

Don't miss Fall Flower Show: 125 Years of Wonder, on display for just three weeks Sat., Oct. 13 through Sun., Nov. 4. Hours are 9:30 a.m. – 5 p.m. daily and until 10 p.m. on Fridays. Admission is $17.95 for adults, $16.95 for seniors and students and $11.95 for children (2 – 18). Members and kids under 2 enter free. All exhibits are included with admission.
###
About Phipps: Founded in 1893, Phipps Conservatory and Botanical Gardens in Pittsburgh, PA is a green leader among public gardens with a mission to inspire and educate all with the beauty and importance of plants; to advance sustainability and promote human and environmental well-being through action and research; and to celebrate its historic glasshouse. Phipps commemorates its 125th anniversary throughout 2018, celebrating its historic past, vibrant present and exciting future ahead — including inspiring seasonal flower shows, community events, public programs and groundbreaking green innovation. Learn more at phipps.conservatory.org.