Last Chance to Experience Holiday Magic! Winter Flower Show and Light Garden at Phipps Conservatory
For Immediate Release: Mon., Jan. 6

Contact: Joe Reed | Director of Marketing and Communications
412-622-6915, ext. 3801 | jreed@phipps.conservatory.org
Last Chance to Experience Holiday Magic! Winter Flower Show and Light Garden at Phipps Conservatory
Families Can Enjoy this Pittsburgh Holiday Tradition through Sun., Jan. 12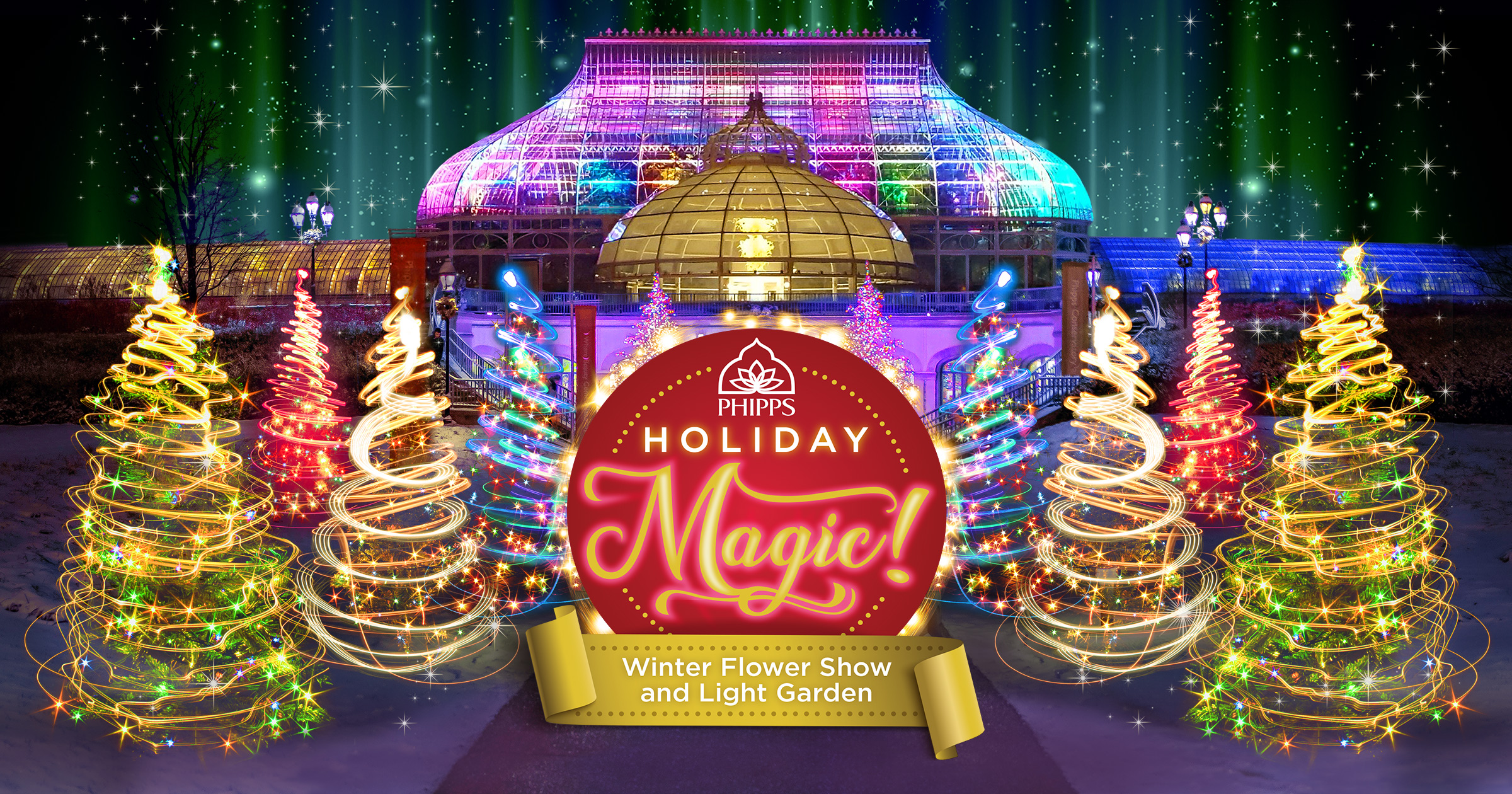 Pittsburgh, PA — Pittsburgh's blockbuster holiday experience is wrapping up its final week of indoor and outdoor splendor as Phipps Conservatory and Botanical Gardens' Holiday Magic! Winter Flower Show and Light Garden draws to a close. Through Sun., Jan. 12, families can take advantage of their last chance to experience this year's spectacular holiday displays, with over ten acres of gardens and lights to explore!
With an exciting Festival of Trees theme, holiday trees are the centerpiece of Phipps' winter wonderland, featuring a tree carousel, colorful poinsettia trees, a floating forest of sparkling trees reflecting on water, a frozen forest with charming topiary reindeer and many more holiday surprises. From a mesmerizing tunnel of lights to icy prism towers, a fountain of lights and more, Phipps' Victorian glasshouse and glowing outdoor gardens will delight guests of all ages with stunning illuminated botanical exhibits, whimsical props and unique light displays. Timed tickets are available for purchase now at phipps.conservatory.org/HolidayMagic. Tickets are free for Phipps members but must be reserved in advance.
Families looking for an extra-special weekend outing can purchase tickets to Little Shop of Horrors in Concert on the final Friday night of Holiday Magic! Presented in collaboration with Pittsburgh Public Theater on Fri., Jan. 10, the one-night-only event will treat guests to live cast performances of songs from PPT's production of Little Shop of Horrors, including a hand-puppet performance from Audrey II. Plus, attendees can explore the spectacular displays of Holiday Magic! until 11 p.m. Two sessions of Little Shop of Horrors in Concert are offered at 7 p.m. and 8:15 p.m. Tickets are $30 for adults and $17 for children. Purchase tickets at phipps.conservatory.org/LittleShop.
Holiday Magic! Winter Flower Show and Light Garden runs through Sun., Jan. 12 from 9:30 a.m. – 11 p.m. and 5 – 11 p.m. for Winter Light Garden daily.
###
About Phipps: Founded in 1893, Phipps Conservatory and Botanical Gardens in Pittsburgh, PA is a globally recognized green leader with a mission to inspire and educate all with the beauty and importance of plants; to advance sustainability and promote human and environmental well-being through action and research; and to celebrate its historic glasshouse. Encompassing 15 acres including a historic 14-room glasshouse, 23 distinct indoor and outdoor gardens and industry-leading sustainable architecture and operations, Phipps attracts more than half a million visitors annually from around the world. Learn more at phipps.conservatory.org.