Phipps Conservatory Announces Spring Flower Show: Canopy of Color
For Immediate Release: Mon., March 1
Contact: Joe Reed | Director of Marketing and Communications
412-622-6915, ext. 3801 | jreed@phipps.conservatory.org
Phipps Conservatory Announces Spring Flower Show: Canopy of Color
Heads Up! Spring Is in the Air at This Spectacular New Show Opening Sat., March 13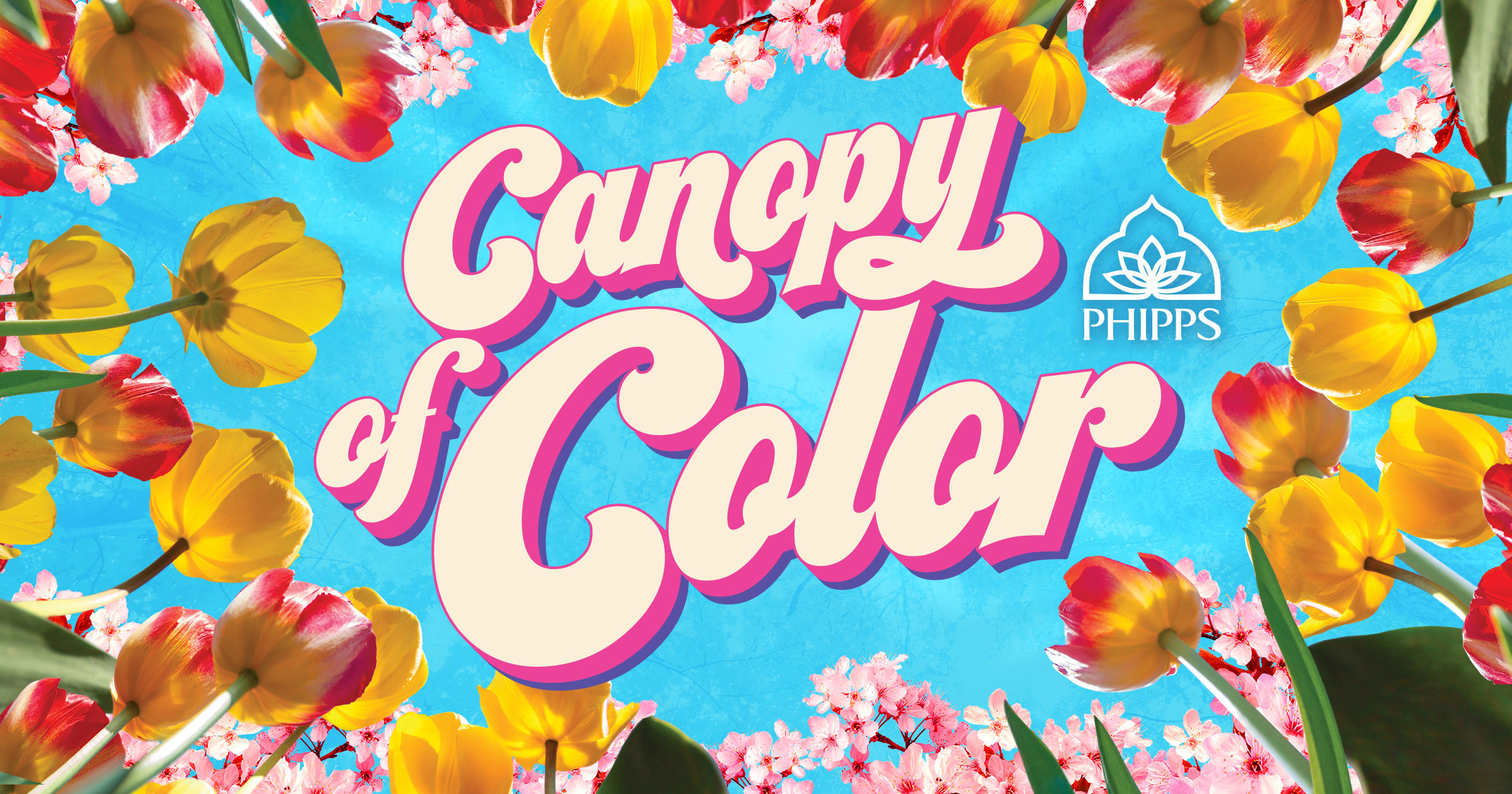 Pittsburgh, PA – Starting Sat., March 13 Phipps Conservatory and Botanical Gardens is welcoming warmer days ahead with tens of thousands of vibrant spring blooms at Spring Flower Show: Canopy of Color. Hanging baskets, towering props, flowering foliage and whimsical elements suspended from above encourage guests to look up and look forward to this season of renewal.

Exhibit features include:
Tens of thousands of spring blooms, including hydrangea, petunias, daffodils, tulips, hyacinths and more, displayed both in the signature beds and suspended from above
Rain curtains casting April showers in the Sunken Garden as guests stroll beneath 100 colorful umbrellas and rain drops
A motorized windmill spinning above colorful swaths of spring blooms planted in a pinwheel pattern in the South Conservatory
A family of topiary bears flying kites under a sky of blue hydrangea in Palm Court
Fresh spring scents of fragrant hyacinths and tulips filling each room and stimulating guests' senses
And much more!
The entire show is brought to life with a stunning 58,920 bulbs inside the Conservatory alone, plus fragrant plants and an additional 4,000 hyacinths that line the front walkway outside of the glasshouse.
Spring Flower Show: Canopy of Color runs March 13 – April 11. Hours are 9:30 a.m. – 8 p.m. daily. Timed tickets must be reserved in advance and are available for visits for the show's opening weekend now, with additional dates opening on a weekly basis. For more information and to reserve tickets, visit phipps.conservatory.org/Tickets.
This show was designed by Associate Director of Exhibits Jordyn Melino.
###
About Phipps: Founded in 1893, Phipps Conservatory and Botanical Gardens in Pittsburgh, PA is a globally recognized green leader with a mission to inspire and educate all with the beauty and importance of plants; to advance sustainability and promote human and environmental well-being through action and research; and to celebrate its historic glasshouse. Encompassing 15 acres including a historic 14-room glasshouse, 23 distinct indoor and outdoor gardens and industry-leading sustainable architecture and operations, Phipps attracts more than half a million visitors annually from around the world. Learn more at phipps.conservatory.org.
Watch TEDx: What We Can Learn From an Old Glasshouse: A look at the evolving way we connect people to nature at Phipps, demonstrate how human and environmental health are inextricably connected, and show that to age gracefully, we must continually reinvent ourselves to evolve with the rest of the world.