Phipps Conservatory Announces Spring Flower Show: Five Senses of Splendor
For Immediate Release: Wed., March 1
Contact: Joe Reed | Senior Director of Communications
412-622-6915, ext. 3801 | jreed@phipps.conservatory.org
Phipps Conservatory Announces Spring Flower Show: Five Senses of Splendor
Enjoy a Sensory Experience at Phipps' Spectacular New Show Opening Sat., March 18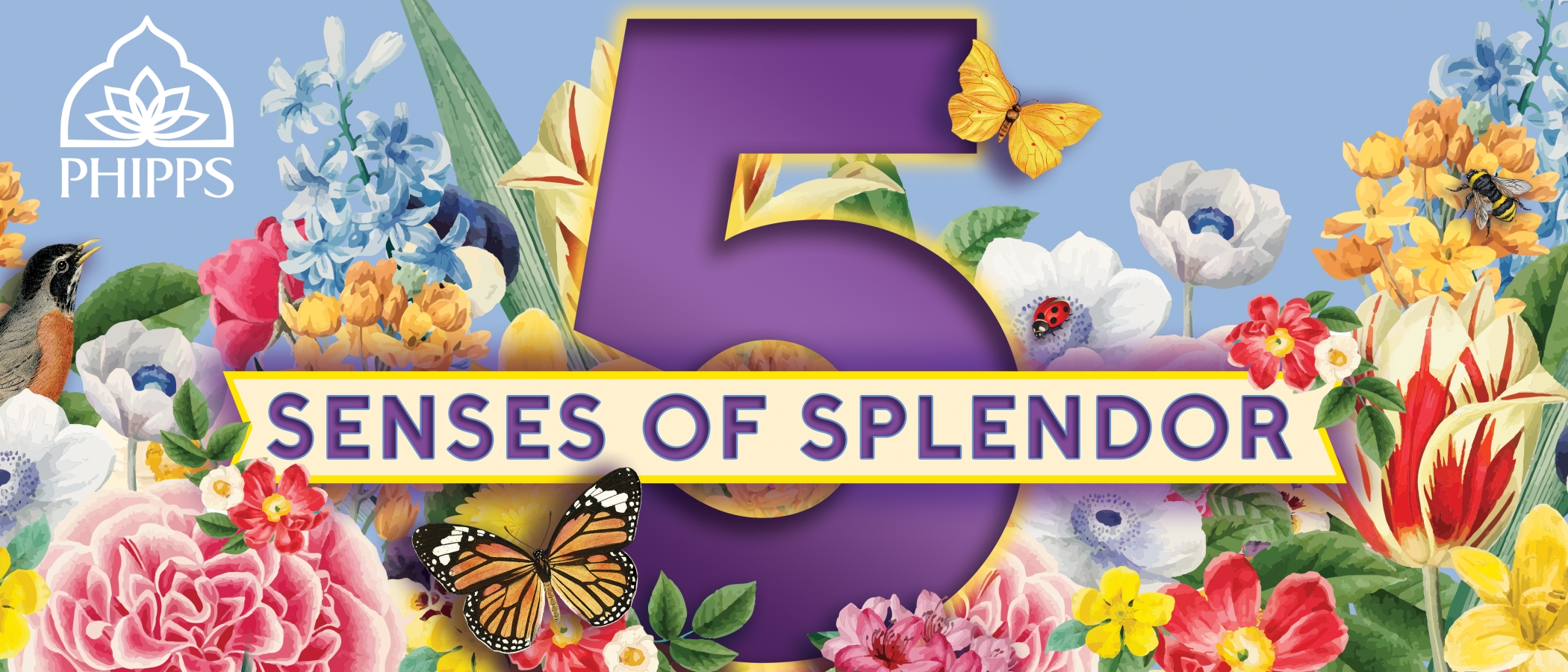 Pittsburgh, PA – Starting Sat., March 18 at Phipps Conservatory and Botanical Gardens, awaken your senses with endless beauty, bright colors and exciting features in this year's Spring Flower Show: Five Senses of Splendor. With highlights including a giant perfume bottle, harmonious chime canopies, a cascading fountain and more, all surrounded by blooms in a rainbow of shades, your senses are sure to be delighted!
Exhibit Features
Delight at tens of thousands of spring blooms, including signature lilies, amaryllis, petunias, daffodils, tulips and hyacinths in striking shades of blue, yellow, pink and more
Breathe in the fragrant springtime flowers as they bloom alongside an oversized perfume bottle in Palm Court
Hear beautiful sounds in the Sunken Garden as you stroll among the colorful chime canopies
Enjoy a sea of white, peach and pink blooms in our Victoria Room while feeling unique plant textures around the interactive grand fountain in the center
Watch a serene stream bubble beneath a red footbridge in the Japanese-style inspired South Conservatory that is full of marvelous red and white flowers
Listen to the sound of birds chirping peacefully atop ornate bird houses
Extend your sensory experience with a spring-inspired meal or beverage at Café Phipps
And much more!
Only lasting four weeks, these delightful displays are a must-see to begin your season of renewal! Spring Flower Show: Five Senses of Splendor runs March 18 – April 16. Timed tickets must be reserved in advance and will be available for presale in March. For more information and to reserve tickets, visit www.phipps.conservatory.org/tickets.

Spring Flower Show: Five Senses of Splendor was designed by Associate Director of Exhibits Jordyn Melino.
###
About Phipps: Founded in 1893, Phipps Conservatory and Botanical Gardens in Pittsburgh, PA is a globally recognized green leader with a mission to inspire and educate all with the beauty and importance of plants; to advance sustainability and promote human and environmental well-being through action and research; and to celebrate its historic glasshouse. Encompassing 15 acres including a historic 14-room glasshouse, 23 distinct indoor and outdoor gardens and industry-leading sustainable architecture and operations, Phipps attracts more than half a million visitors annually from around the world. Learn more at
phipps.conservatory.org.

Watch TEDx: What We Can Learn From an Old Glasshouse: A look at the evolving way we connect people to nature at Phipps, demonstrate how human and environmental health are inextricably connected, and show that to age gracefully, we must continually reinvent ourselves to evolve with the rest of the world.