Phipps Conservatory Invites Guests to Share Their Memories and Explore Historic Shows
For Immediate Release: Mon., April 21

Contact: Joe Reed | Director of Marketing and Communications
412-622-6915, ext. 3801 | jreed@phipps.conservatory.org

Phipps Conservatory Invites Guests to Share Their Memories and Explore Historic Shows
While the Gardens Are Closed, Guests Can Reflect on Fond Memories of Phipps Visits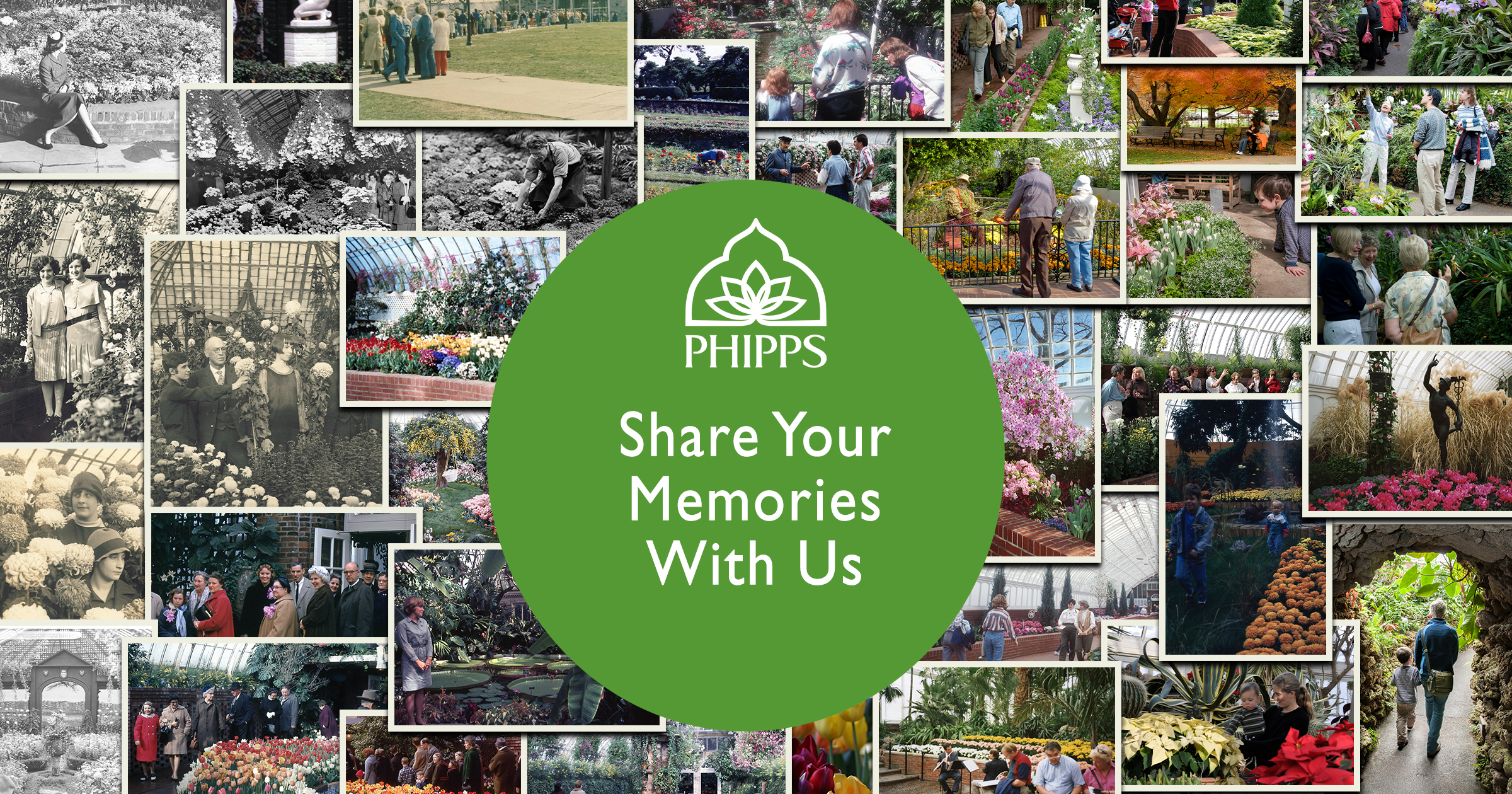 Pittsburgh, PA — Since 1893, Phipps Conservatory and Botanical Gardens has been a destination for Pittsburghers to celebrate nature in the company of friends and family, and that means a lot of memories have been made in the gardens! During the closure of the glasshouse, Phipps is inviting guests to share their memories, including photos, an optional video, and a short story or caption. A one-time $10 processing donation upon submission will help support Phipps so special times in the Conservatory can be shared again when it reopens. Guests can submit their memories at phipps.conservatory.org/Phipps-Memories.

When faced with difficult times, it is comforting to look back upon fond memories, and Phipps hopes to remain connected with the community by sharing their memories for others to enjoy. In addition to displaying guests' memories, Phipps fans can explore the Historic Flower Shows and Exhibits Archives. An extensive collection of photos from 1897 all the way to present day, the archive allows guests to look back at shows from the past and relive them room by room. From windmills and dollhouses in 1913 to Alice in Wonderland in 1966, Broadway melodies in 1985 and SUPER. NATURAL. Glass Art in 2017, the archive is a treasure trove of whimsical and wonderful exhibits that can only be found at Phipps. Explore at phipps.conservatory.org/Archive.

For more information and to submit a memory, visit phipps.conservatory.org/Phipps-Memories.
###

About Phipps: Founded in 1893, Phipps Conservatory and Botanical Gardens in Pittsburgh, PA is a globally recognized green leader with a mission to inspire and educate all with the beauty and importance of plants; to advance sustainability and promote human and environmental well-being through action and research; and to celebrate its historic glasshouse. Encompassing 15 acres including a historic 14-room glasshouse, 23 distinct indoor and outdoor gardens and industry-leading sustainable architecture and operations, Phipps attracts more than half a million visitors annually from around the world. Learn more at phipps.conservatory.org.
Watch TEDx: What We Can Learn From an Old Glasshouse: A look at the evolving way we connect people to nature at Phipps, demonstrate how human and environmental health are inextricably connected, and show that to age gracefully, we must continually reinvent ourselves to evolve with the rest of the world.