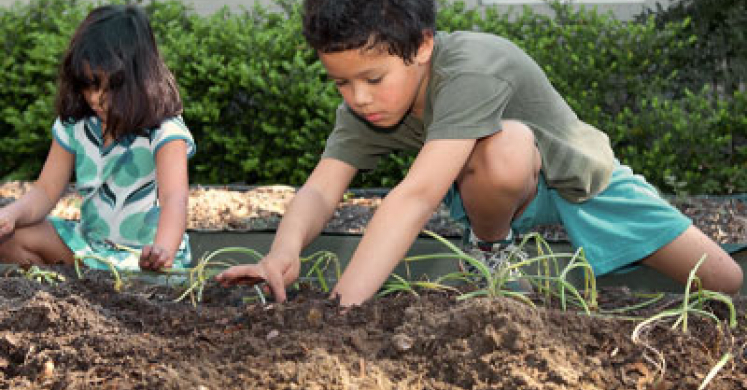 Let's Move Pittsburgh and Carnegie Library of Pittsburgh-Hazelwood Put Fun Into Learning!
The original Carnegie Library of Pittsburgh-Hazelwood located on Monongahela Street was built in 1900. The library reopened in its third location in a renovated church on Second Avenue in June 2014 after a $2.4 million restoration that doubled its original 3,500-square-foot space to 7,000 square feet. As part of the Hazelwood Center, the library also brings together programs from the Trying Together and the local Head Start at the Family Support Center of COTRAIC (Council of Three Rivers American Indian Center).
The library features a separate children's room decorated with a large metal art piece by Homestead artist David Lewis: a whole wall of animals amid the trees of "Hazel Woods." It's a great space for kids to come and be kids.
An outdoor patio space gives a great view of Second Avenue and provides additional space for outdoor activities. The CLP – Hazelwood outdoor space is also home to the 3 Rivers Wet Weather Rain Garden site, which helps to demonstrate the library's commitment to being good stewards of the environment by protecting our waterways. The Rain Garden design was funded by 3 Rivers Wet Weather and the installation was funded by the Heinz Endowments.
Let's Move Pittsburgh (LMP) educated students at the library on two separate occasions. On February 15, LMP presented a Bees and Seeds program where students were able to learn about pollination, bee anatomy, the lifecycle of a bee, bee roles, the connection of bees to seeds and fruit, parts of a seed, seeds we can eat, fruits and vegetables, nutrients and how humans need bees. Students were encouraged to dissect a seed and identify the three different parts as well as compare the taste of red apples to green apples followed by voting on their preference.
On March 29, LMP presented a Spring Harvest program where students learned about sustainability, the life cycle analysis of food, benefits of local eating, seasonal spring produce and benefits of fruits and vegetables. Students were then provided an opportunity to try various healthy foods, such as snap peas, carrots and hummus.