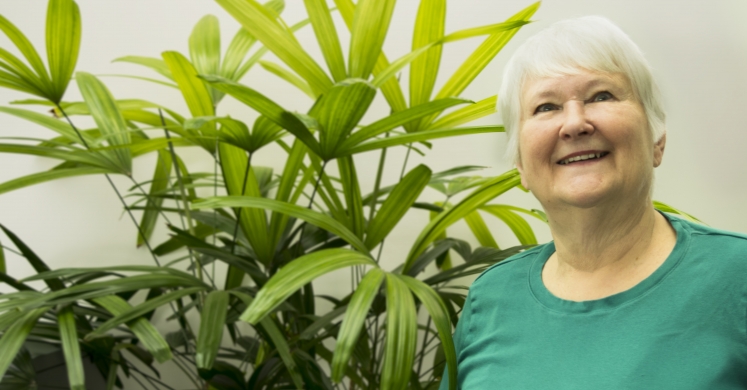 Volunteer Spotlight: Betty Dillon
Phipps is well-known for our beautiful gardens, seasonal flower shows, pioneering sustainability initiatives, informative educational programs and community outreach. None of our work, however, would be possible without the knowledge and dedication of our volunteers. In this series of profiles, we meet some of the people who give their time to make Phipps possible.
Volunteer Betty Dillon explains that the best aspect of being a docent at Phipps is being able to watch a child's reaction when they learn something new or are amazed by a plant. Betty has been volunteering since 2012. When she began, she primarily volunteered as a docent and gave Conservatory tours. Now, Betty volunteers about twice a week and also assists with potting plants, special events and children's programs.
She has a self-proclaimed "brown thumb" and enjoys working in a garden, but would rather spend time teaching people. Betty has a degree in elementary education with a concentration in science, although she spent her career working in the insurance industry. She is an active member in the community — outside of Phipps, she also volunteers with the Pittsburgh Cultural Trust and gives tours of Pittsburgh's Cultural District. In fact, it was Betty's friend at the Cultural Trust who initially suggested that Betty volunteer at Phipps.
"I remember coming to Phipps with my Girl Scout troop and being awed by the Conservatory. Phipps changes all of the time, and seeing how people react to it is amazing," she said. Betty lives in Greentree and when she is not volunteering she loves to spend time with her granddaughter. She also enjoys traveling and looks forward to exploring different botanical gardens across the country.