First Taste of Cuba: The Tropical Forest Debut Party
Thurs., April 5; 6:30 – 10 p.m.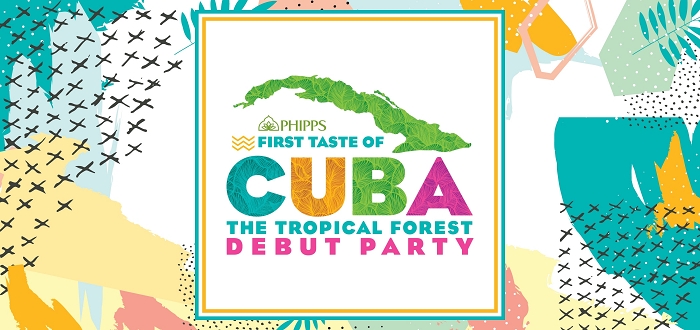 Join us for a vibrant new showcase of one of the most biodiverse nations on Earth.
Bob and Leslie Nutting
Event Chairs
Athena Sarris
Ryan B. Martin and Dr. Maureen Russell-Martin
Honorary Event Chairs
Stephanie A. Bozic
Dr. Karen S. Goldman and Efrem M. Grail
Honorary Host Committee Chairs
Please join social and civic leaders and friends for the celebratory grand opening of Tropical Forest Cuba at Phipps Conservatory and Botanical Gardens.
---
Years of research, including field explorations of the largest untouched forested expanses in the Caribbean, have led to the unveiling of this incredible three-year exhibition. Join us to experience the nature and culture of Cuba and observe firsthand a breathtaking variety of species found nowhere else.
V.I.P. Reception | 6:30 – 7:30 p.m.
Fine wines, small plates, and Cuba-inspired cocktails and cuisine
Night in Havana Party | 7:30 – 10 p.m.
Select wines, delectable hors d'oeuvres and special entertainment
Proceeds benefit Phipps' Botany in Action, a research fellowship developing the next generation of plant-based scientists who are committed to excellent research and public educational outreach. The fellowship has aided 50 doctoral-level students representing 25 universities and working in 24 countries.
Benefactor tickets are $150 per person and include the private V.I.P. Reception at 6:30 p.m. and Night in Havana Party at 7:30 p.m. Patron tickets are $125 per person and include the Night in Havana Party at 7:30 p.m.
---
Honorary Host Committee
We invite you to help us lead this very special Tropical Forest Debut Party by joining our Honorary Host Committee. In this role, you will lend your name to this historic event by allowing Phipps to publish your name on program materials. Honorary Host Committee Benefactor tickets are $250 per person and include the private V.I.P. Reception with refreshment and food service at 6:30 p.m., special recognition and the Night in Havana Party at 7:30 p.m. Honorary Host Committee Patron tickets are $225 per person and include the private V.I.P. Reception at 6:30 p.m. and the Night in Havana Party at 7:30 p.m.
Additional support levels include the Founder's Society ($10,000), Chairman's Circle ($5,000), Trustee's Society ($3,000), Director's Circle ($1,000) and Event Donors ($500). Click here to make an additional support gift.
---
To reserve your tickets, select the "Purchase Tickets" button below, or contact us at 412/622-6915, ext. 3966 or ksantelli@phipps.conservatory.org. Please reply by Thurs., March 29.
Questions? Contact Karen at ksantelli@phipps.conservatory.org or 412/622-6915, ext. 3966.
Complimentary valet parking will be available. The attire is garden party, cocktail, business and Caribbean — fedoras are encouraged!
Select photos © Renee Rosensteel
More Events You'll Enjoy
Fridays, March 2, April 13 and May 4; 7 – 11 p.m. (Ages 21+)

Make our paradise your own as you indulge in sweet and savory morsels, taste unique cocktails, and dance to the beats of a live DJ in our Tropical Forest Conservatory. Entry is free with Conservatory admission.

Open Now

Experience the natural beauty and culture of Cuba, one of the most biodiverse Caribbean island nations on Earth, in our immersive new Tropical Forest exhibit.

Saturdays; 11 a.m. – 3 p.m. Except as Noted

Phipps' revolutionary new SEED Classroom and observational beehive are now open for you to discover. Drop in during our Saturday open hours and a graduate of our Learning for a Greener Future high school internship will show you around. No advance reservation is required.