The History Is on the Plate: Deconstructing African American Food History
Wed., Feb. 23; 7 – 8 p.m.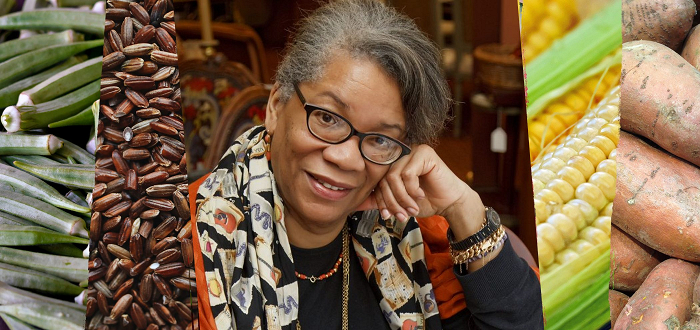 Join us virtually for a free special presentation by Dr. Jessica B. Harris on African American cuisine.
At this special virtual event, Dr. Jessica B. Harris will use traditional stories, illustrations and history to discuss the importance of food in African American history and culture. Beginning with a traditional African American plate, the presentation will focus on eight plants important to African American cuisine: rice, corn, peanuts, okra, watermelon, chili peppers, leafy greens and sweet potatoes. The presentation will run 40 – 45 minutes and be followed by a 15 – 20 minute Q&A.
The History Is on the Plate: Deconstructing African American Food History is sponsored in part by The William L. Brown Center at Missouri Botanical Garden. Registration is free of charge but required.
About the Speaker
A culinary historian, Jessica B. Harris has lectured on African-American foodways at The Museum of Natural History in New York City, The California Academy of Sciences in San Francisco, The Smithsonian Museum of American History, the Smithsonian Museum of African American History and Culture in Washington DC, the Atlanta History Center, Oxford Brookes University, U.K., and the Oldways/American Institute of Wine and Food conferences in Tunis, Tunisia, and in Rabat, Morocco, well as at numerous institutions and colleges throughout the United States and abroad.
In her more than four decades as a journalist, Harris has written book reviews, theatre reviews, travel, feature and beauty articles too numerous to note. She has written extensively about the culture of Africa in the Americas, particularly the foodways, for publications ranging from Essence (where she was travel editor from 1977 – 1980) to German Vogue. She has written for most of the major food magazines, including Gourmet, Saveur, Food & Wine, Cooking Light, Southern Living, and Eating Well. She has chaired panels and given presentations at the Fancy Food Shows in both San Francisco and New York, at Chef Magazine's Chef des Chefs, and at The Caribbean Culinary Federation's annual Taste of the Caribbean, where she has given the keynote address for six years, as well as at IACP (International Association of Culinary Professionals) and AIWF (American Institute of Wine and Food) conferences among others.
Dr. Harris holds many honors, including a Lifetime Achievement Award from the Southern Foodways Alliance, the Lafcadio Hearn Award from the John Folse Culinary Institute at Nicholls State in Louisiana, and induction into the James Beard Who's Who of Food and Beverage in America. She has also received the Amelia award from the New York Culinary Historians and the De Masters Award from the Association of Food Journalists. Her cookbooks were inducted into the James Beard Cookbook Hall of Fame in 2019, and in March of 2020, she was given a Lifetime Achievement Award by the same organization.
To learn more about Dr. Harris, watch this interview produced in conjunction with her Netflix series, High on the Hog:
Select photos © Kristy May