Teacher Advisory Committee
Phipps Conservatory and Botanical Gardens is committed to working with teachers to assist them in integrating museum experiences into their curriculum as well as continuously improving programming offered at Phipps. The Phipps Teacher Advisory Committee is a select group of K – 12 educators who meet quarterly during the school year to foster collaboration and learning across schools and museums. The committee is made of public and private school teachers in Pittsburgh, PA. This committee will expand upon the mission of Phipps which is, "To inspire and educate all with the beauty and importance of plants; to advance sustainability and promote human and environmental well-being through action and research; and to celebrate its historic glasshouse."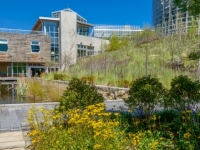 Apply to Join
We are currently accepting applications for the 2017 – 2018 Teacher Advisory Committee. Please complete the following application by Thurs., June 1 for consideration. Contact Heather Shannon, School and Camp Program Manager, at hshannon@phipps.conservatory.org if you have any questions.
Timeline
A period of one year beginning June 1, 2017 and continuing through June 30, 2018
Commitment
Attend a minimum of three out of four quarterly meetings at Phipps Conservatory (Oct. 3, 2017; Dec. 5, 2017; March 6, 2018; and May 1, 2018)
Review updated lesson plans and program ideas developed by the museum educators
Participate in informal discussions and brainstorming sessions to reflect and share best practices in museum education and ways to integrate material into the public/private school curriculum
Assist in evaluation and feedback for resources and programs produced by Phipps educators
Discuss strategies for aligning the museum's K – 12 school-based educational programs and resources to city, state, and national standards in a variety of curricular areas
Pilot new programs and/or materials and evaluate them
Work as a liaison between museum and schools, promote and increase awareness of educational materials and programs offered through the museum
Participate in the Fairchild Challenge (as applicable) and at least one field trip or program a year
Educator Benefits
Receive a free Science Education field trip at Phipps Conservatory and Botanical Gardens for 40 students and five adults.*
Receive a free Phipps individual membership
Provide input on direction and growth of Phipps programs
Meet a variety of museum and public or private school educators with similar interests or passions
* Field trip must be scheduled after the Oct. 3, 2017 meeting and attended prior to May 28, 2018. Transportation scholarship funding available based on the school district's needs; please contact Heather Shannon at hshannon@phipps.conservatory.org for an application. Scholarship funding mailed directly to your school ($300 value) for field trip program of your choice (to be scheduled after the second quarterly meeting in December 2017).
Members
Tracy Wazenegger, Sewickley Academy
Tracy Wazenegger is a high school chemistry teacher at Sewickley Academy. In addition to her chemistry teaching responsibilities she also co-teaches an interdisciplinary global issues course and serves as the Senior Class Dean. When not teaching, Ms. Wazenegger enjoys role-playing and board games and manages the Pittsburgh chapter of the National Coalition of Gamers (NCG)
Dan Schuller, Woodland Hills Jr/Sr High School
Dan Schuller is a science teacher at Woodland Hills High School. With certifications in Biology and Environmental Education, Dan has taught a variety of biology courses through the years. Currently he teaches Ecology and AP Environmental Science. Dan is the Girls and Boys Varsity Tennis Coach. In addition to teaching and coaching, Dan is the club advisor for the Environmental Club, called the Green Team, and co-sponsor of the Envirothon Competition teams. Outside of the classroom and off the tennis court, Dan spends his time with his wife, Rhonda, and his two boys, Andersen and Davis. They all enjoy camping, hiking, running, playing tennis, gardening and reading.
Darla Gerlach, Shaler Area Middle School
Darla Gerlach has been an educator for over 20 yrs. certified to teach elementary and middle school curricula including art; and, she received her doctorate in Instruction & Learning from the University of Pittsburgh, main campus. Darla is currently an Executive Board Member of PA Council for Social Studies; a member of Chatham Eden Hall's Education Advisory Group; presented at the 2016 National Green Schools Conference; and, she's a Barringer Research Fellow recognized for her gardening studies at Monticello. Darla has two grown children; her leisure time includes artwork, gardening; cooking; volunteering as a W PA Conservancy Garden Steward and she enjoys curriculum development which includes indigenous plants and animals and service learning with community garden projects.
Nadine Pisani, Keystone Oaks Middle School
Nadine Pisani is a middle school science educator at Keystone Oaks Middle School. She has a Masters degree from the University of Pittsburgh and a Bachelor of Science degree in Ecology from the University of Rochester. Mrs. Pisani inspires student to become environmentally conscientious members of society through many hands on activities about energy conservation, sustainable practices and the effect of human actions on the natural world.
---
Purpose
Review updated lesson plans and program ideas developed by the museum educators
Participate in informal discussions and brainstorming sessions to reflect and share best practices in museum education and ways to integrate material into the public/private school curriculum
Assist in evaluation and feedback for resources and programs produced by Phipps educators
Discuss strategies for aligning the museum's K – 12 school-based educational programs and resources to city, state, and national standards in a variety of curricular areas
Pilot new programs and/or materials and evaluate them
Work as a liaison between museum and schools, promote and increase awareness of educational materials and programs offered through the museum
Participate in the Fairchild Challenge (as applicable) and at least one field trip or program a year
---
Organizers and Hosts
Phipps Science Education
Heather Shannon and Emily Nye
Contact: Heather Shannon, Phipps Conservatory and Botanical Gardens
hshannon@phipps.conservatory.org or 412/622-6915, ext. 3223

Photos © Denmarsh Photography, Inc.; Paul g. Wiegman