The U.S. Dairy Industry: A Model of Efficiency?
Dr. David Galligan, V.M.D., M.B.A. | Professor of Animal Health Economics, School of Veterinary Medicine, University of Pennsylvania
Watch This Presentation:
---
Dr. Galligan's expertise in the dairy industry is evident in his presentation "The US Dairy Industry—A Model of Efficiency?" in which he discusses the environmental and economic benefits and challenges of the industry.
Dr. Galligan discusses the important food production challenges the agricultural industry will face over the next 50 years, as the demand for food increases in tandem with the population. This will be a generational challenge, and it is our job to find a sustainable solution for the future.
Dr. Galligan points out the common statistic that livestock is responsible for 18% of greenhouse gas emissions, surpassing transportation emissions. "This is a misconception" he points out, "because you are comparing life cycle emissions to tailpipe emissions." Although cows get a bad reputation because of their methane gas emissions, it is the global agricultural industry that needs to adapt, not the cows themselves.
Animal nutrition and production economics are the fundamental principles Dr. Galligan believes will help us understand what shapes the animal industry (i.e., the basic costs per animal including milk production, maintenance, and cost of replacement). In terms of milk production, farmers use extensive and intensive systems. The intensive system is more economically efficient, as one cow produces more milk than two cows producing the same amount of milk. This increases the cow's value and rate of return. By increasing the milk rates per animal, greenhouse gas emissions will drop by producing the same amount of product with fewer animals. Because of the adoption of this system by the US, we only host 3% of the world's dairy cows and prove to be a model of efficiency.
---
Additional Resources: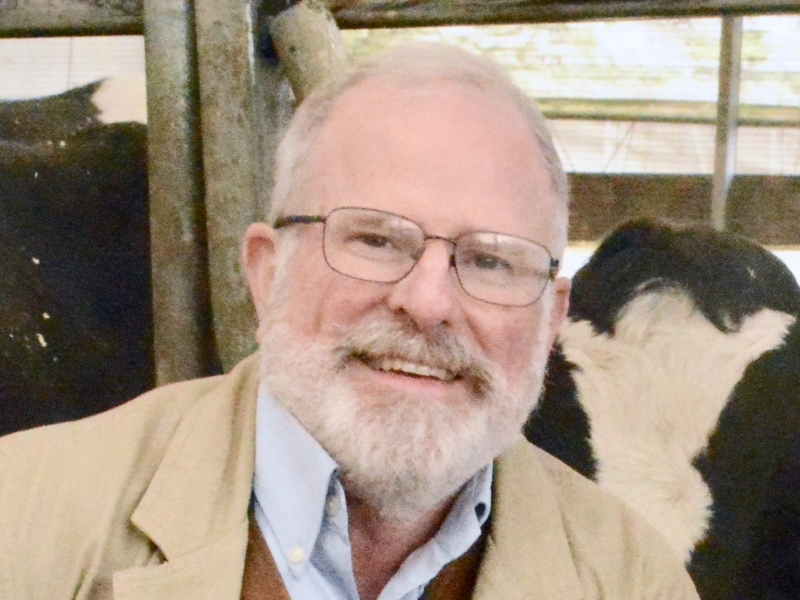 About the Speaker
David Galligan is an endowed professor of animal health economics at the University of Pennsylvania School of Veterinary Medicine, located in Kennett Square, PA. He is the director of the Center for Animal Health and Productivity at the Veterinary School. His area of research is in understanding the economic value of veterinary and associated technologies (products and management strategies) applied to animal production systems. He graduated from the University of Pennsylvania in 1976 with a major in Biology. Upon completion of his veterinary training at the University of Pennsylvania School of Veterinary Medicine in 1981, he entered dairy practice with Gap Veterinary Associates in Gap, PA. In 1982 he returned to the U of PA Veterinary School to complete a residency in clinical dairy nutrition. In 1985 he graduated from the Wharton School, earning an M.B.A. with a focus on decision sciences. His current interest is in understanding how the livestock industries can be a viable component of a sustainable food system.