Let's Move Pittsburgh Gathers Experts, Caregivers and Organizations to Improve Children's Health
For Immediate Release: Mon., Nov. 6
Contact: Julie LaBar | Director of Marketing and Communications
412/622-6915, ext. 3801 ǀ jlabar@phipps.conservatory.org

Let's Move Pittsburgh Gathers Experts, Caregivers and Organizations to Improve Children's Health
Growing Healthy Children at forefront of conversations at Let's Move Pittsburgh Symposium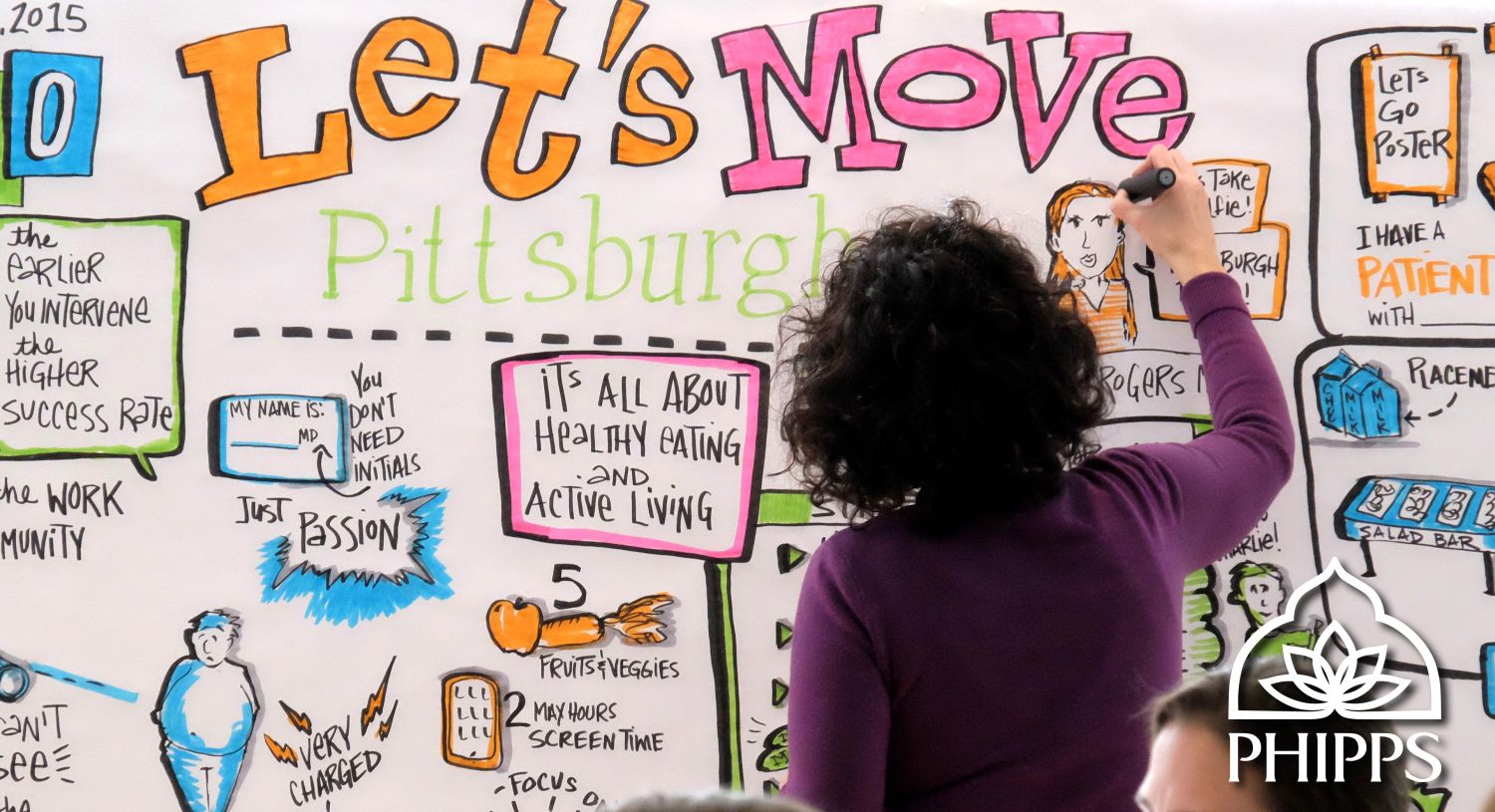 Pittsburgh, Pa. — On Thurs., Nov. 16, Let's Move Pittsburgh, a program of Phipps Conservatory and Botanical Gardens, will host its fourth Let's Move Pittsburgh Symposium. The theme of this year's event is "Growing Healthy Children," and local experts, caregivers, parents and organizations will come together to discuss how they can all join together to bridge the gaps and reach the most children in Allegheny County.
Using the World Café method, participants in small groups will brainstorm ways that they can all work together to make Allegheny County one of the healthiest places for children to live, learn and grow. Attendees will collaborate directly with thought leaders in the fields of nutrition and physical activity.
Featured speakers at this year's symposium include World Café Expert, Paul Borawski, Phipps' Executive Director Richard V. Piacentini, Michael D. Parkinson, MD, MPH, FACPM, and Phipps' Director of Research and Science Education, Dr. Sarah States. Attendees will also hear from project leaders in the Let's Move Pittsburgh Champion Schools program, which celebrates and rewards school with funding for leading new or existing programs that promote healthy food and nutrition education, increase physical activity, and teach students how to grow and prepare healthy food.
Let's Move Pittsburgh Symposium: Growing Healthy Children, will take place in the Special Events Hall at Phipps on Thurs., Nov. 16 from 9:30 a.m. – 2 p.m. Registration is $15 and includes full admission to the conference and a networking lunch from 1 – 2 p.m. To register, please visit phipps.conservatory.org.
###
About Let's Move Pittsburgh: Let's Move Pittsburgh, an initiative of Phipps Conservatory and Botanical Gardens supported by UPMC Health Plan, is a collaborative effort of organizations, healthcare providers, educators, parents and caregivers in southwestern Pennsylvania committed to leading children toward a healthier future. The program is inspired by First Lady Michelle Obama's Let's Move! campaign to curb childhood obesity through raised awareness about the benefits of healthy foods, decreased screen time and increased physical activity.
About Phipps: Founded in 1893, Phipps Conservatory and Botanical Gardens in Pittsburgh, Pa. is a green leader among public gardens with a mission to inspire and educate all with the beauty and importance of plants; to advance sustainability and promote human and environmental well-being through action and research; and to celebrate its historic glasshouse. Learn more: phipps.conservatory.org.
ǀ Twitter ǀ Facebook ǀ YouTube ǀ
Photos © Brian Cohen