PA Museums Recognizes Phipps Conservatory with Institutional Achievement Award
For Immediate Release: Mon., April 30
Contact: Julie LaBar | Director of Marketing and Communications
412/622-6915, ext. 3801 ǀ jlabar@phipps.conservatory.org

PA Museums Recognizes Phipps Conservatory with Institutional Achievement Award
Make the Switch at Phipps! Green Power Drive program continues its momentum and impact.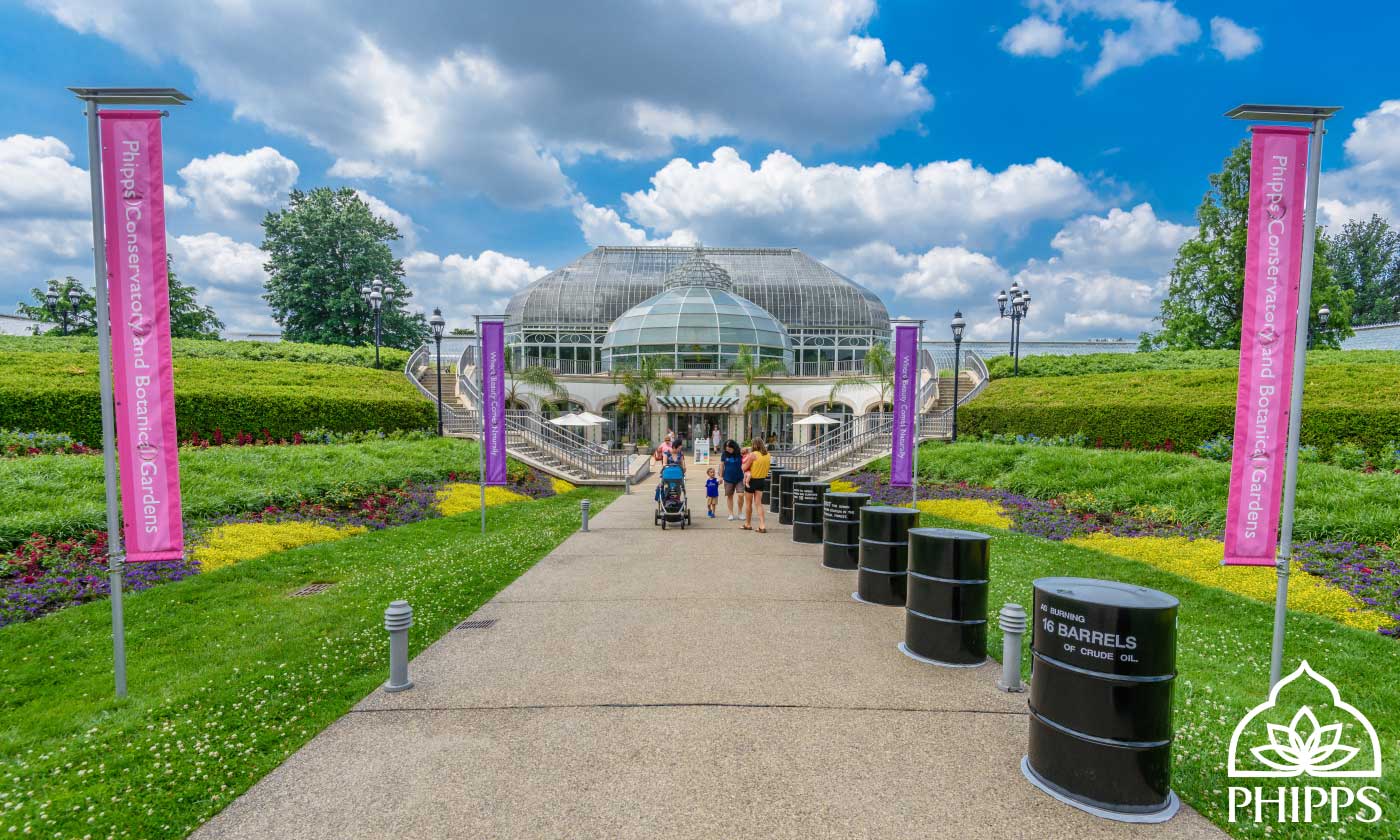 Pittsburgh, Pa. — PA Museums recognized Phipps Conservatory and Botanical Gardens with an Institutional Achievement Award at their Annual Statewide Museum Conference held April 16 – 17. PA Museums, Pennsylvania's statewide trade association serving museum professionals and institutions, recognizes the special achievements of museums and historical organizations throughout Pennsylvania through annual honorary awards.
Phipps was named among 2018 honorees for the Make the Switch at Phipps! Green Power Drive, a groundbreaking program that encourages guests to switch to renewable energy. The initiative was inspired by a visitor survey that revealed most guests consider climate change a threat now or in the future. In response, Phipps made it easy for guests to take action, introducing Make the Switch at Phipps! Green Power Drive in partnership with Green Mountain Energy. The program gives guests the power to switch their home electricity source to renewable, fossil-free energy during their visit to the Conservatory. Those who decide to make the switch receive a free year-long family/household Phipps membership, and existing members receive a free six-month extension.
By switching to 100% green power, a family makes a first critical step toward a more resilient way of life and, through their membership to Phipps, they have unlimited year-round access to a valuable resource for reinforcing the importance of green and healthy living. To date, over 2,900 families have switched to renewable energy through the program, preventing 20,000 tons of CO2 emissions — the equivalent to saving 48,728 barrels of oil from being burned, or 51 million miles from being driven in an average passenger car annually.
Phipps is dedicated to showing that sustainable practices are good for people and good for the planet, making the world a more beautiful place. Demonstrating this commitment to human and environmental well-being, from 2005 – 2016, Phipps reduced its carbon emissions per square foot by 56%, far surpassing the Paris Agreement's 26 – 28% reduction target. All electricity is produced on-site with solar and wind or by purchasing renewable energy credits. Phipps purchases offsets for 100 percent of the carbon produced from heating its buildings. Additionally, there are four active zero-energy building projects at Phipps: Two completed projects (Center for Sustainable Landscapes, Nature Lab at Phipps), one under construction (Exhibit Staging Center) and one in the design phase (Phipps Garden Center).
For more information on Phipps' sustainability leadership and commitment, visit phipps.conservatory.org/green-innovation.
###
About PA Museums: PA Museums is Pennsylvania's statewide trade association serving museum professionals and institutions. Based in Harrisburg, PA Museums was founded in 1905 and during its long history was known as the Pennsylvania Federation of Historical Societies and the Pennsylvania Federation of Museums and Historical Organizations. PA Museums is a non-profit membership organization governed by a Board of Directors made up of leaders in the museum field. There are over 1,000 museums and historical organizations in Pennsylvania, and membership is a representative sample of the larger field in terms of the size and scope of member museums. The organization creates and supports the museum community in Pennsylvania through advocacy work, professional development programs, information sharing and an annual awards program to recognize exemplary work in the Commonwealth. Learn more at pamuseums.org.
About Phipps: Founded in 1893, Phipps Conservatory and Botanical Gardens in Pittsburgh, Pa. is a green leader among public gardens with a mission to inspire and educate all with the beauty and importance of plants; to advance sustainability and promote human and environmental well-being through action and research; and to celebrate its historic glasshouse. Learn more: phipps.conservatory.org.
| Twitter ǀ Facebook ǀ YouTube ǀ
Photos © Paul g. Wiegman