Phipps Conservatory Unveils Tropical Forest Cuba
For Immediate Release: Mon., Feb. 5

Contact: Julie LaBar ǀ Director of Marketing and Communications
412/622-6915, ext. 3801 ǀ jlabar@phipps.conservatory.org
Phipps Conservatory Unveils Tropical Forest Cuba, Transporting Guests to Colorful and Culturally Rich Landscapes
Experience the natural beauty and vibrant culture of one of the most biodiverse Caribbean nations in this all-new exhibit, plus family fun Tropical Forest Cuba Festival celebration on opening day.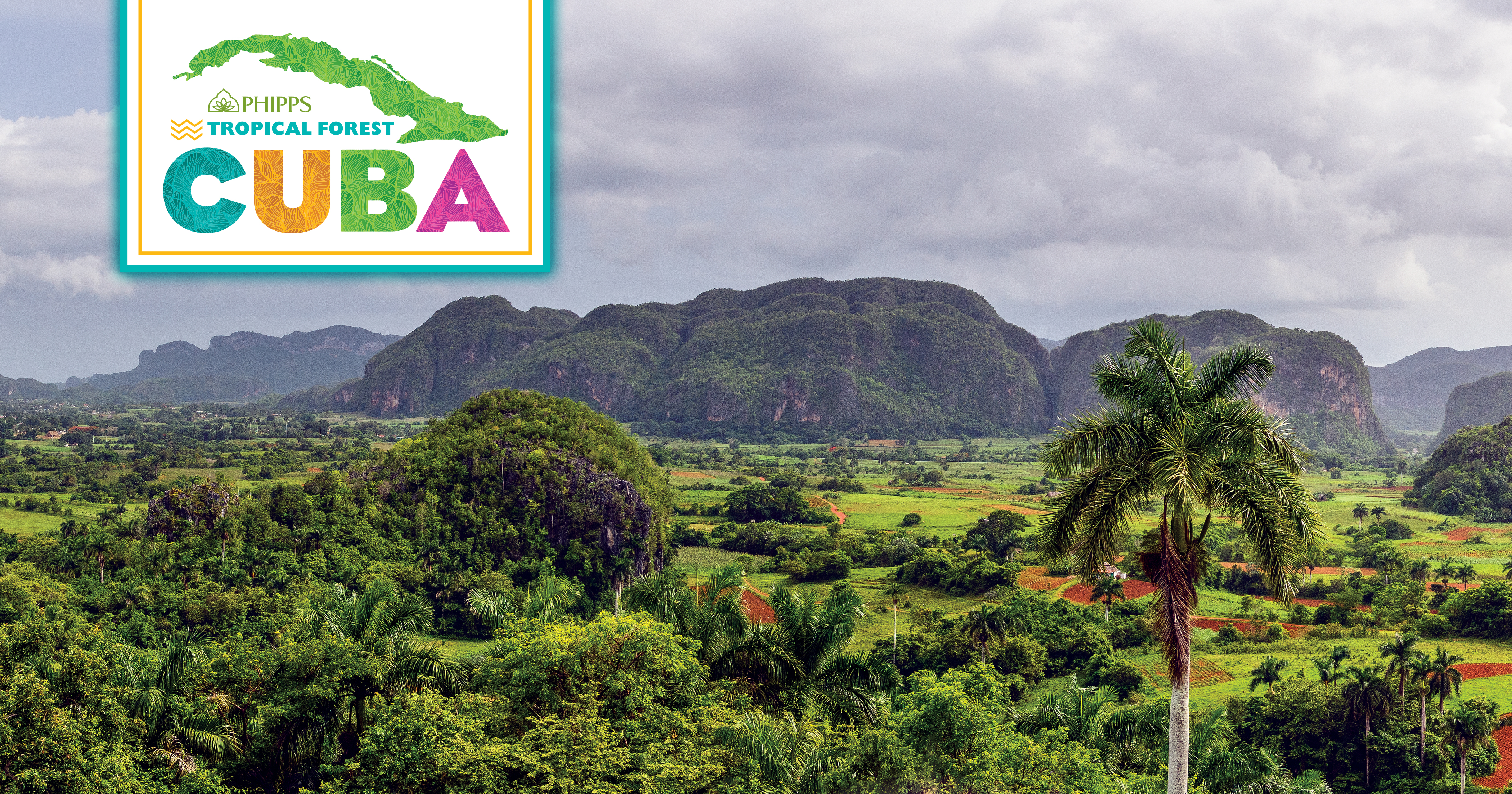 Pittsburgh, Pa. —Sat., Feb. 10, Phipps Conservatory and Botanical Gardens debuts its new exhibit, Tropical Forest Cuba, inviting guests to take an exciting, immersive journey through one of the most botanically rich rainforest regions in the world.
Visitors will not want to miss this all-access opportunity to explore Cuba's natural beauty, diverse ecology and vibrant culture amidst lush greenery, fragrant flora and engaging cultural experience stations. Guests will be transported to an exotic landscape, full of cascading waterfalls, gushing streams and a scenic overlook providing a panoramic view of the breathtaking exhibit.
With new discoveries at every turn in the impressive 12,000 square-foot, 60-foot high Conservatory, visitors will enjoy a wide variety of Cuban plant species, including lush palms like the national tree, the royal palm (Roystonea regia), whose majestic height and striking ornamental silhouette make it an iconic feature of the landscape. Stunning Cuban orchids, unique ferns and rare cycads round out this expansive, curated collection on display for the first time at Phipps.
Guests will explore interactive stations located throughout the exhibit, including a birding station featuring life-size replica carvings of five different species of endemic Cuban birds, a paladar where guests can recreate the experience of enjoying a Cuban meal in Phipps' play café, a traditional Cuban farmacia where guests can learn about natural medicine rooted in organic farming and a research station where visitors can see the impact of Phipps' Botany in Action research in Cuba and other locales around the world.
A 1949 Chevrolet Fleetline is also on display, in reference to the thousands of classic American cars seen on the streets of Havana, giving guests the opportunity to hop in for a photo and imagine cruising past the nation's lively, bright-hued architecture. Additionally, music and dancing, which are prominent elements of Cuban culture, are featured in Tropical Forest Cuba, where visitors can listen to lively Cuban tunes and practice their dance steps.
To celebrate, Phipps will hold a special Tropical Forest Cuba Festival featuring family-friendly activities, entertainment and food throughout the day on Sat., Feb. 10. Attendees will enjoy live Cuban music from five-piece band Flor de Luna, presented by Yemaya Productions, and Cuban choral group Coro Latinoamericano-Pittsburgh, learn how to salsa dance, sample Cuban cuisine, participate in Cuban-inspired crafts and activities, discover the fascinating stories behind Cuba's unique plant life and more as they explore Tropical Forest Cuba. Phipps' opening festival event is free with admission, no registration necessary.
Researching, planning and curating Tropical Forest Cuba was an extensive multi-year process, with Phipps' staff traveling to Cuba to observe and explore Cuba's unique, breathtaking variety of species firsthand. Two photo galleries showcasing Phipps' research trip and the culture and people of Cuba are on display in this exclusive new exhibit.
Visitors of all ages will be inspired by the captivating, serene and culturally enriching experience found only in Tropical Forest Cuba. Conservatory hours are 9:30 a.m. – 5 p.m. daily and until 10 p.m. on Fridays. Admission is $17.95 for adults, $16.95 for seniors and students, and $11.95 for children 2 – 18. Members and kids under 2 enter free. Phipps is located at One Schenley Park, Pittsburgh. For tickets or more information, visit phipps.conservatory.org.
###

About Phipps: Founded in 1893, Phipps Conservatory and Botanical Gardens in Pittsburgh, Pa. is a green leader among public gardens with a mission to inspire and educate all with the beauty and importance of plants; to advance sustainability and promote human and environmental well-being through action and research; and to celebrate its historic glasshouse. Phipps commemorates its 125th anniversary throughout 2018, celebrating its historic past, vibrant present and exciting future ahead — including inspiring seasonal flower shows, community events, public programs and groundbreaking green innovation.
Learn more at phipps.conservatory.org.