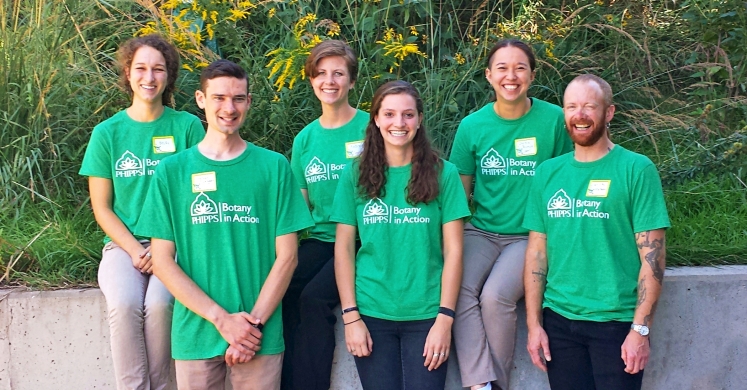 Botany in Action: Science Engagement Week
"Don't forget the bear! We have to include the bear!"
A small group of middle school boys were drawing an informational poster of the research they had just learned about from Rebecca Dalton, a graduate student visiting Phipps from Duke University. Dalton's research on flowering times in the Colorado Rockies had once brought her in proximity of a bear casually wandering through her study area. Though ultimately nothing came of the encounter, the story had captured the boys' young imaginations as soon as they heard it. The bear was not to be left off of the poster describing her research! Dalton laughed and was happy to see the boys also drawing her study's flowers and pollinators—not just the bear.
Dalton is one of Phipps Conservatory's six current Botany in Action fellows, along with Morgan Roche (University of Tennessee), Jonathan Flickinger (Florida International University), Sarick Matzen (University of California, Berkeley), Chelsie Romulo (George Mason University), and Andrea Drager (Rice University). The fellows, all outstanding graduate researchers in various botanical disciplines, recently visited Phipps for the Botany in Action program's annual Science Engagement Week which featured a series of diverse workshops to enhance the fellows' scientific communication skills. From science blogging, to illustration, to infographics, and everything in between, the fellows explored different ways to communicate their research with those outside of their immediate fields—which included sharing their research with middle school and high school students on the very first day of their workshop!
Now in its twentieth year, Phipps' Botany in Action program has been a major part of the Conservatory's commitment to research, conservation, and scientific outreach. Every year, high-achieving doctoral students from across the country vie for one of the program's competitive fellowships, which include funding for their research and opportunities to share their work with the public—a major component of the Botany in Action program. That is why each of the fellows maintains a blog that gives research updates and shares stories from the lab and the field.
In addition to blogging, the fellows are encouraged to take the skills they've learned during Science Engagement week and apply them new to new communication opportunities in their own areas. Andrea Drager, for instance, conducts field work primarily in the heart of the Congo Basin, and she was able to bring an outreach program on pollinators to three different middle schools in Cameroon! Science Engagement Week also prepares scientists to share their research in an increasingly digital world. Third-time fellow Chelsie Romulo has managed this by building a web presence to highlight her research on the socioeconomic and ecological complexities behind the harvesting of a native Peruvian tree.
The next time you visit Phipps, be sure to check out the StoryBox in the Tropical Forest Conservatory to hear more about Botany in Action fellows, past and present. You can also follow their adventures in the lab by following their blogs, and coming back here to see featured fellows highlighted periodically. And don't forget, as a friend of Phipps, your support has helped make this possible!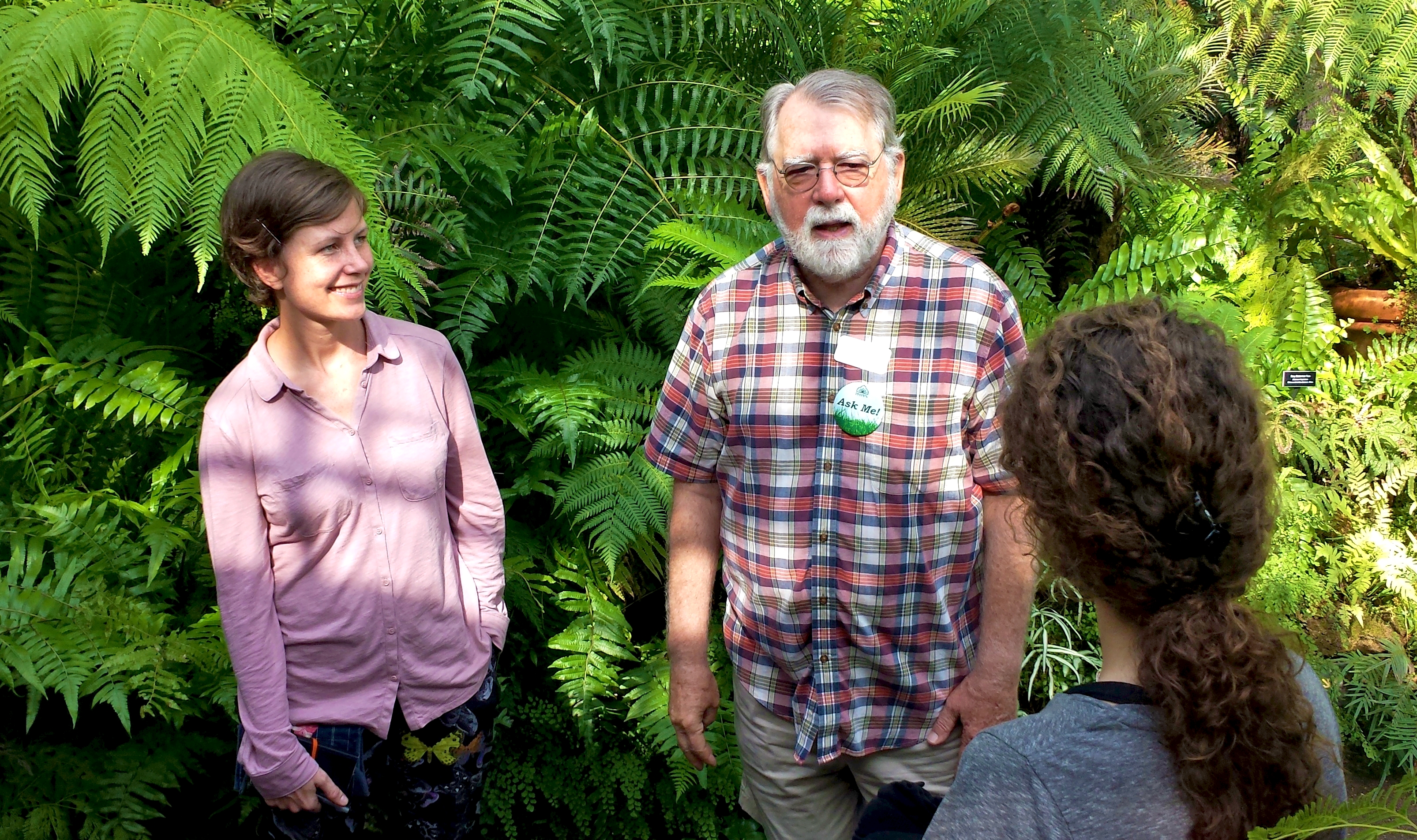 Docent Ron McBurney (right) with Andrea Drager (left) leads the BIA fellows on a tour of the conservatory.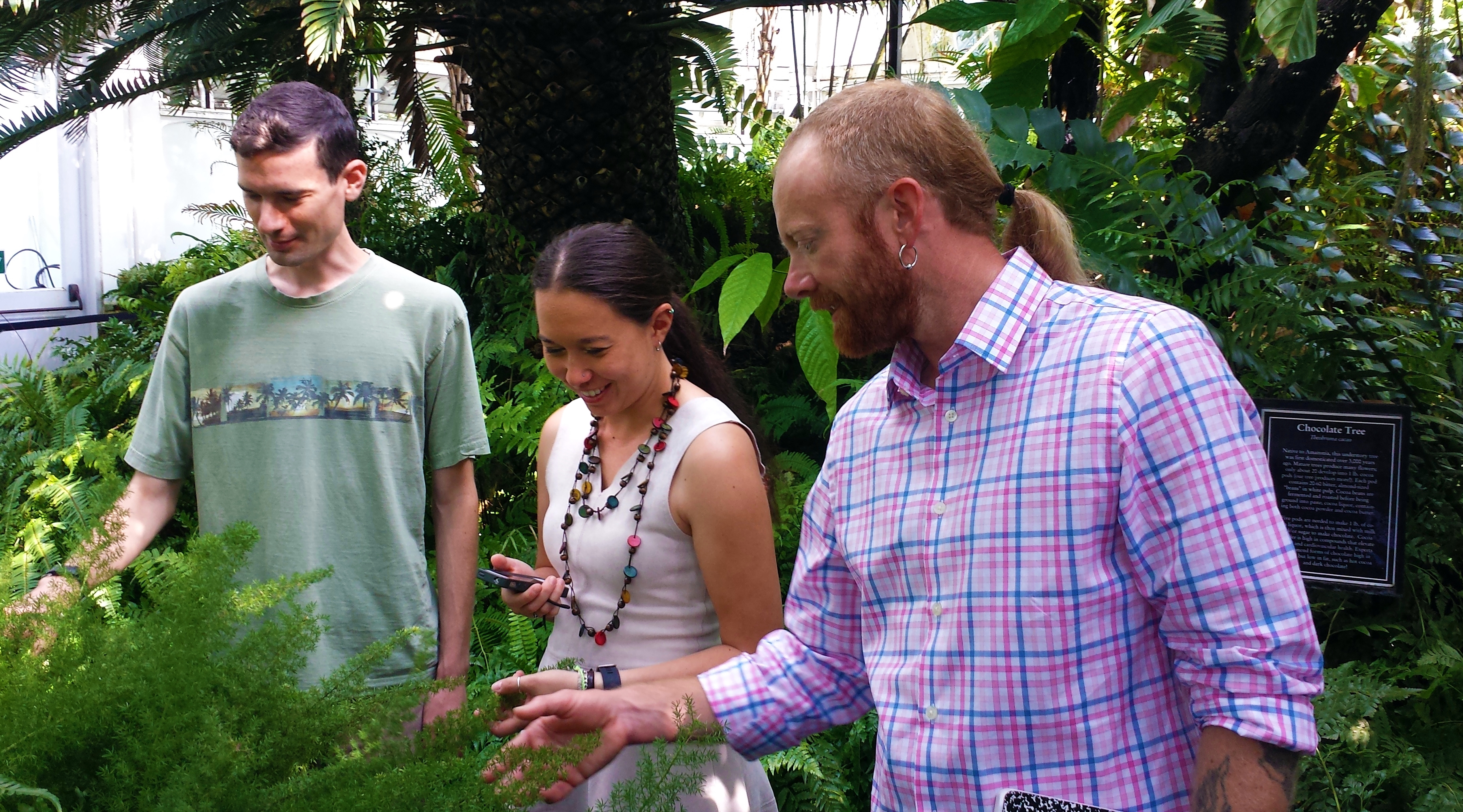 Fellows (left to right) Jonathan Flickinger, Chelsie Romulo, and Sarick Matzen explore the Fern Room.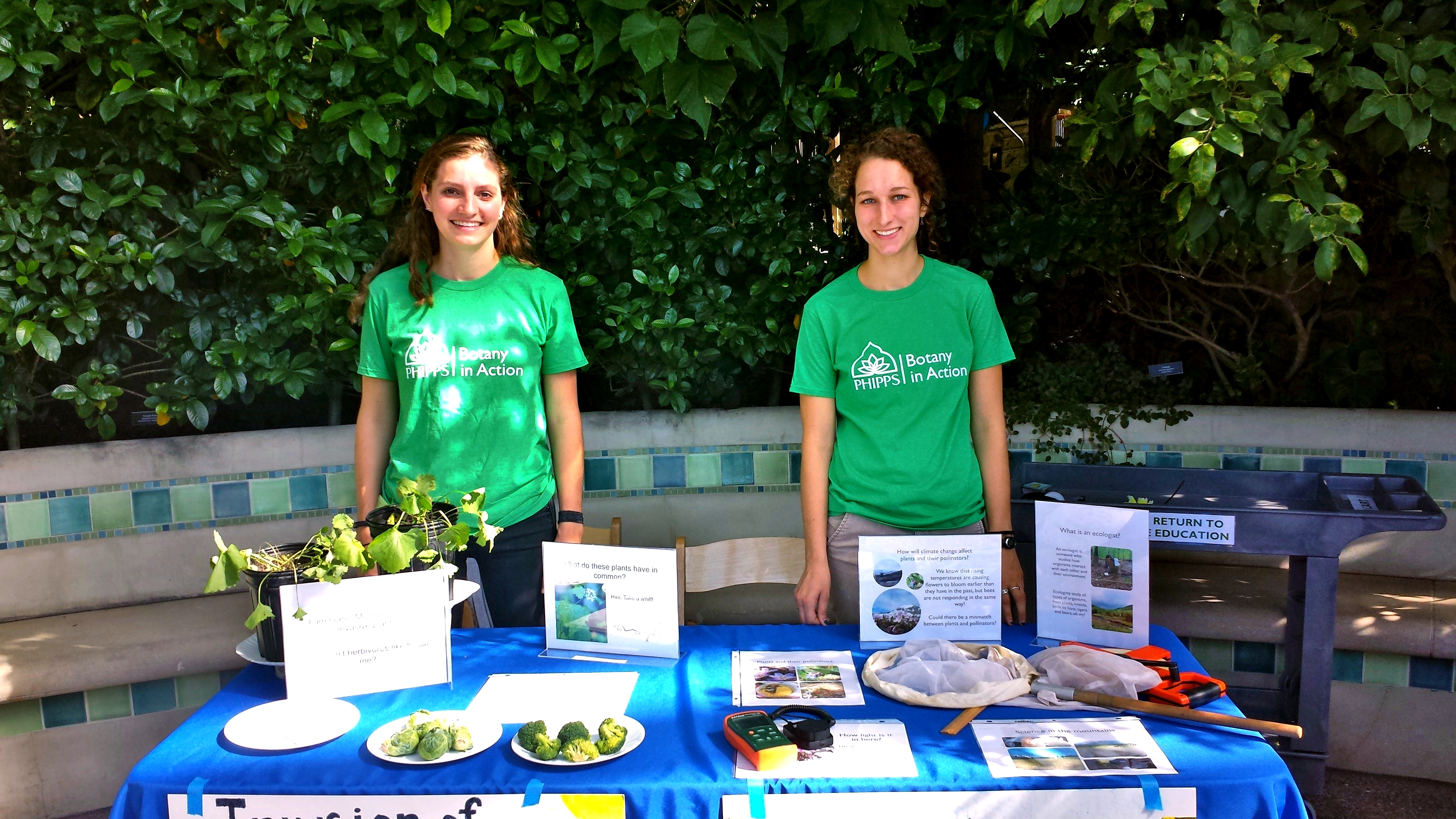 Fellows Morgan Roche (left) and Rebecca Dalton (right) tabling at an event in the Tropical Forest.