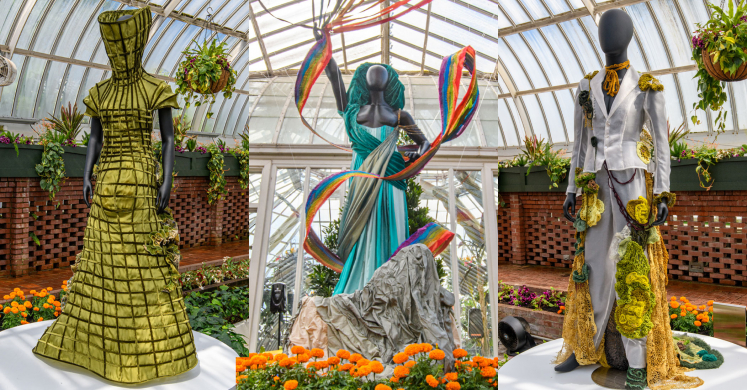 Summer Show Collaboration with Billy Porter's Alma Mater CMU
As Flowers Meet Fashion: Inspired by Billy Porter is nearing its end, it is time to highlight the Pittsburgh icon's college alma mater, Carnegie Mellon University (CMU)! Although now recognized for limitless accomplishments, Billy had spent his time at CMU perfecting his craft as he continued to rise in the world of theatre and music. To celebrate this time in Billy's life along with his Pittsburgh roots, Phipps tasked the students in the Fundamentals of Costume Design Class, taught by Susan Tsu at CMU, to create costumes of their own that they felt best represented Billy's life. Read on to learn more about how these designers pushed their limits to create pieces that they felt best represented Billy in our Summer Flower Show!
Once they noticed Billy Porter's remarkable talents and determination through the years, two of his educators at Pittsburgh Creative and Preforming Arts (CAPA) pulled him aside and advised him that Carnegie Mellon University (CMU) was the next step he should take to refine his skills and pursue a career! It was with the help of these educators that Billy was able to score an audition for the university and earn enough aid and scholarships to fully cover his tuition. Susan Tsu, costume designer and professor, at CMU was given the opportunity to celebrate this period in Billy's life by tasking her students with creating designs to be incorporated into Flowers Meet Fashion: Inspired by Billy Porter.
As a Pennsylvania native and CMU graduate herself, with over fifty years of costume design under her belt, Susan knew that it was crucial to have her students create something that was both high quality and meaningful for this project. She stated, "The most important thing, I think, was to not just toss off some red-carpet dress, that is something we have seen and there are wonderful fashion designers that do that but there was to be more to it." Before any work could begin, Susan bought a copy of Billy Porter's memoir "Unprotected" for each of her students and asked them to find what was most impactful to them. This gave the students a better chance to learn more about Billy, but to also understand him from his own perspective rather than the public eye. Based on the answers the students presented, design teams for each costume were paired together. The pairings were Carrie Ann Huneycutt and Evan Riley, Caifeng Hong and Katherine Chung and, finally, Chloe Clover Brown, Diana Kang and Jem Tepe.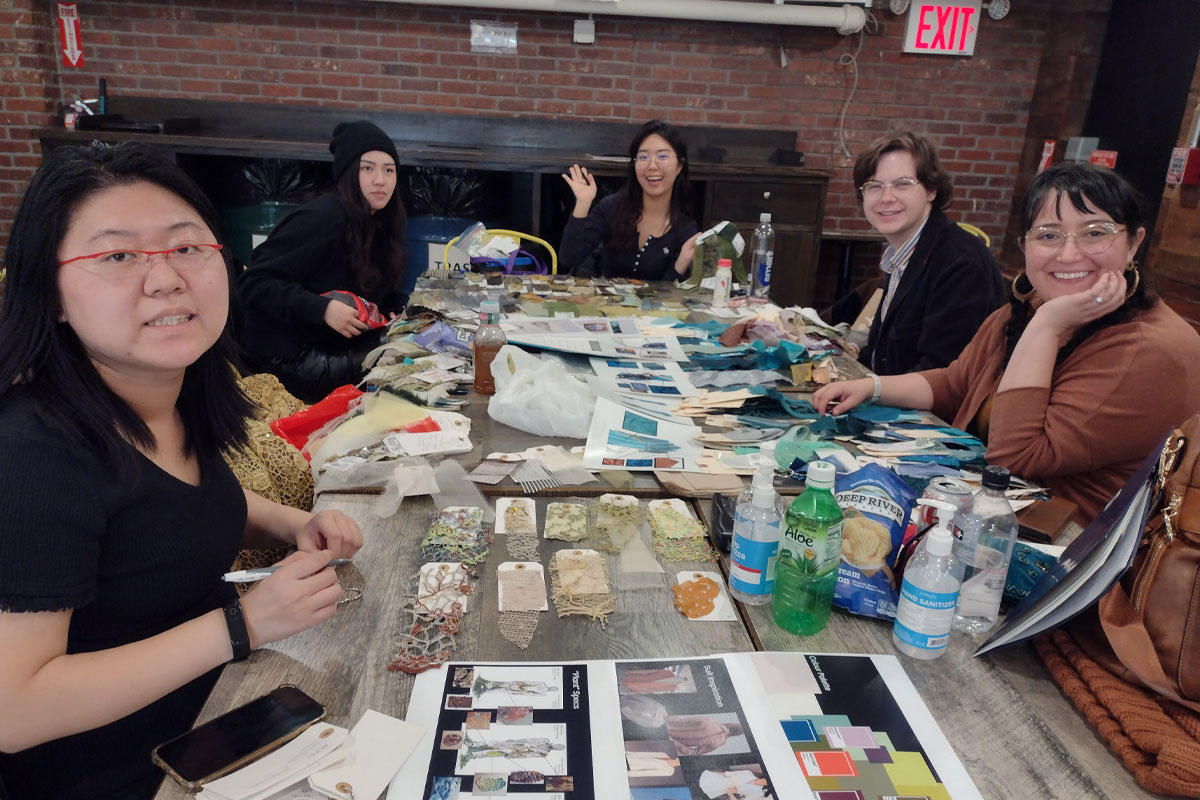 Once these students were placed into groups, it was time for them to begin designing. When it came to conceptualizing design presentations with sketches, color palettes and texture references Susan said, "These ideas came to the students very quickly. It's quick in the sense that they were very diligent in steeping themselves in the book. It was important for them to understand and try to grapple with what Billy was saying and to really live in that. Live in those feelings. Live in those experiences, before designing just any old thing." The students went above and beyond to work together and create designs that were not only rooted in Billy's character as a person, but also managed to tell a story to the viewers. Susan noted that, "When we work with plays and texts about characters who are struggling and trying to overcome things, it's not necessarily a new thing for us. What is new, is that sometimes when you want an audience to really feel a connection and commiseration with a character who is struggling, sometimes the choice of costume direction is to be realistic and accessible, but what we did was something else. What we did was find metaphors and symbols that would visually tell a story."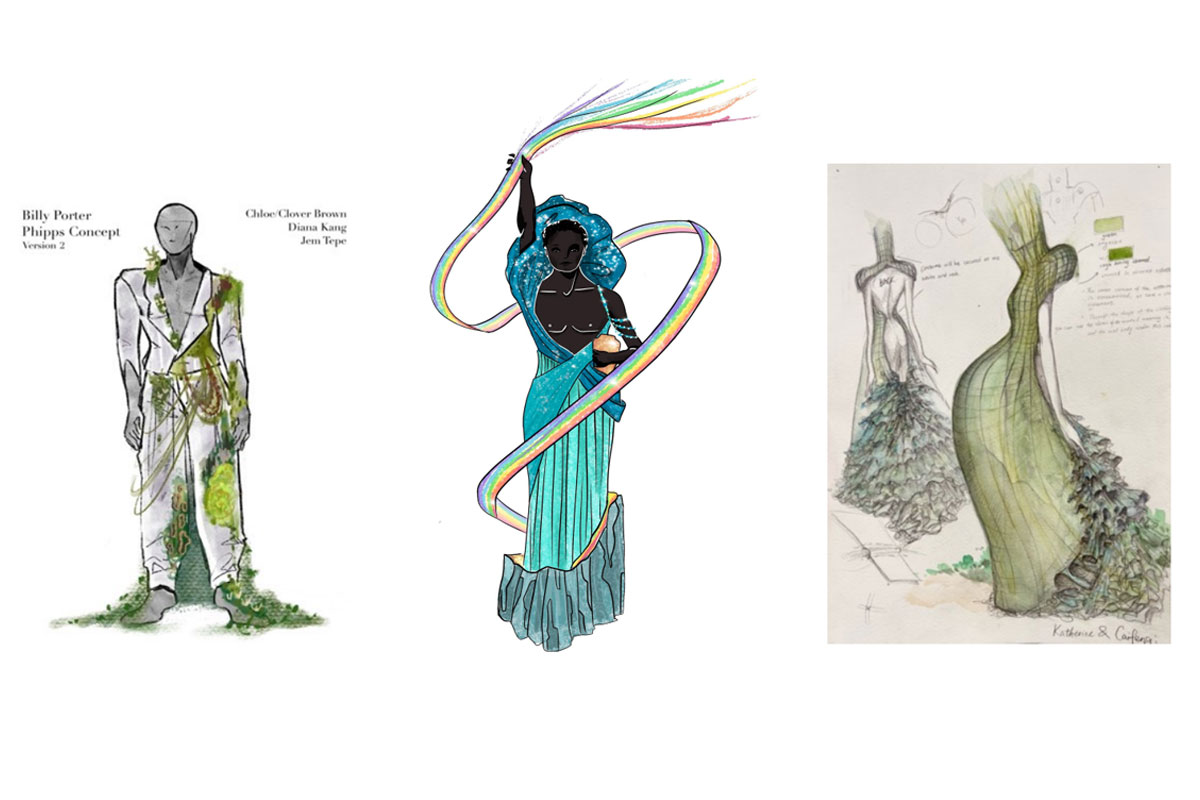 After presenting their concepts and receiving approval to move forward, it was time for the students to go more hands-on with the project. From traveling to New York to gather an abundance of materials to returning to campus to start putting the pieces together, these students put in an extraordinary amount of work. They began this process in late November and worked with Susan and other designers such as, Hugh Hanson and Lara Berich, every week until late spring. It was on May 6 that the student's hard work and dedication was put on display as the costumes came to life in the Sunken Garden with the opening of the show!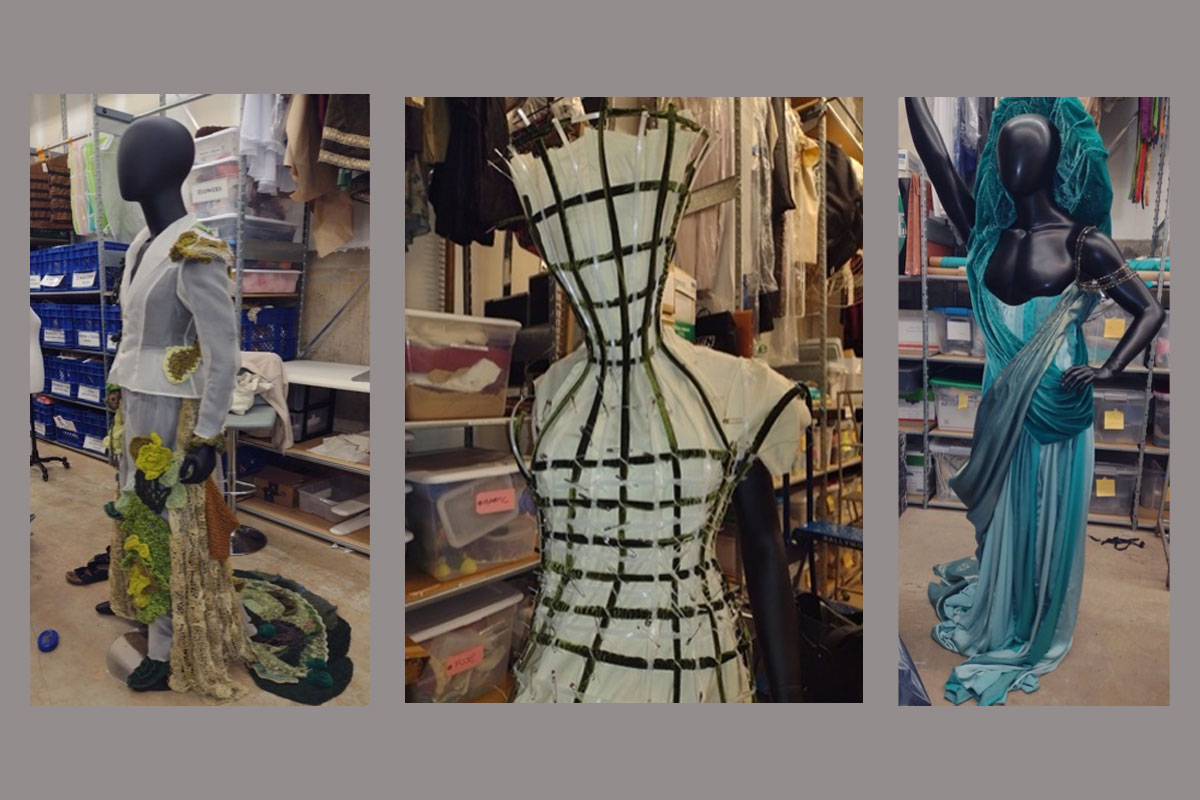 The first piece you will see when entering the Sunken Garden is a caped suit created by Chloe Clover Brown, Diana Kang and Jem Tepe, who used concepts of self-exploration and resilience to inspire their piece. Fungi growing out of dead branches and lichen thriving in harsh stone landscapes recall nature, along with the promise that beauty can emerge, even in the most difficult environments.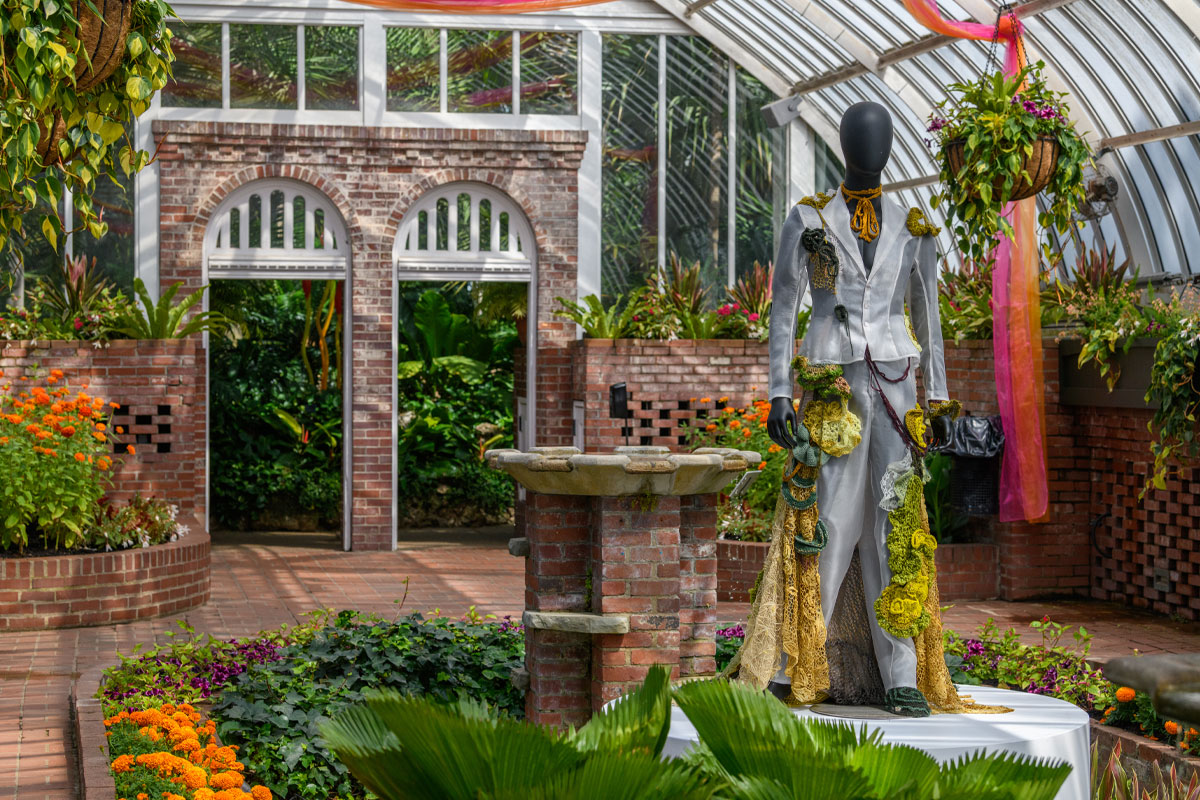 Caifeng Hong and Kathering Chung created the middle piece in the Sunken Garden, a dress with themes of contrast and rebirth, resulting in a piece that is simultaneously hard and soft. Although it has an armor-like shell, peering around it reveals its true inner nature. The exposed back morphs into a beautiful organic form.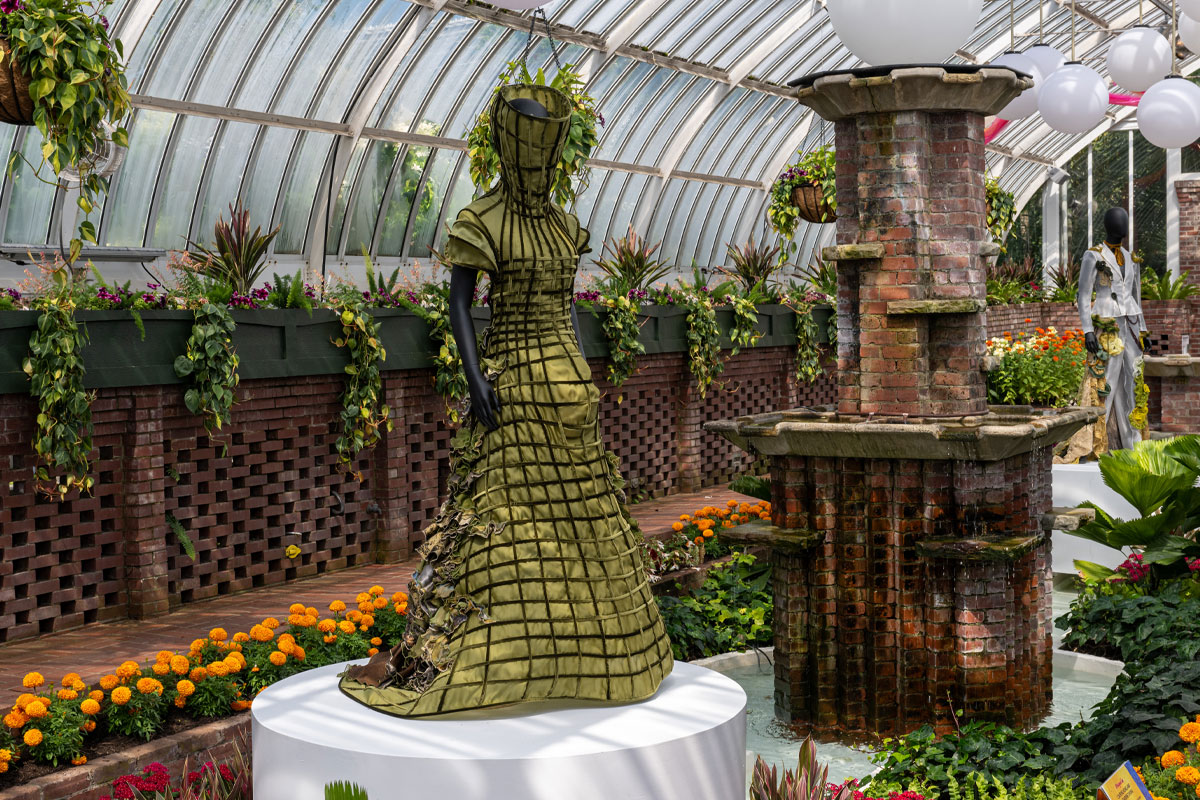 The final piece you will see from the students was designed by Carrie Ann Huneycutt and Evan Riley who worked together to create the piece they entitled "The Statue of Liberation", inspired by Billy's passion, determination and generosity of spirit. He is a beacon of hope, showing us that the liberation of oneself, choosing love, inspires the radical liberation of others.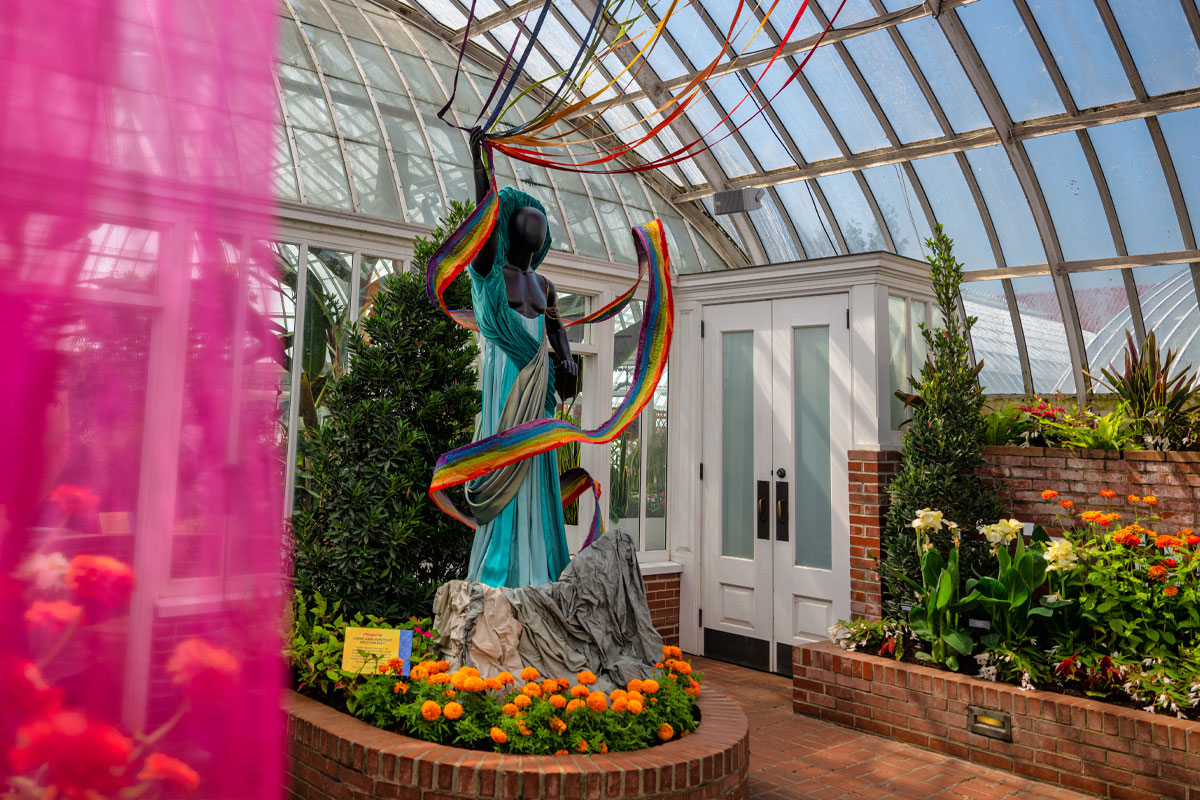 These pieces have been an important part of the show throughout the summer and never cease to amaze guests. Phipps Associate Director of Exhibits, Jordyn Melino, states that, "I was truly amazed at how they responded to Susan's prompt to read Porter's memoir and create a unique custom garment that is rooted in Porter's experience and personal character. Each piece tells a part of his story in such an imaginative and insightful way. The students' craftsmanship and attention to detail shine through."
Susan is beyond proud of the work her students have created and their involvement in the show. Her favorite part about this entire process has been experiencing the excitement her students express at seeing their work on display at Phipps and being admired by people from all over the world. Especially as they watch the public engage and take pictures of the costumes, Susan says, "Wow, they are enjoying it! It's special enough that they want to have pictures! It's just so rewarding on behalf of the students." Be sure to check out the remarkable work of these students in person while you can and check out our social media for more images!
Photo © Paul g. Wiegman, Susan Tsu and Paul Vladuchick