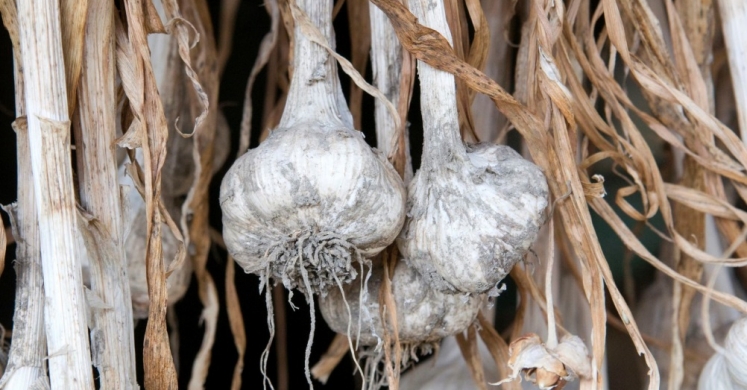 Harvesting Homegrown Garlic
There are many things to look forward to in the garden in July; including harvesting last fall's planting of garlic. There are two major types of garlic, soft neck and hard neck, which are named after the leaf necks above the bulb.
Soft neck garlic varieties are a little faster to maturity than hard neck varieties, and can be harvested in June. Their one small hurdle is harvesting: Because of the weaker leaf neck, these varieties have to be dug up rather than pulled from their tops. The soft necks and pliable leaves allow them to be easily braided together to cure, or dry. Braid the necks and leaves into a cluster, or just spread the heads out on a table in a warm, dry area for a couple of weeks. This process allows soft neck garlic to have a longer shelf life than hard neck garlic.
Hard neck varieties mature in July, and can be pulled out of the ground from their tops to harvest. As a bonus, hard neck garlic varieties grow scapes – the edible flowers that pop up from the foliage. The scapes can be cut off cooked and enjoyed, leaving the garlic bulb to harvest later. It is important to cut the scapes from the plant in order to ensure that plant energy will then go into the bulb for the remainder of the time in the ground.
Either variety is fun to grow, and will add some zing to your cooking as well as to the garden.