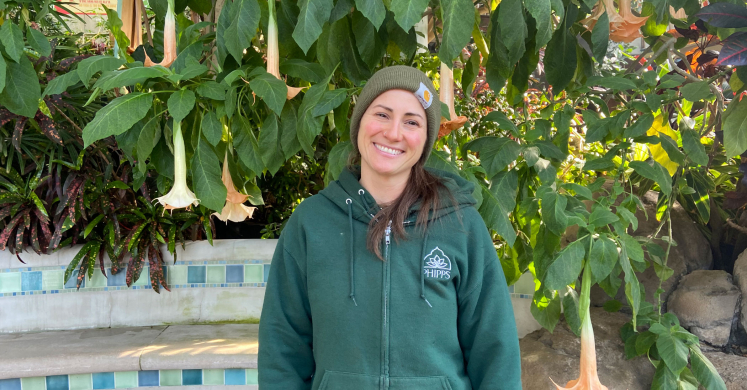 Horticulture Spotlight: Lauren Delorenze
Lauren Delorenze is the Production Greenhouse Foreman at Phipps Conservatory and Botanical Gardens. She has been working behind the scenes at Phipps in various roles for 8 years now. Outside of her duties at Phipps, she also maintains her own garden at home, designs and installs landscapes and provides garden maintenance for clients around Pittsburgh. For as long as she can remember, Lauren has always been drawn to plants and growing things. It all started when her parents let her grow a bean stalk on the side of the house; the entire process really fascinated her, and she thought it was magic!
Although she has always harbored a love for plants, horticulture is not where Lauren got her start. After she studied music in college, she began working as a rep for a craft brewery. She decided she wanted a change after working in the industry for a while and ended up attending Bidwell Training Center to pursue horticulture. It was through Bidwell that she got her foot in the door with an externship at Phipps. Soon after, Lauren was hired in the greenhouses as a grower where she worked for a few years before moving over to the Homegrown Program. There she helped provide different communities in the city of Pittsburgh with access to fresh produce through the installation of raised garden beds. Eventually, this path led her back to the greenhouses where the foreman position became available.
Phipps has always been a special place to Lauren. Although her first official visit was not until she was in college, she had always passed by the campus and imagined what was inside. The conservatory especially piqued her interest in the winter when all the twinkling lights made it look like a snow globe. The first time she visited, Lauren recalls the smell of all the plants and the surrounding greenery. The calmness of the conservatory really spoke to her. She remembers geeking out about all the different varieties of plants, especially in the fern room!
No two days look the same for Lauren while working at Phipps. She begins her workdays early, checking on the greenhouse to ensure all the plants are happy and thriving. Afterwards, she checks in with her fantastic team of growers throughout the day to make sure everyone is alright. A few hours each day are spent making sure the team has the proper plant material needed to work on the scheduled crops that week and checking over the plant orders to confirm that everything is coming in when needed. Each show at Phipps uses a variety of plants so each day looks different depending on the time of year. While most of her time is spent among the plants, something most people wouldn't know about Lauren's job is that there is more desk work than you would think! She handles a lot of scheduling and detail work which requires her to stay very organized.
Lauren's favorite part of working at Phipps is the "strange and unique" people she gets to work with in the horticulture department. She especially loves how passionate people are about their work; everyone is always so excited to share new ideas and knowledge. Because everyone has their own specialties in the field, opportunities to learn more are endless and people are always willing to pitch in and help each other out. When asked what her favorite plant was, Lauren remarked, "I have so many and they always change but I think right now poppies are my favorite!"
Lauren's hard work at Phipps doesn't go unnoticed and we are proud to have her share plant expertise. Thank you, Lauren!