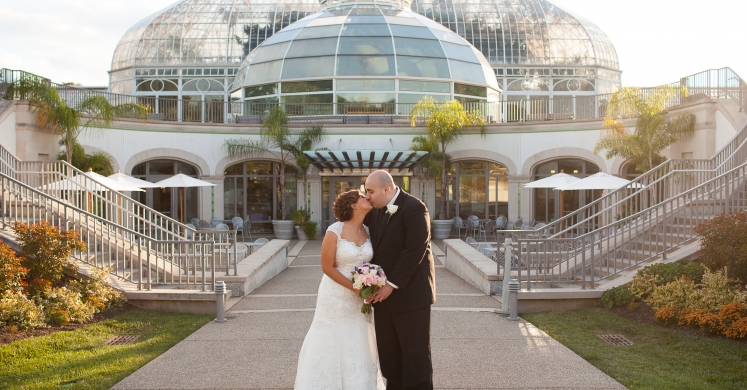 Make Our Story a Part of Yours
Celebrate with Us!
Here at Phipps, we're known for our stunning displays of unique and beautiful horticulture and our timeless Victorian-style architecture. Phipps is one of Pittsburgh's hidden treasures, but we have a treasure of our own—special events! From weddings to corporate meetings, we can accommodate for events of many different sizes and styles.
Following our mission to "inspire and educate all with the beauty and importance of plants; to advance sustainability and promote human and environmental well-being through actions and research; and to celebrate [our] historic glasshouse," we would love to inspire you to celebrate your special day in an eco-friendly fashion.
On the blog, we'll be providing tips and tricks to get the most out of your big day—the 'Green' way. We will share current and upcoming wedding trends for our brides-to-be and offer some clever ideas and photos from our previous brides. We'll also keep you posted on upcoming events at the Conservatory that all can enjoy!
If you'd like to inquire about our various event spaces and receive information about booking with us, please contact events@phipps.conservatory.org.
The Gift of a Glasshouse
Since 1893, Phipps has been making history with its one-of-a-kind Victorian glasshouse. This architectural wonder has been attracting visitors for well over a century with its acclaimed flower shows and continuously advancing sustainability practices.
In 1893, the glasshouse, located in the heart of Oakland's Schenley Park, was donated to the city of Pittsburgh as a gift from Henry W. Phipps. It was his desire to "erect something that [would] prove a source of instruction as well as pleasure to the people," which fueled the incredible journey of the greenhouse throughout the years. It was given the name "Phipps Conservatory," which would later include "Botanical Gardens," to follow suit with the changing landscapes and displays within.
The glasshouse was designed by Lord & Burnham, a New York-based greenhouse manufacturer, for what today would be considered a small fee of $100,000. It took just one year to complete construction of the nine-room glasshouse in August of 1893. On December 7, 1893, Phipps Conservatory was open to the public to share in its unique beauty.
Phipps Past to Present
Throughout the years, the Conservatory has been revamped to accommodate its ever-changing horticultural displays. What began as a nine-room glasshouse has advanced to a 36,000 square-foot eco-friendly growing space for our outstanding flower presentations. We've since numerous spaces, including the South Conservatory, Desert Room, Aquatic Gardens, Gallery, Fruit & Spice Room, Broderie Room, Japanese Garden, and Outdoor Garden.
Today, we are a Historic Landmark, a privately-managed non-profit, a public museum, an education and research facility, and one of Pittsburgh's greatest cultural treasures. We are proud of our background, and continue to accomplish new feats each and every day to advance our knowledge, understanding, and practice of sustainable practices.
Sustainability
In 2005, Phipps opened its new avant-garde entrance, known as the "Welcome Center." Situated underground, the Welcome Center has taken energy efficiency to the next level as the first visitor facility in a public garden to earn LEED® certification. Today, guests can not only purchase tickets to the gardens in the Welcome Center, but can also browse our gift shop featuring a number of local vendors. The Welcome Center also features Café Phipps, which was highlighted in Food & Wine Magazine's list of the Best Museum Restaurants in the U.S.
In 2012, Phipps unveiled its newest sustainability project—The Center for Sustainable Landscapes (CSL). The CSL houses Phipps' administrative offices, as well as classrooms for research and educational purposes. Taking direction from the already acclaimed Welcome Center, the CSL took sustainability a step further to become one of the greenest buildings on earth. It was designed to meet the standards of the Living Building Challenge™, generating all of its own energy, and treating/reusing water collected on site. Since its opening in 2012, the CSL has been awarded with Net Zero Energy Building Certification under the Challenge, LEED® Platinum, Four Stars Sustainable Sites Initiative™ certification, and WELL Platinum Pilot Certification—and we will not stop there! We are constantly striving for our most self-sustainable state, and we are thrilled to see what the future holds for us.