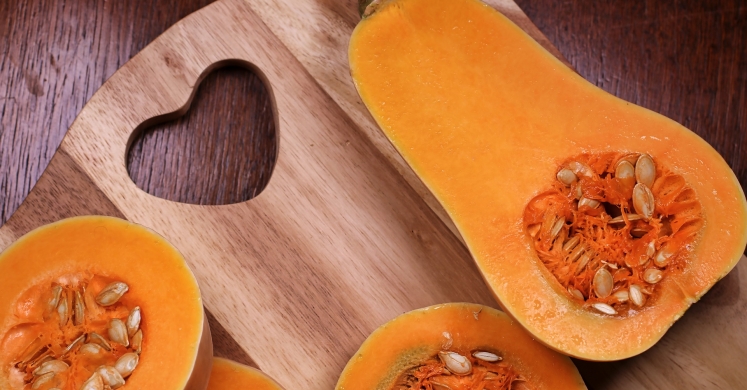 One Pot Butternut Squash Chili
Did you know that butternut squash has more potassium than a banana? Celebrate the delights of a late autumn harvest with us by cooking this flavorful and filling butternut-squash chili!
One-Pot Butternut Squash Chili
Ingredients
1 tablespoon extra-virgin olive oil
1 medium yellow onion, diced, about 1½ cups
2 garlic cloves, minced
1 carrot, chopped
3 cups cubed butternut squash (one 2 pound butternut squash)
1/2 jalapeño pepper, stem and seeds removed, and diced (optional)
1 teaspoon chili powder
½ teaspoon chipotle powder
1 teaspoon smoked paprika
1 cup diced tomatoes, canned
2 teaspoons apple cider vinegar
1 can black beans, drained and rinsed
1 can pinto beans, drained and rinsed
3 cups vegetable broth
Juice 1 lime
Sea salt and freshly ground black pepper
Optional toppings: avocado, green onions, sour cream, and/or cilantro
Instructions
Heat the oil in a large pot over medium heat. Add onion and a pinch of salt and pepper and cook until soft, 5 to 8 minutes. Stir in the garlic, carrots, jalapeño pepper, and butternut squash. Cook until the vegetables just start to become tender and the onion is lightly browned, about 15 minutes. Reduce the heat if necessary.
Add the chili powder, chipotle powder, and tomatoes and cook for 1 minute. Stir in the apple cider vinegar and beans and then add 3 cups of vegetable broth. Simmer until the butternut squash and carrots are tender (approx. 30 minutes) adding more broth as needed.
Add squeeze of lime. Season to taste with spices to your liking.
Tip: If your chili is too spicy, stir in a small splash of apple cider vinegar.