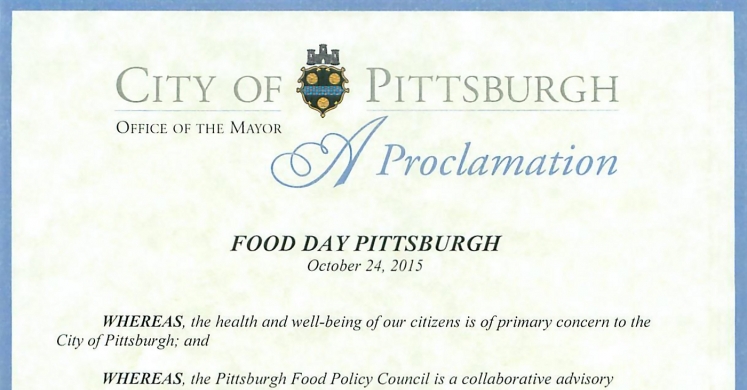 Policy Update: Annual "Food Day" Declared in Pittsburgh and Allegheny County
To increase awareness of children's health and wellness initiatives, Phipps' Let's Move Pittsburgh project provides Policy Update, a monthly column on local, state and national health policies that impact you.
From 2015 on, Oct. 24 will not be just any regular day in America's Most Livable City. Pittsburgh Mayor Bill Peduto and Allegheny County Executive Rich Fitzgerald recently signed proclamations declaring this day as "Food Day" in both the City of Pittsburgh and Allegheny County.
Food Day was created by the Center for Science in the Public Interest, a nonprofit organization working to advocate for national policy that promotes safe and nutritious food. The Food Day movement is also supported by a diverse group of leaders and organizations interested in promoting nutritious food, healthy food access, and a more just food system. On Food Day, people, organizations, and communities across the nation organize events and initiatives to discuss and promote better food policies. Food Day has five national priorities:
Promote safer, healthier diets
Support sustainable and organic farms
Reduce hunger
Reform factory farms to protect the environment and animals
Support fair working conditions for food and farm workers
The County proclamation discusses the importance of promoting healthy food access and addressing hunger and poverty in our region. The document also calls for safe working conditions and fair pay for food and, farm workers. The mayor's proclamation focuses on supporting local agriculture, improving access to healthy food, and connecting Pittsburgh youth to the origins of their food. See the proclamations by Mayor Peduto and County Executive Fitzgerald below.