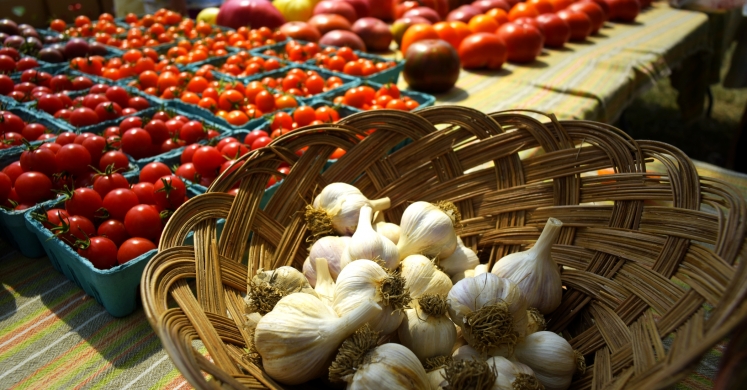 Red, Ripe Recipes
To celebrate another successful Red, Ripe and Roasted for the Greater Pittsburgh Community Food Bank, Café Phipps Manager Amy Reed and guest speaker Miriam Rubin are pleased to share the recipes from their cooking demos for you to enjoy at home!
Miriam Rubin's Tomato and Cucumber Salad
(Adapted from a recipe in my book, Tomatoes. — M.R.)
1 long hothouse cucumber, thinly sliced
Kosher salt
2 Tbsp. extra virgin olive oil
2 – 3 Tbsp. white wine or cider vinegar
1 Tbsp. sugar
½ medium-sized sweet onion, thinly sliced (about 1 cup)
1 pound small, firm tomatoes, cut into thin wedges
Chives or scallion greens, thinly sliced
In a colander, mix cucumbers and ½ teaspoon salt. Toss well. Add oil, vinegar and sugar, then onions. Toss to mix. Marinate in the refrigerator if there is time. Add tomatoes and a little more vinegar or salt if needed. Sprinkle with chives. Makes 4 – 6 servings.
---
Chef Eric Wallace's Panzanella
(Eric Wallace shared this recipe from a tomato dinner at Lidia's Pittsburgh when he was the chef. — M.R.)
5 Tbsp. extra-virgin olive oil
2 tsp. red wine vinegar
1 small garlic clove, grated on a microplane (plus more for bread cubes, if you wish)
2 large ripe tomatoes (try a combo of red and yellow), about 1 ½ pounds, cut into rough 1" chunks
¼ cup thinly sliced red onion
Salt and freshly ground black pepper
3 cups 1" cubed firm-textured white bread
2 Tbsp. slivered fresh basil
Thick slices of fresh mozzarella, if desired
In a large salad bowl, blend 2 Tbsp. oil, vinegar and garlic. Add tomatoes and red onion. Season with salt and pepper to taste. Toss. Let stand (juices will flow) while frying bread cubes. Heat 2 Tbsp. oil in large skillet over medium heat. Add bread cubes and cook, tossing, until golden. Toss with remaining 1 Tbsp. oil and a little more garlic, if you wish. Let stand 5 minutes. Add warm bread cubes and basil to tomatoes. Toss to mix well. Adjust seasonings. Spoon onto plates, and if you like, top with mozzarella. Serves two as a main dish or four as a first course.
---
Chef Amy's Grilled Vegetable Panzanella Salad
4 slices of crusty bread
1 large ripe tomato, sliced in half
1 zucchini, quartered length-wise
½ red onion, sliced thick
2 Tbsp. white balsamic vinegar
3 Tbsp. olive oil
1 Tbsp. fresh basil, chopped fine
1 tsp. minced garlic
Kosher salt and pepper
Brush bread and vegetables with a little olive oil and season with salt and pepper. Grill them on a medium-heat grill. Bread should get a little crispy and vegetables should just start to get soft. Make sure to grill both sides. Take the bread and vegetables of the grill, chop them to bite size pieces and put them in a bowl. In a small bowl mix the vinegar, garlic, basil and olive oil with a whisk, then pour over the bread and vegetables and toss them together. The salad will get better as it sits and all the flavors combine.
---
Chef Amy's Corn and Avocado Salad
1 ear of corn, shucked and kernels removed from cob
1 avocado, peeled and chopped
½ cup tomato, diced
1Tbsp. onion, minced
¾ tsp. lime juice
Pinch of salt
Mix all ingredients in a bowl and enjoy. Great with grilled chicken, fish or chips.
Select photos © Paul g. Wiegman