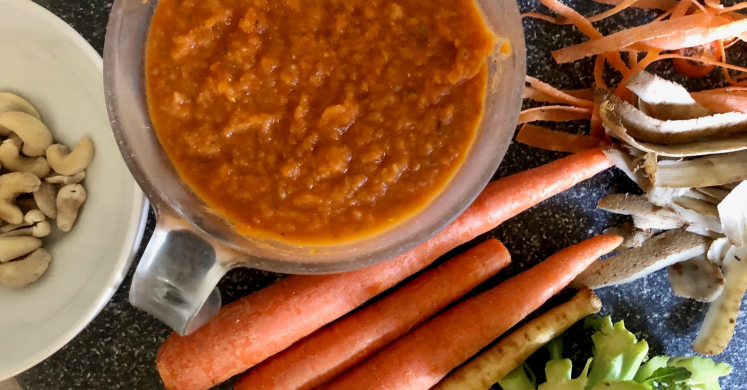 Veggie Scraps Pasta Sauce
Earth Day is the perfect opportunity to reflect on our environmental impact and make goals on how we can work together to reduce our carbon footprint. Reducing food waste does wonders for our planet and our people. Not sure where to start? Try your hand at this veggie scraps pasta sauce:
Veggie Scraps Pasta Sauce
Serves: 12 Prep time: 10 minutes Cooking time: 20 minutes
Ingredients:
1 cauliflower or broccoli stalk (1 ½ cup)
3 carrots
1 parsnip
½ onion, diced
1 potato
1 28 oz can crushed tomatoes
3 cloves garlic
½ cup soaked cashews or ½ cooked beans
¼ teaspoon smoked paprika
¼ teaspoon nutmeg
2 teaspoons mustard
salt and pepper
Oil for sauteing (I used sesame oil)
Directions:
In a large heavy-bottomed pot, heat oil over medium heat. Add the onions and cook until soft, about 3-5 minutes.
While onions are cooking, chop cauliflower stalk, carrots, and parsnip in large chunks.
Add the cauliflower, carrots, and parsnip to the pot. Increase the heat to medium and continue to cook stirring occasionally for about 10 minutes.
Add the garlic and cook until fragrant, about 30 seconds. Pour in the crushed tomatoes, cashews, seasonings, peels and potato. Mix until well combined.
Place the lid on top and reduce the heat to low and simmer for about 10 minutes. Once vegetables are soft, use an immersion blender or transfer to a blender and blend until smooth.
Nutrition Facts: calories: 92 kcal, total fat: 2.9 g (4%), saturated fat: 0.5g (3%), cholesterol: 0g, sodium: 144mg (6%), total carbohydrate: 14.2g (5%), dietary fiber: 4g (15%), total sugars: 5.8g, protein: 3.5g, calcium: 52mg (4%), iron 2mg (9%), potassium: 244mg (5%)